Indulge in the refreshing taste of our homemade lemon bars. This delectable dessert combines a buttery crust and a tangy lemon filling for a tantalizing treat that will enchant your taste buds.
But why lemon bars, you might ask? Well, their bright, citrusy flavor is a treat for the senses.
They're the perfect blend of tangy and sweet, and that delectable crumbly crust just melts in your mouth.
Imagine biting into a square of this lemony goodness, the taste of fresh lemons bursting in your mouth, balanced beautifully by the sweetness of the sugar and the rich, buttery crust.
It's an experience that's sure to bring a smile to your face.
Moreover, this recipe is wonderfully simple and uses ingredients you likely already have in your pantry.
You don't need any fancy equipment or complicated techniques to make these bars.
Just a few simple steps, and you'll have a batch of homemade lemon bars to impress anyone who tries them.
Why You'll Love This Recipe
Every recipe has charm, but these Homemade Lemon Bars stand out.
Let's look at five reasons why you'll absolutely love making (and eating!) these delightful treats.
Simplicity at Its Best: No fancy techniques or equipment are needed here. This recipe is all about making baking accessible and fun for everyone.
A Balance of Flavors: The beauty of these bars lies in their perfect balance of tangy and sweet. Each bite is a burst of zesty freshness from the lemons, perfectly complemented by the sweet, buttery crust.
Versatile dessert: These lemon bars fit the bill whether you're hosting a fancy tea party or looking for a simple dessert to enjoy on a cozy evening at home.
A Creative Outlet: This recipe provides a great canvas for you to showcase your creativity. Experiment with different flavors, add a topping of your choice or play around with the presentation.
The Joy of Sharing: Nothing beats the joy of sharing something you've made with love. These bars are perfect for sharing with friends, family, or neighbors. They're sure to bring a smile to anyone's face!
Whether you're a seasoned baker or a beginner in the kitchen, this recipe is perfect for you.
It's a great way to dip your toes into the world of baking if you're a newbie, and if you're already a baking pro, you'll appreciate the simplicity and versatility of this recipe.
So, are you ready to embark on this zesty adventure? Let's start baking!
You'll find the specific ingredient amounts and detailed instructions in the printable recipe at the bottom of this post.
Disclosure: This blog post contains affiliate links for products or services we think you'll like. This means if you purchase from one of these links, Kelly's Thoughts On Things may make a small commission at no additional cost to you. We only recommend items we use and love.
Tools You May Need
Ingredients for a Sweet Experience
For the Crust:
Butter
Flour
Powdered Sugar
For the Filling:
Eggs
Sugar
Lemon Juice
Flour
Baking Powder
For the Garnish:
Step-by-step Guide to Homemade Lemon Bars
Follow this easy guide to create the most delightful lemon bars right in your kitchen.
Preparing the Buttery Crust
Preheat the Oven: Start by setting your oven to 350 degrees. This will ensure that it's ready for baking when the crust is prepared.
Combine Dry Ingredients: Mix the flour and powdered sugar in a large bowl until well combined.
Blend in the Butter: Add the softened butter to the flour mixture. Use a pastry cutter to cut the butter into the flour until it's well blended, and pea-sized particles have formed.
Form the Crust: Pour the mixture into a 9×13 dish. Use the back of a spoon or your fingers to press the mixture into the dish evenly.
Bake the Crust: Place the dish in the preheated oven and bake for 20 to 25 minutes, or until the crust turns golden brown. Remove from the oven and let it cool.
Crafting the Tangy Lemon Filling
Blend Eggs and Sugar: Prepare the filling while the crust is cooling. In a large bowl, combine the eggs and sugar, and mix well.
Add Lemon Juice: Pour the lemon juice into the mixture, stirring until well mixed.
Incorporate Dry Ingredients: Sift together the flour and baking powder in a separate small bowl. Add this to the egg mixture and stir until well blended.
Bake the Filling: Pour the filling over the baked crust and return the dish to the oven. Bake for another 20 to 25 minutes.
Cool and Garnish: Once baked, remove the dish from the oven and cool on a wire rack. When completely cool, sprinkle with powdered sugar.
Serve and Enjoy: Cut the bars into 2×2 inch squares. Serve and enjoy the burst of tangy lemon flavor in every bite!
This homemade lemon bars recipe is a dessert experience that will satisfy your sweet cravings and impress your guests.
The rich, buttery crust perfectly complements the tangy lemon filling, while powdered sugar dusting adds sweetness and elegance.
These lemon bars are a testament to the power of simplicity in baking, highlighting the delightful interplay of textures and flavors.
Enjoy these homemade lemon bars as a refreshing dessert on a warm day or as a delightful treat at your next gathering.
Tips for the Perfect Homemade Lemon Bars
Before we dive headfirst into this sweet, tangy adventure, let's arm ourselves with some handy tips and tricks.
Whether you're a novice or a seasoned baker, these little nuggets of wisdom will ensure your Homemade Lemon Bars come out perfect every single time!
Choosing the Right Ingredients
Butter: Use high-quality, unsalted butter for the best results. The butter should be softened, not melted, to create the right texture for the crust.
Lemons: Freshly squeezed lemon juice gives the best flavor. Avoid using bottled lemon juice, which can have a bitter aftertaste.
Sugar: Regular granulated sugar works best for the filling, while powdered sugar is ideal for the crust and for dusting the top of the bars.
Baking and Serving Tips
Baking Time: The crust and the filling have different baking times. Be sure to follow the times listed in the recipe to ensure that both components come out perfectly.
Cooling: Allow the bars to cool completely before dusting them with powdered sugar and cutting them into squares. This will prevent them from falling apart and ensure the sugar doesn't melt into the bars.
Serving: These bars are delicious on their own, but you can also serve them with a side of fresh berries or a dollop of whipped cream for added flavor.
Room Temperature Ingredients: Make sure your butter and eggs are at room temperature before you start. This will ensure your ingredients mix together seamlessly, giving you a smoother, creamier filling and a perfectly crumbly crust.
Juicing Your Lemons: Roll your lemons on the counter before juicing to get the maximum amount of juice. Also, a fine mesh strainer is your best friend to avoid any seeds sneaking into your lemon filling.
Patience is Key: Wait for your crust to cool before pouring the filling over it. This will prevent the crust from getting soggy.
The Perfect Cut: For clean, sharp edges on your lemon bars, chill them thoroughly before cutting. A hot knife (dip it in hot water, then wipe it dry) can also work wonders.
For true lemon lovers, these delightful Lemon Bars are a must-try.
They'll transport your taste buds to citrus paradise with a buttery crust and tangy lemon filling.
Experience the burst of refreshing goodness in every bite. Satisfy your lemon cravings with these irresistible bars.
They have a crunchy crust, gooey lemony center, and sweet powdered sugar on top.
They basically melt in your mouth.
You can make these ahead, and they'd be great for a Buffet table, a dessert table, or any party or event you may have.
No matter when you choose to serve these, they will surely be a favorite.
Delicious Variations to Try
One of the joys of baking is the freedom to get creative and make a recipe truly your own.
Once you've mastered the basic Homemade Lemon Bars recipe, why not experiment with some fun, tasty twists?
Add Zest: Grate some lemon zest into the filling for an extra burst of citrus flavor.
Berries on Top: Sprinkle some fresh raspberries or blueberries on top for a fruity twist.
Chocolate Drizzle: Drizzle a bit of melted dark chocolate over the cooled bars for a decadent touch.
Coconut Crust: Mix shredded coconut into the crust for a tropical flavor.
Spice it Up: A dash of cinnamon or nutmeg in the crust can add a warm, aromatic note.
Frequently Asked Questions
Can I freeze the lemon bars? Yes, you can! Just wrap them tightly; they will last up to 3 months.
Can I use bottled lemon juice? Fresh lemon juice is preferable for its flavor, but bottled juice can be used in a pinch.
Why is my crust crumbly? The butter wasn't thoroughly mixed with the flour and sugar. Make sure it's well combined next time.
Can I use a different type of sugar? We recommend sticking to the recipe for the best results. Substitutions can alter the texture and taste.
What if I don't have a 9×13 dish? You can use a similar-sized dish. Just keep an eye on the baking time, as it might vary.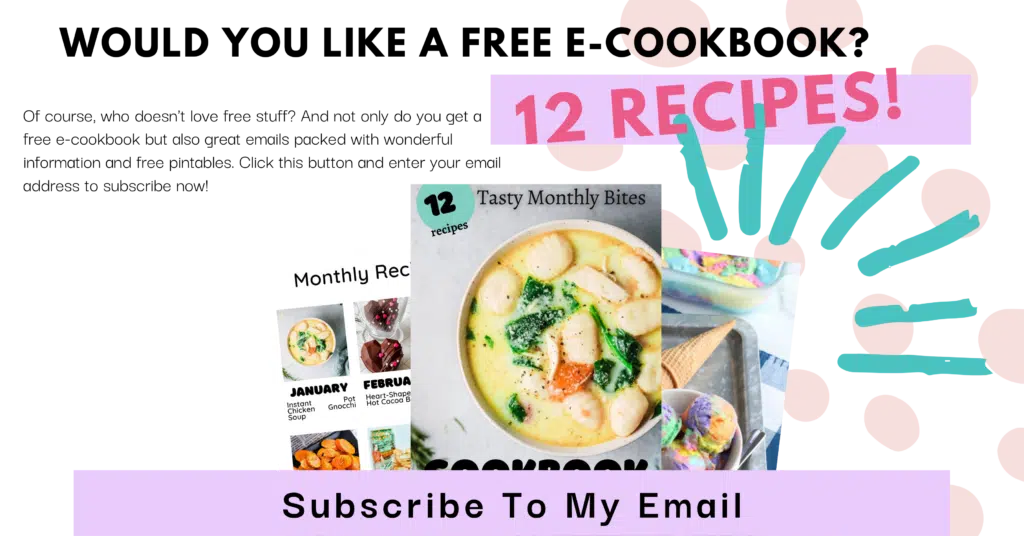 Perfect Pairings for Lemon Bars
These zesty lemon bars pair beautifully with various drinks and other desserts.
Here are a few suggestions:
Iced Tea: A glass of refreshing iced tea complements the tangy sweetness of the lemon bars.
Fresh Berries: A side of fresh berries adds a vibrant, fruity accent to the dessert.
Vanilla Ice Cream: A scoop of vanilla ice cream on the side makes for a delightful contrast in temperatures.
Whipped Cream: A dollop of lightly sweetened whipped cream on top adds a creamy, lush touch.
Mint Leaves: A garnish of fresh mint leaves adds a pop of color and a refreshing contrast to the zesty lemon.
Homemade Lemon Bars Recipe
Yield: 15-18
Homemade Lemon Bars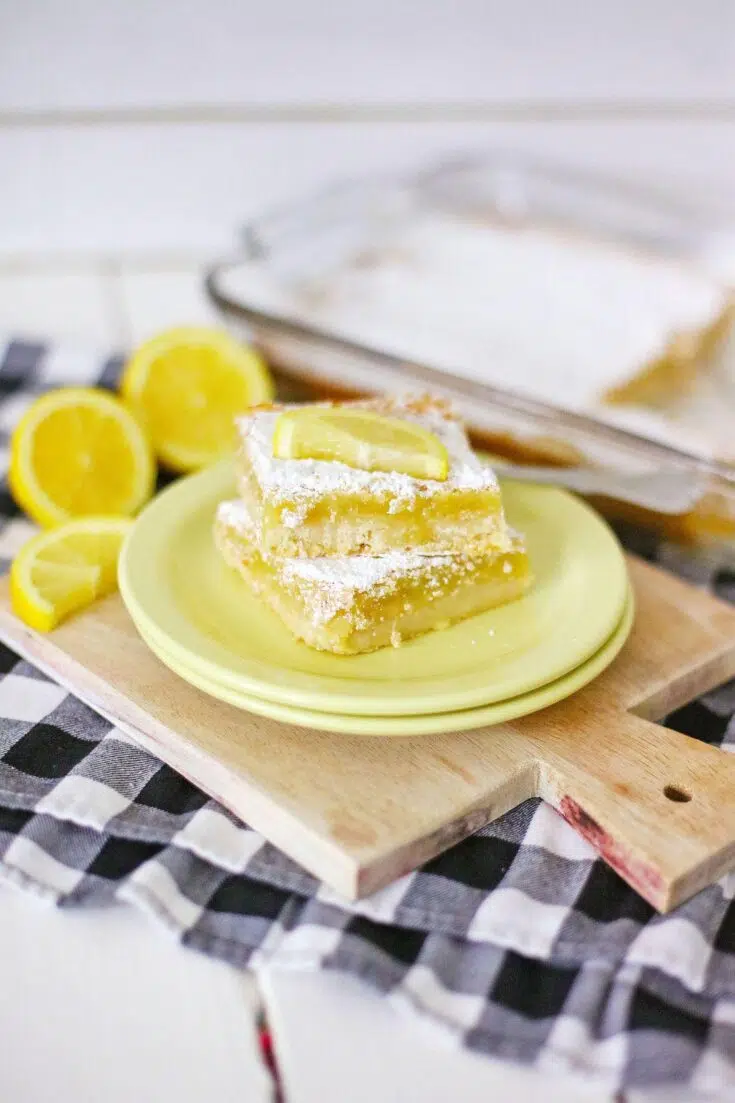 Indulge in the refreshing taste of our homemade lemon bars. This delectable dessert combines a buttery crust and a tangy lemon filling for a tantalizing treat that will enchant your taste buds.
Total Time
3 hours
20 minutes
Ingredients
FOR THE CRUST
1 cup of Butter - softened
2 cups of Flour
1/2 cup of Powdered Sugar
FOR THE FILLING
4 Eggs
2 cups of Sugar
1/3 cup of Lemon Juice
1/4 cup of Flour
1 teaspoon of Baking Powder
TOP
1/2 cup of Powdered Sugar
Instructions
Pre-heat the oven to 350 degrees.
In a large bowl, place the Flour and Powdered Sugar, and mix well.
Add the softened Butter (Not melted - softened), and using a Pastry Cutter, cut the butter into the flour mixture until it's well blended, and pea size particles have formed.
Pour the mixture into a 9 X 13 dish, and evenly press the mixture in the dish with the back of a spoon, or your fingers.
Bake for 20 to 25 minutes, or until just golden brown.
Remove from oven.
MAKE THE FILLING:
While the crust is cooling a little, make the filling - In a large bowl, add the Eggs, and Sugar, and mix well to blend.
Add the Lemon Juice, and stir until well mixed.
In a small bowl, sift together the Flour, and Baking Powder, and add to the Egg mixture, and stir until well blended.
Pour over the baked crust, and place the dish back in the oven for 20 to 25 minutes.
When the filling is done, remove the dish from the oven, and cool on a wire rack.
When completely cool, sprinkle with Powdered Sugar.
Cut in 2 X 2 inch squares, serve, and Enjoy!
Makes approximately 15 - 18 servings
Nutrition Information:
Yield:
18
Serving Size:
1
Amount Per Serving:
Calories:

274
Total Fat:

11g
Saturated Fat:

7g
Trans Fat:

0g
Unsaturated Fat:

4g
Cholesterol:

68mg
Sodium:

126mg
Carbohydrates:

41g
Fiber:

0g
Sugar:

28g
Protein:

3g
Nutritional information is automatically calculated with ingredients and serving size and may not be accurate. Please always double check with your own nutritional apps as well.
Share Your Sweet Success with Us!
We've walked you through the journey of creating these delightful Homemade Lemon Bars, and we can't wait for you to enjoy them.
Now, it's your turn to don your apron and whip up some tangy magic in your kitchen.
We'd love for you to share your experience! Did you stick to the recipe or add your own twist?
How did your lemon bars turn out? Don't forget to print this recipe for easy reference next time, pin it to your favorite recipe board, and leave a comment below sharing your baking journey with us. Happy baking!
If you get a chance to use this recipe, let me know! Leave me a comment below, or share it with a picture on Instagram or Facebook! Don't forget to tag me @kelly_reci_ and use the hashtag #kellysthoughtsonthings so I can see how you use it!