Imagine sitting around a crackling campfire, stars twinkling above, and laughter echoing through the air. Now, add a deliciously sweet treat to the mix. Welcome to the world of Shark Campfire Cones! This unique take on a classic campfire dessert is not only scrumptious but also a joy to make and share. And what better way to celebrate Shark Week than with a shark-themed treat?
Whether you're a fan of the annual TV event or just love a fun and creative dessert, these Shark Campfire Cones will make a splash!
This recipe is mouthwateringly good, fun, and easy to make, perfect for kids and adults.
Why You'll Love Shark Campfire Cones
Easy Ingredients: With just four ingredients, this recipe is as simple as possible.
Fun to Make: Making these cones is a joy, perfect for involving the little ones.
Transportable: Wrapped in foil, these cones are easy to carry around, making them perfect for camping trips or picnics.
Versatile: Enjoy them as a dessert, a snack, or a sweet breakfast treat.
Memorable: The unique combination of ingredients makes this a dessert people will always remember and ask for.
Celebrate Shark Week with Shark Campfire Cones
Shark Week is a time of excitement and discovery, a chance to learn more about these fascinating creatures of the deep.
And what better way to celebrate than with a shark-themed treat? Shark Campfire Cones are the perfect addition to your Shark Week festivities.
You can enjoy a just as exciting dessert as you tune in to watch the latest shark documentaries or relive the thrilling moments from past years.
The shark gummies add a fun and playful touch that's in keeping with the spirit of Shark Week.
You'll find the specific ingredient amounts and detailed instructions in the printable recipe at the bottom of this post.
Disclosure: This blog post contains affiliate links for products or services we think you'll like. This means if you purchase from one of these links, Kelly's Thoughts On Things may make a small commission at no additional cost to you. We only recommend items we use and love.
The Ingredients For Shark Campfire Cones
To make these Shark Campfire Cones, you'll need the following ingredients:
waffle cones
mini marshmallows
shark gummies
Hershey's kisses
What You Will Need
These ingredients combine to create a sweet and gooey treat that will satisfy your sweet tooth.
The shark gummies add a fun and playful touch, making this recipe a hit at family gatherings, camping trips, or even just a cozy night in.
The Preparation of the Shark Campfire Cones
The preparation for these Shark Campfire Cones is as simple as it gets. Here's how you do it:
Fill a waffle cone with marshmallows, Hershey's Kisses, and shark gummies.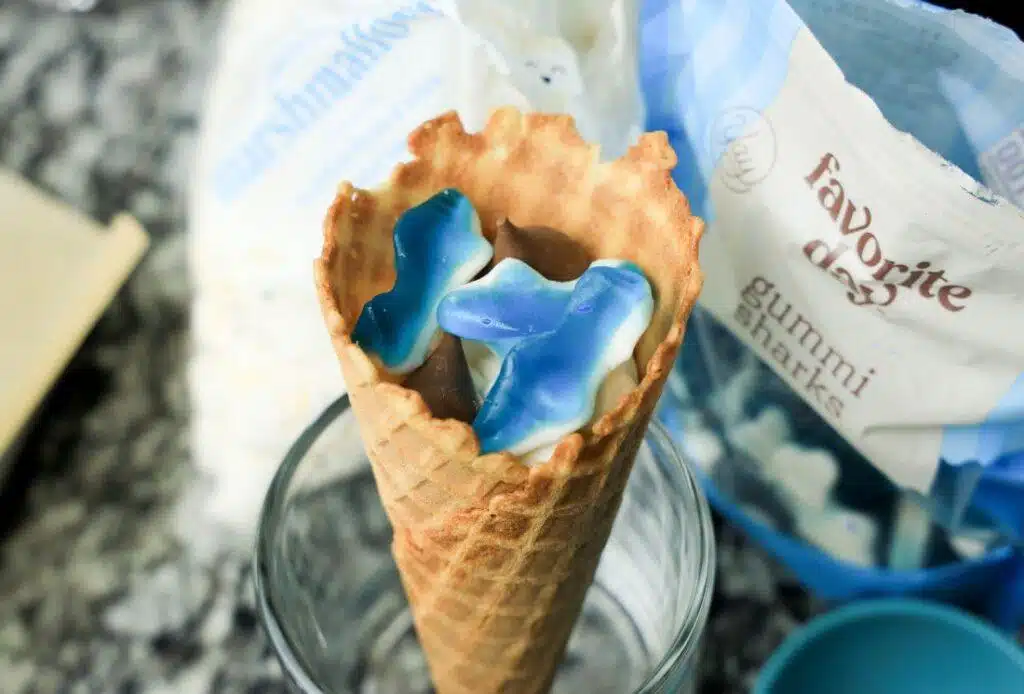 The combination of these ingredients creates a delightful mix of flavors and textures.
If you're cooking on a grill, wrap the cone in foil and place it on the grill for about five minutes until the insides start to melt. The foil helps to distribute the heat evenly and prevents the cone from burning.
If cooking in the oven, place the cone on a baking sheet lined with parchment paper and broil for 3 minutes until the insides melt. The quick broil gives you a perfectly melted filling without overcooking the cone.
Serve warm and enjoy the gooey, melty, and utterly delicious Shark Campfire Cones!
Expert Tips for Campfire Cone Success
Use heavy-duty aluminum foil to minimize the risk of tearing or leakage.
If you don't have a campfire, you can also cook the cones in an oven at 350°F (175°C) for 5-7 minutes or on a grill over medium heat.
To make a vegan or dairy-free version, use dairy-free chocolate chips and marshmallows.
The Experience
Eating a Shark Campfire Cone is an experience in itself.
The crunch of the waffle cone, the gooey marshmallows, the rich chocolate from Hershey's Kisses, and the fun chewiness of the shark gummies all combine to create a symphony of flavors and textures.
It's a treat that will bring smiles to everyone's faces.
A Fun Twist on Traditional S'mores
Traditional s'mores have been a campfire staple for years, but these Shark Campfire Cones offer a fun and exciting twist.
The waffle cone replaces the graham crackers, providing a crunchy vessel for the gooey fillings.
The shark gummies add a pop of color and chewy contrast to the melted marshmallows and chocolate. It's a creative take on a classic that's sure to impress.
Alternative Ingredients for Your Shark Campfire Cones
Fruit: Add some sliced bananas or strawberries for a fruity twist.
Nuts: Sprinkle in some chopped almonds or pecans for some crunch.
Caramel: Drizzle some caramel sauce inside the cone for extra sweetness.
Dark Chocolate: Swap out Hershey's Kisses for dark chocolate for a richer flavor.
Cereal: Add some of your favorite cereal for an unexpected and fun crunch.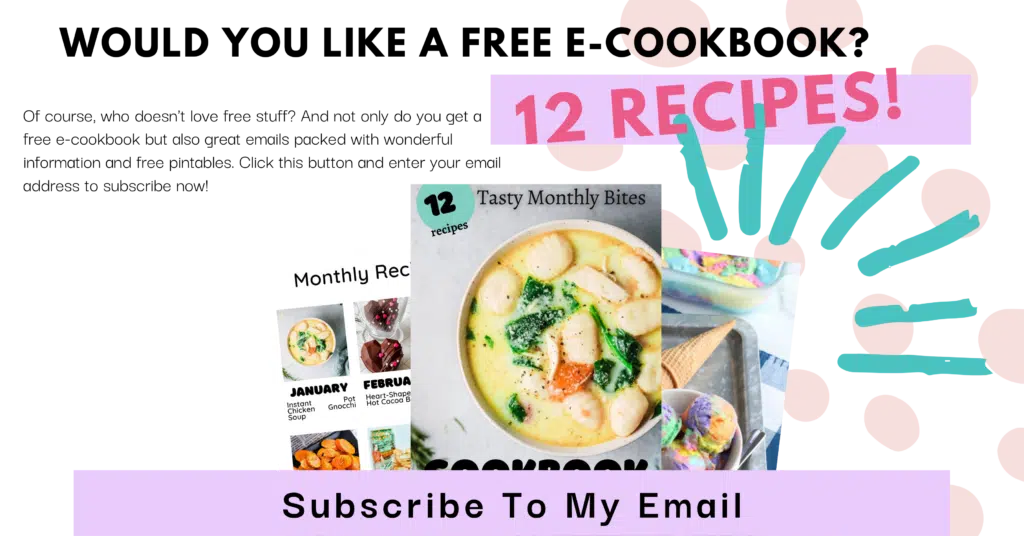 Check out this Kitchen Toolbox! It has cheat sheets that will help you cook easier and faster.
A Shark Week Tradition
Why not make Shark Campfire Cones a Shark Week tradition?
Each year, as you look forward to the thrilling shark encounters and stunning underwater footage, you can also look forward to making and enjoying these delicious cones.
It's a fun and tasty way to enhance your Shark Week experience.
Sharing the Shark Week Excitement
Shark Campfire Cones are also great for sharing the Shark Week excitement with others.
These cones will surely be a hit if you host a Shark Week viewing party.
Or, make them a surprise for your fellow shark enthusiasts.
They're a sweet way to share the fun and excitement of Shark Week.
A Treat for All Ages
Shark Campfire Cones aren't just for the kids. They're a hit with adults too! The nostalgia of marshmallows and chocolate and the playful addition of shark gummies bring out the child in everyone. It's a dessert that transcends age, bringing joy and sweetness to all who partake.
A Creative Spin on Dessert
Who says dessert has to be a slice of cake or a scoop of ice cream? With Shark Campfire Cones, you're walking on the wild side of the dessert. It's a creative spin that will impress your guests and make your event memorable. Plus, it's a great conversation starter!
Making Memories with Shark Campfire Cones
The best part about Shark Campfire Cones isn't just the delicious taste; it's the memories you make while creating them. Whether you're huddled around a campfire or gathered in your kitchen, the process of making these cones is just as enjoyable as eating them. It's a shared experience that brings people together, creating memories that will last a lifetime.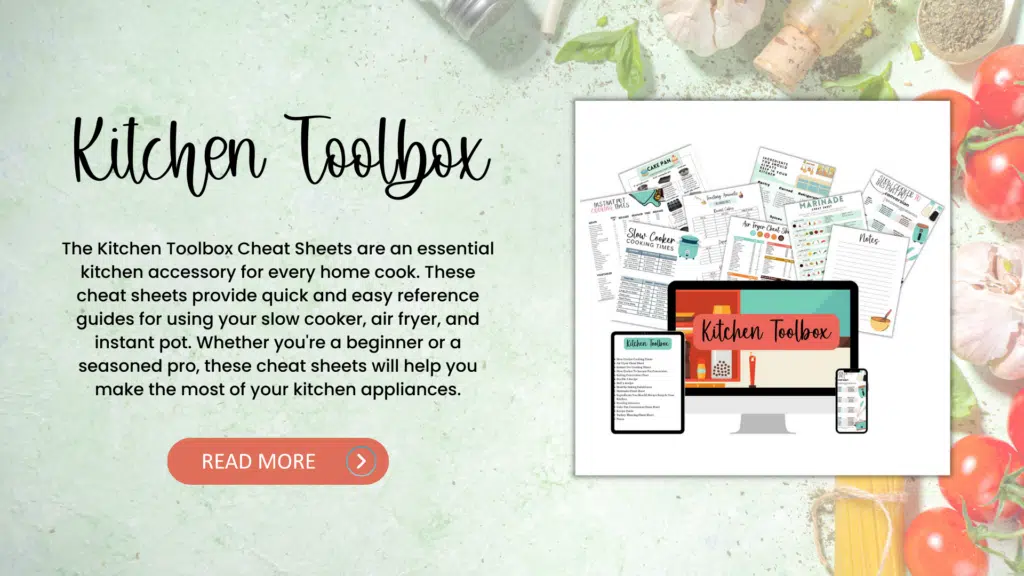 Frequently Asked Questions
Can I make these cones ahead of time?
You can prepare the cones beforehand, but we recommend cooking them just before serving for the best taste and texture.
Can I use regular marshmallows instead of mini ones?
Yes, you can, but mini marshmallows melt more evenly and quickly.
Can I use other types of chocolate?
Absolutely! Feel free to experiment with different types of chocolate to find your favorite combination.
Can I make these in the microwave?
While it's possible, we recommend using a grill or oven for the best results.
Can I use other types of gummies?
Of course! You can customize your cones with your favorite gummies.
Dive into Shark Week with Shark Campfire Cones
So, are you ready to dive into Shark Week with Shark Campfire Cones?
Gather your ingredients, round up your fellow shark enthusiasts, and prepare for a sweet adventure.
And remember, just like Shark Week; it's all about the thrill of discovery and the joy of shared experiences.
Happy Shark Week, and enjoy your Shark Campfire Cones!
Shark Campfire Cones Recipe
Yield: 4
Shark Campfire Cones
Ingredients
4 waffles cones
1 1/2 cups mini marshmallows
12 shark gummies
8 Hershey's kisses
Instructions
Place marshmallows, Hershey's Kisses, and shark gummies in a waffle cone.
If cooking on the grill, wrap the cone in foil. Place on the grill for about five minutes until the insides melt.
If cooking in the oven, place on parchment paper on a baking sheet, then broil for 3 minutes until the insides melt.
Serve warm!
Nutrition Information:
Yield:
4
Serving Size:
1
Amount Per Serving:
Calories:

377
Total Fat:

13g
Saturated Fat:

4g
Trans Fat:

0g
Unsaturated Fat:

9g
Cholesterol:

54mg
Sodium:

429mg
Carbohydrates:

57g
Fiber:

0g
Sugar:

21g
Protein:

7g
Nutritional information is automatically calculated with ingredients and serving size and may not be accurate. Please always double check with your own nutritional apps as well.
WHAT'S NEXT?
If you get a chance to use this recipe, let me know! Leave me a comment below, or share it with a picture on Instagram or Facebook! Don't forget to tag me @kelly_reci_ and use the hashtag #kellysthoughtsonthings so I can see how you use it!