This post may contain affiliate links. This means if you click on the link and purchase the item, I will receive an affiliate commission at no extra cost to you. All opinions remain my own.
Oh, the sweet, smoky whispers of BBQ have always danced around the corners of my culinary heart. Today, I am thrilled to share with you a recipe that's close to my heart, and likely to find a snug spot in yours too! It's the classic Crock-pot Barbecue Chicken, but with a twist of ease and a dash of fun – all thanks to our trusty crockpot. So, grab your apron, summon your crockpot, and let's make some BBQ magic happen!
A Tale of BBQ Love
Every tender bite of BBQ chicken is like a narrative, telling tales of comfort, camaraderie, and the sheer joy of a well-cooked meal. It's a dish that doesn't just satiate hunger but feeds the soul.
My journey with BBQ chicken is a long, delightful one, filled with trials, triumphs, and tons of tasty memories.
Today, I'm taking this journey a notch higher by bringing to you a recipe that's a blend of tradition, taste, and time-saving!
Why This Recipe Will Win Your Heart
Easy Ingredients: The ingredients are simple, yet they harmonize like a seasoned orchestra creating a gourmet tune in your crockpot!
Transportable Feast: Whether it's a picnic, a potluck, or a cozy backyard gathering, this dish travels with ease and pleases with gusto!
Effortless Cooking: The crockpot does the heavy lifting; your effort is minimal, making this recipe a busy cook's cherished friend.
Healthful Indulgence: Lean chicken meets homemade BBQ goodness, offering a hearty meal that's light on the waistline.
Unforgettable Flavor: The melody of smoky, sweet, and tangy notes makes this BBQ Chicken an unforgettable flavor fiesta.
Here's My Star Recipe! Crock-pot Barbecue Chicken!
Without further ado, let's delve into the heart of this BBQ saga. The recipe I am about to share is effortless, quick, and absolutely delicious!
With a prep time of just 10 minutes, it's a breeze to whip up, making it a perfect companion for those hectic weekdays or lazy weekends.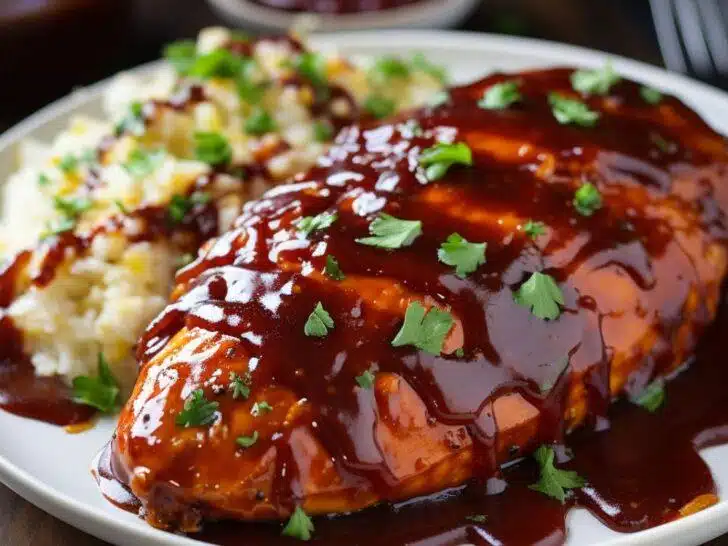 You'll find the specific ingredient amounts and detailed instructions in the printable recipe at the bottom of this post.
Ingredients For Crock-Pot Barbecue Chicken
Boneless skinless chicken breasts (Your protein-packed canvas!)
Barbecue sauce (The smokier, the better, I always say!)
Vinegar (For that zesty tang that wakes up the taste buds!)
Red pepper flakes (A whisper of heat to tickle your palate!)
Brown sugar (Bringing in sweet caramel notes to the BBQ ensemble!)
Garlic powder (For that earthy, comforting undertone!)
Directions For Crock-Pot Barbecue Chicken
Take a bowl, and mix together the barbecue sauce, vinegar, red pepper flakes, brown sugar, and garlic powder. This is where the magic begins, as these humble ingredients start orchestrating a symphony of flavors that's going to resonate through every bite of the chicken.
Now, introduce the chicken breasts to the crockpot, and shower them with the sauce mixture you just conjured. Remember to keep aside a little sauce to drizzle over the chicken when it's time to feast.
Set the crockpot on a low, gentle heat, and let it work its magic for a good 4 to 6 hours. What you'll be greeted with is nothing short of culinary magic, tender, flavorful BBQ chicken that's ready to steal the show!
Every bite of this Crockpot BBQ Chicken is a testament to the beautiful symphony of flavors that simple, well-thought-out ingredients can create.
The gentle, slow cooking process ensures every fiber of the chicken is infused with the BBQ melody, making each bite a flavorful fiesta!
Tweak the Tune: Alternative Ingredients
Five Ingredients to Jazz Up Your BBQ Chicken
Smoked Paprika: For an extra smoky zing, add a dash of smoked paprika to the sauce.
Honey: Swap brown sugar with honey for a natural sweet note.
Dijon Mustard: A spoonful of Dijon can add a tangy, zesty character to your BBQ Chicken.
Pineapple Juice: For a tropical twist, add a splash of pineapple juice.
Chipotle Peppers: Toss in some chopped chipotle peppers for a spicy, smoky kick.
BBQ Queries Unplugged: FAQs
Five Burning Questions About Your Crockpot BBQ Chicken
Can I use chicken thighs instead of breasts?

Absolutely! Chicken thighs can be even juicier and more flavorful.

How can I make the BBQ sauce from scratch?

Blend tomato sauce, vinegar, brown sugar, mustard, and your choice of spices. Experiment to find your BBQ sweet spot!

Can I cook it on high to save time?

Yes, cooking on high for 2 to 3 hours will do the trick, but low and slow rewards with tender, flavorful chicken.

Is it possible to overcook the chicken?

While the crockpot is forgiving, cooking beyond the recommended time could dry out the chicken.

Can I add vegetables to the crockpot?

Indeed! Toss in veggies like bell peppers or onions for a wholesome meal.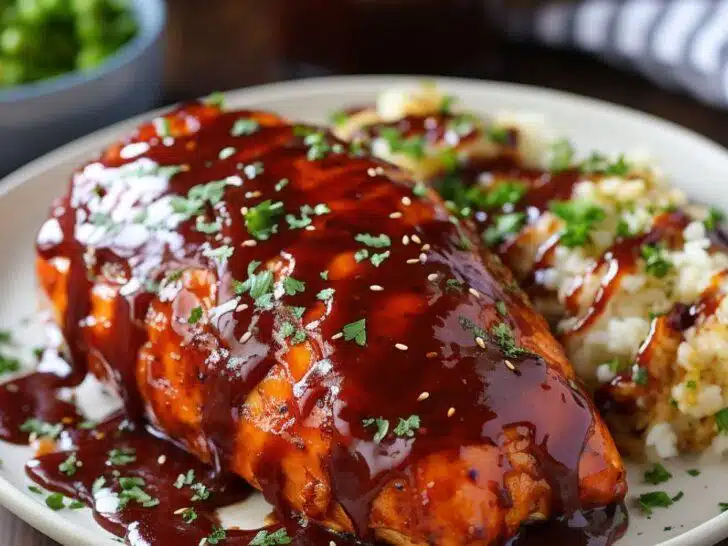 The BBQ Chicken: A Flavorful Adventure
Our Crock-pot Barbecue Chicken is not just a dish; it's a journey of flavors, a delightful dance between ingredients and a crockpot.
As the chicken slowly simmers in the smoky, tangy BBQ goodness, what unfolds is a narrative of patience, anticipation, of culinary wonder.
Each bite is a chapter in a flavorful narrative, a nod to the simple yet profound pleasure of a well-cooked meal.
It's about coming home to a crockpot bubbling with BBQ promise, about gathering around the table with loved ones, sharing laughs, sharing stories, and sharing the BBQ delight.
So, as you dive fork-first into this BBQ chicken, you're not just savoring a dish, you're partaking in a culinary narrative that's as heartwarming as it is flavorful.
It's a simple joy, a delicious pause in the rush of life, a moment to appreciate the beautiful simplicity that is Crock-pot Barbecue Chicken.
This dish is more than just a meal; it's a reminder of the simple, profound joys that come with sharing a hearty, homemade meal with loved ones.
The BBQ Chicken is not just about feeding bodies, it's about nourishing souls, creating memories, and celebrating every day with a dish that's anything but ordinary.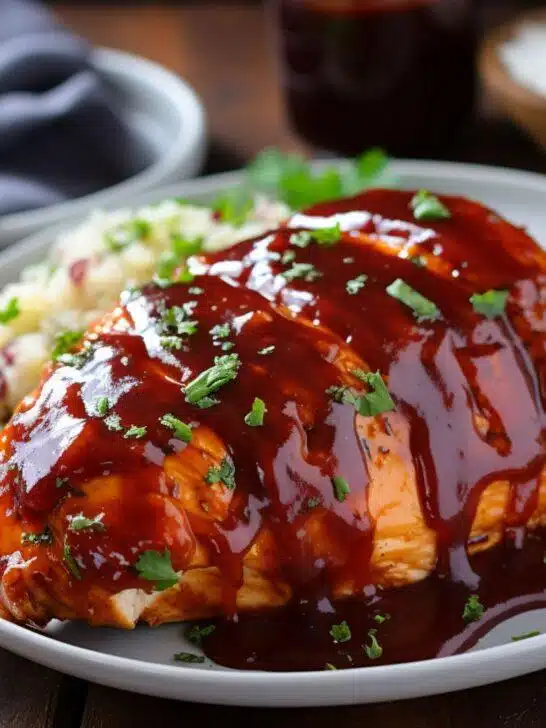 WHAT'S NEXT?
Cooking has always been my playground, a place where I let my imagination skip, hop, and leap.
Every ingredient added every gentle simmer, and every hearty stir is a stroke of love, a step closer to a meal that's not just tasty, but a memory, evoking. And oh, the joy of sharing!
Seeing the smiles, hearing the contented sighs as my family relishes each bite, it's a melody that sings straight to my heart.
This Easy BBQ Chicken recipe is a simple ode to the beauty of slow-cooked, heartwarming meals.
It's a dish that brings the table alive with chatter, and laughter, with stories shared over tender bites of BBQ goodness.
Now, it's your turn to stir the pot, to let the Crockpot BBQ Chicken magic unfold in your kitchen.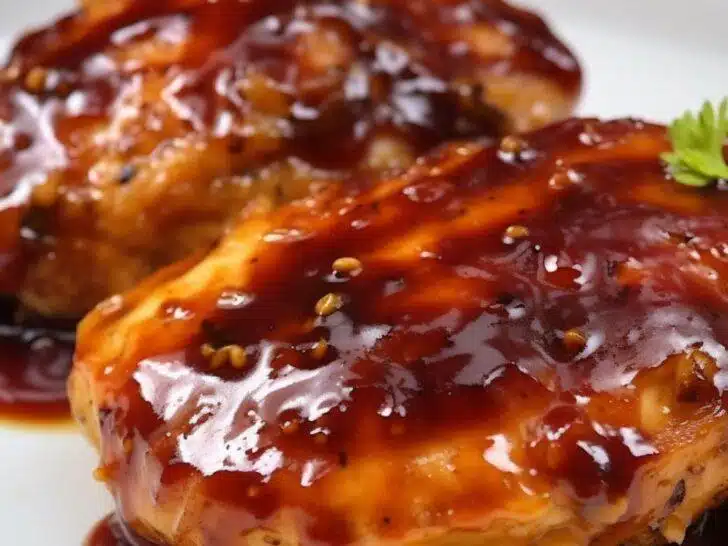 Go ahead, print this recipe, pin it, and oh, I'm bubbling with anticipation to read how your BBQ journey turned out in the comments below.
Did the symphony of flavors make your taste buds dance? Did you add a zing of your own? I'm all ears!
So here's to your BBQ journey, to the fun-filled, flavor-packed adventures awaiting you.
And as you delve into the smoky, sweet world of BBQ, remember, every dish you cook is a story, a memory, a delicious chapter in your own culinary tale.
Now, summon your crockpot, gather your ingredients, and let the BBQ fun begin!
Your kitchen is ready to echo with the delightful hum of slow-cooking magic and hearty laughter, as the tale of Crockpot BBQ Chicken unfolds anew in your home.
If you get a chance to use this recipe, let me know! Leave me a comment below, or share it with a picture on Instagram or Facebook! Don't forget to tag me @kelly_reci_ and use the hashtag #kellysthoughtsonthings so I can see how you use it!
Crock-Pot Barbecue Chicken Recipe
Yield: 6
Crock-Pot Barbecue Chicken
Oh, the sweet, smoky whispers of BBQ have always danced around the corners of my culinary heart. Today, I am thrilled to share with you a recipe that's close to my heart, and likely to find a snug spot in yours too! It's the classic Crock-pot Barbecue Chicken, but with a twist of ease and a dash of fun - all thanks to our trusty crockpot. So, grab your apron, summon your crockpot, and let's make some BBQ magic happen!
Total Time
4 hours
10 minutes
Ingredients
6 pieces boneless skinless chicken breasts
1 (18 ounce) bottle barbecue sauce
1⁄4 cup vinegar
1 teaspoon red pepper flakes
1⁄4 cup brown sugar
1 teaspoon garlic powder
Instructions
Mix all ingredients in a bowl, except the chicken.
Put chicken in the crock pot and pour sauce mixture over it.
Cook on low for 4-6 hours.
Notes
Cook for either 6 hours Low or 4 hours High. Always check to make sure the chicken is done.
Nutrition Information:
Yield:
6
Serving Size:
1
Amount Per Serving:
Calories:

241
Total Fat:

4g
Saturated Fat:

1g
Trans Fat:

0g
Unsaturated Fat:

2g
Cholesterol:

102mg
Sodium:

150mg
Carbohydrates:

10g
Fiber:

0g
Sugar:

9g
Protein:

37g
Nutritional information is automatically calculated with ingredients and serving size and may not be accurate. Please always double check with your own nutritional apps as well.