If you're looking for an excellent Fall getaway, why not consider visiting one of America's national parks? There are plenty of amazing parks to choose from, and the autumn scenery is unbeatable. Here are some of the best National Parks to visit in November.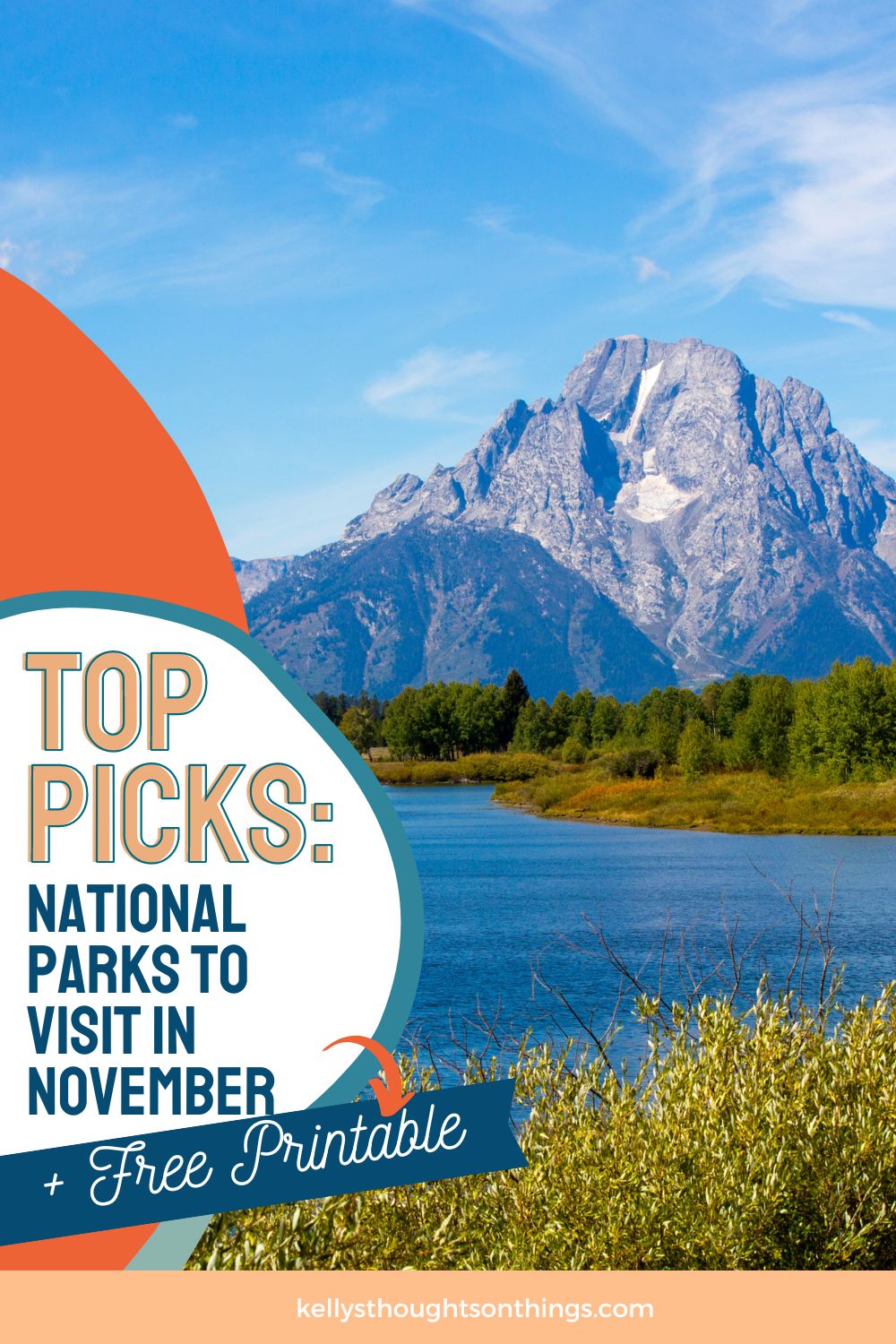 You may wonder where to go in the United States for your November holiday vacation. November is the perfect month to visit a national park.
Even the most popular national parks are less crowded in the fall. National parks are also budget-friendly.
Include a national park as part of your holiday travel and get the most bang for your buck.
Read on to learn about the best national parks to visit in November.
New England Region
Acadia National Park: Maine
Acadia National Park is perfect for a holiday trip during your Thanksgiving break.
As the only national park in New England, Acadia is super popular and busy in the warmer months.
November is a bit chilly, but it's worth the trade-off to avoid crowds.
Things to do:
Drive the Park Loop Road
Drive up Cadillac Mountain
View the Aurora Borealis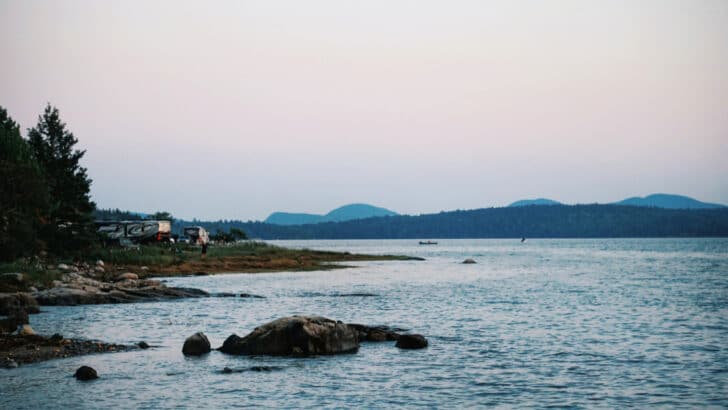 Southern Region
Everglades National Park: Florida
Florida is notorious for its hot and humid weather.
This means November is the best time to visit the Everglades.
Visit over your Thanksgiving break to explore this park during its most pleasant season.
Things to do:
Enjoy birding without the mosquito population
Hike the loop at the Shark Visitor Center
Shenandoah National Park: Virginia
The best time to see the splendor of Shenandoah's fall foliage is from September through November.
While the fall season is busy here, waiting until November offers you the opportunity to view the brilliance of the autumn leaves while avoiding crowds.
This park is a great way to reflect on the blessings of nature during your holiday road trip.
Things to do:
Travel the Skyline Drive
Take Insta-worthy photographs of fall foliage
Hike to the Old Rag Summit
Great Smoky Mountains National Park: Tennessee
Like in Shenandoah National Park, the trees in Smoky Mountain National Park display the stunning oranges and yellows that define the beauty of fall.
The huge crowds of visitors are typically gone by November.
You will also enjoy the crisp mountain air in cooler temperatures.
Things to do:
Take panoramic photos atop Gregory Bald Trail
Hike the Baskins Creek Trail to see Baskin Falls
Drive the scenic Newfound Gap Road
Mid-West
Cuyahoga Valley National Park (CVNP)
We included this park on our list because of the fall beauty that's found here and its accessibility.
While some may consider Cuyahoga the "plain Jane" of national parks, this is not true.
Cuyahoga holds its own in terms of simplistic natural beauty. Fall here means explosions of yellows and gold.
This is also the best time to see Bald Eagles and flocks of Eastern Bluebirds.
Things to do:
See the 60-ft tall Brandywine Falls
Stay overnight at the historic Inn at Brandywine Falls
Photograph violet-colored skies at the Everett Covered Bridge
Southwest
Grand Canyon National Park: Arizona
The benefits of visiting the Grand Canyon in November are threefold.
You pay cheaper prices for flights and lodging; you also will avoid the summer hordes and heat.
While temperatures can drop to freezing at night, you still receive the benefits of exploring this wonder in mild temperatures during the day.
Visiting the Grand Canyon's South Rim is a novel and fun way to celebrate Thanksgiving.
Things to do:
Eat your Thanksgiving Meal at the Grand Canyon's Arizona Steakhouse
Visit Mathers Viewpoint and walk the Rim Trail
Take the scenic Desert View Drive
Big Bend National Park: Texas
With 100-degree heat in the summer, it's no wonder the most popular time to visit Big Bend is in the fall and winter. Big Bend National Park is a whopping 801,163 acres in the middle of nowhere.
Visiting this park is truly an adventure. Like all successful adventures, visiting Big Bend requires planning.
Besides notable birding opportunities, Big Bend also offers dramatic canyon views, epic sunsets, and the opportunity to walk on the shores of the Rio Grande.
Things to do:
Take the Window Trail and witness fall colors in the Chisos Mountains
Hike the Rio Grande Nature Trail
Visit the Fossil Discovery Exhibit
Rocky Mountain Region
Utah's Zion and Capital Reef National Parks
If you want to visit one of Utah's "Big 5" national parks, we recommend either Zion or Capitol Reef.
Both have ribbon-colored rocks and jagged peaks, resulting in similar landscapes.
However, Zion is the most visited, and Capital Reef is the least visited, depending on what type of adventure you want.
Explore both options and see which best suits your tastes.
Both are perfect places for a November road trip simply because it's more relaxed and there are fewer visitors in the fall.
Things to do in Zion National Park:
Ride the shuttle on Zion Canyon Scenic Drive
Take the Temple of Sinawava trail, then walk the Riverwalk
Cross the bridges on the Pa'rus trail (pet/bike/wheelchair friendly)
Things to do in Capitol Reef National Park:
Rocky Mountain National Park: Colorado
Take advantage of this park's off-season and enjoy your holiday in Rocky Mountain National Park.
A visit in November allows you to avoid long lines, crowded trails, and a lack of parking.
Spring and fall are popular times to visit, but visitor numbers drop dramatically by the time November rolls around.
Weather can lead to road closures, but many roads are paved, and trails remain accessible.
Big snowfalls usually don't occur until December.
Things to do:
Stay in the town of Estes Park
Check-in with Beaver Meadows or Kawuneeche Visitor Centers for spots to view wildlife.
Hike the 1.2 miles (roundtrip) Lily Ridge Trail
National Park Packing List Printable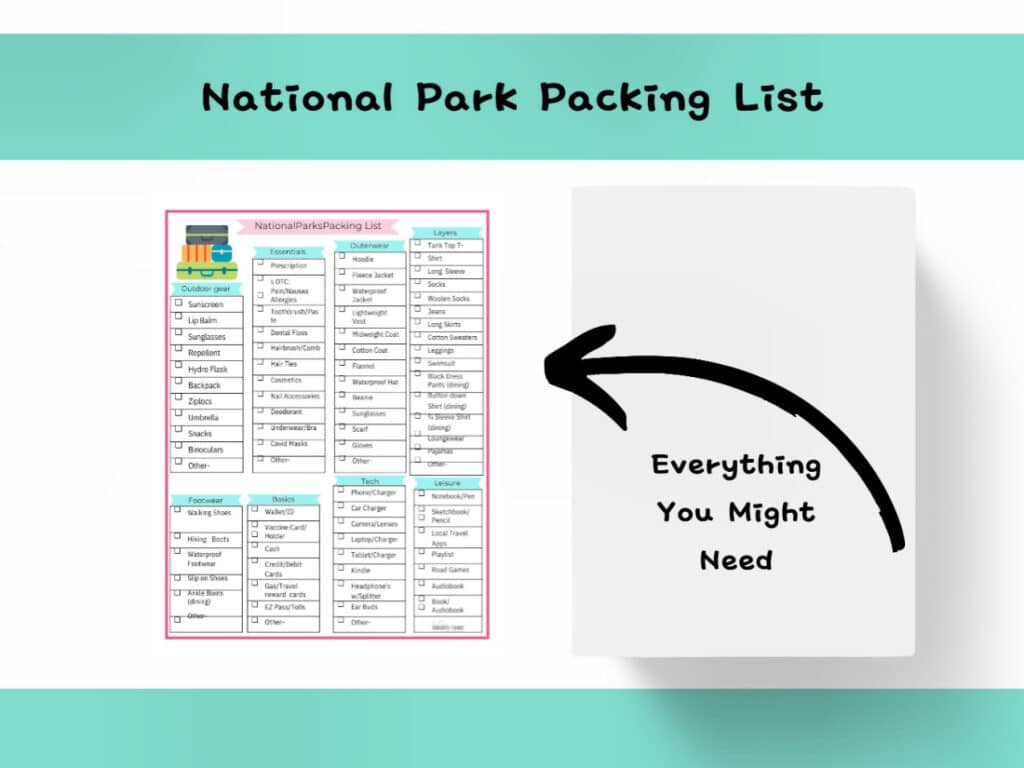 National parks are a great way to spend time with family and friends while connecting with nature. However, before you embark on your adventure, you must ensure you have everything you need. This National Park Packing List Printable will help you make sure that you don't forget any essential items. From sunscreen and bug spray to a first aid kit and binoculars, this list has everything you need to make the most of your national park experience. So print it out and check it twice, then get ready for a vacation you'll never forget.
What You Will Need For The Printable Packing List
Pacific Coastal Region
Yosemite National Park: California
Yosemite is beautiful year-round, and visiting here in November has its advantages.
Now, it's best to take your holiday trip here before or after the Thanksgiving holiday.
Plan your trip during the first two weeks of November to catch the full force of fall colors and avoid the first snowfall.
Things to do:
Catch the Tunnel View Sunrise
Hike the one-mile loop to Lower Yosemite Falls
Visit Tuolumne Grove's Tunnel Tree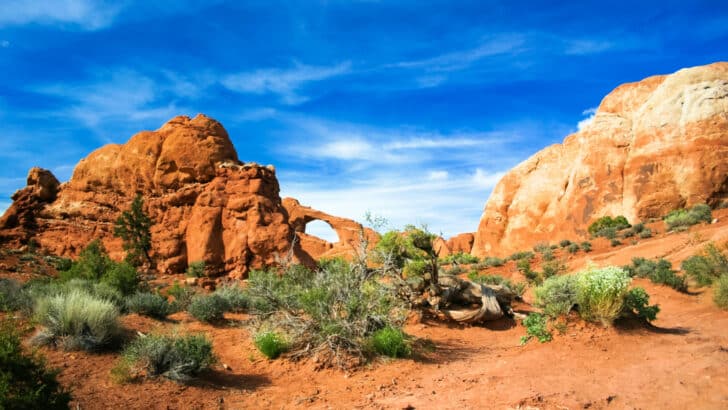 Redwood National Park: California
A visit to Redwood National Park in November is balmy and serene if a bit damp.
Witnessing the ancient, towering redwoods in the land of Bigfoot is an incredibly surreal way to enjoy your holiday.
Enjoy roaming among the giants with very few people and no bugs.
The redwoods are technically located in both state and national parks, but geographically they are in the same area.
Take advantage of seeing gray whales during their migration during your visit. Make sure to bring waterproof footwear!
Things to do:
Catch the sunset at Redwood Creek Overlook
Drive or hike to Fern Canyon
Hike to Trillium Falls
If you're looking for an unforgettable Fall getaway, look no further than America's national parks.
With so many amazing parks to choose from, you're sure to find the perfect one for you.
Don't forget your camera – the autumn scenery is unbeatable!