This post may contain affiliate links. This means if you click on the link and purchase the item, I will receive an affiliate commission at no extra cost to you. All opinions remain my own.
Zion National Park is a fantastical place filled with red rock formations, breathtaking hikes, and endless outdoor activities. It truly is a nature lover's heaven.
When you arrive at the park, your first stop should be the Visitor's Center to check out all of the information on the trails and activities in Zion National Park.
You can pick up a map here as well as talk to a ranger for any advice or questions you may have about your trip.
Enjoy the Virgin River
Located in the southwestern corner of Utah, Zion National Park is a favorite for nature lovers and outdoors enthusiasts.
The park is rich in scenery, hiking trails, campsites, and wildlife, and it can be accessed by road via the Zion-Mount Carmel Highway (State Route 9), which connects the town of Springdale to the north with the town of Mt. Carmel Junction to the southeast.
One of the most popular things to do in Zion National Park is enjoy the Virgin River. Hikers who follow the river to its source will find that it originates at Kolob Creek, which is located within Zion National Park's northwest quadrant.
The creek flows northward along a route that parallels Interstate 15 before reaching its confluence with North Creek. At this point, it officially became known as the Virgin River proper.
The easiest way to experience Zion National Park's Virgin River is by taking a hike along a section of its banks.
There are several different trails that make use of the river, but for most hikers, the best choice is probably going to be Angel's Landing Trail.
This trail leads upward from Riverside Walk along the riverbank toward a natural feature known as Angel's Landing.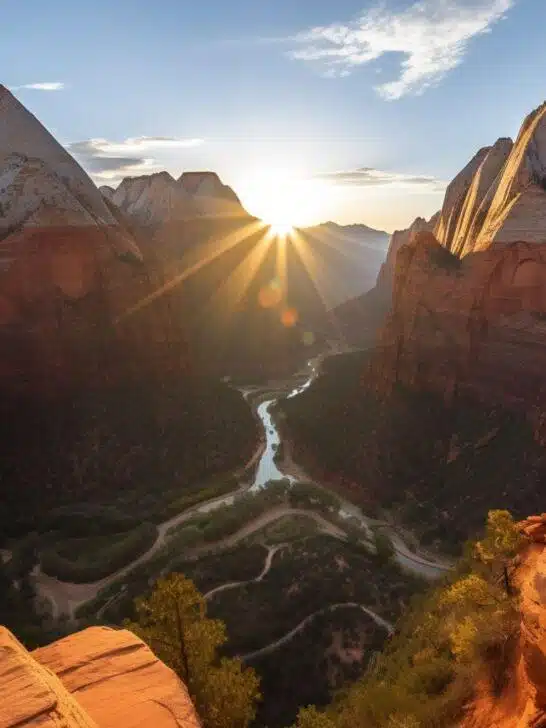 Hike Angels Landing
Hiking Angels Landing is one of the top Things To Do In Zion National Park. It is a very popular hike, so if you have the chance to do it on a weekday, that's the time! It's not an easy hike, but it is certainly worth it.
Angels Landing is considered a strenuous hike with 1,500 feet elevation gain in just 2.5 miles. There are 21 switchbacks along the way.
The last half mile is strenuous and narrow with steep drop-offs on both sides. If you're afraid of heights or don't have a good balance, I would recommend skipping this one. If you're up for an adventure, then give it a try!
The first part of the trail is very easy and shaded by trees, and can be a little crowded since there are several other trails nearby that all connect to the start of this one (the Grotto Trailhead).
You'll cross over Refrigerator Canyon via Walter's Wiggles (21 switchbacks), which take you up to Scouts Lookout.
From here you can see your final destination – Angels Landing. There's also a bathroom at Scouts Lookout if you need one before going further.
Hike Observation Point
The Observation Point Trail hike is a strenuous 8-mile round trip, with an elevation gain of 2,148 feet. The hike gains about 1,000 feet in the first 1.5 miles to Echo Canyon, then the trail follows along a plateau before gaining another 500 feet at the end of the trail.
The trail is marked well with signs along the way so you won't get lost and there are several great places along the way where you can take some photos of Zion Canyon before reaching Observation Point.
See Weeping Rock
Weeping Rock is a large overhanging rock that has water continually dripping from it. It's located on the east side of Zion Canyon and requires a half-mile hike from the parking lot along a paved trail.
The trail can be steep in spots, but it's not difficult for even small children to make it to Weeping Rock. The views are amazing as you hike up to it and as you approach Weeping Rock, you'll start hearing the water and you'll be able to see where it originates from.
Weeping Rock was created by rainwater running down the cliff face and dissolving through the rock.
The little bit of water coming out of Weeping Rock may not look like much, but when you consider how long this water has been seeping through the rocks, it's truly an amazing site!
Climb Checkerboard Mesa
One of the Things To Do In Zion National Park is Climb Checkerboard Mesa. The hike to Checkerboard Mesa, a sandstone butte in Zion National Park with a checkered summit, is not to be taken lightly.
It's a strenuous 10-mile round trip, with 1,600 feet of elevation gain. But it's worth it for the views: you'll see Checkerboard Mesa, the Virgin River, and the East Rim.
The trailhead for Checkerboard Mesa is located at the south end of Zion Canyon on Highway 9. Park your car at the Riverside Walk trailhead and head east on the Pa'rus Trail.
Stay on this route until you reach a trail junction behind Observation Point and turn right onto the Northgate Peaks Trail.
This trail will lead you to an overlook that offers sweeping views of Zion Canyon and Checkerboard Mesa itself.
From here, you can either head back down or continue along the Northgate Peaks Trail to the base of Checkerboard Mesa.
Once you're at its base, follow cairns up to Phoenix-Mesa before following another set of cairns toward Cable Mountain and into Echo Canyon before turning back toward Checkerboard Mesa and climbing up it from there.
Hike The Narrows
When looking up things to do in Zion National Park, the first thing that comes up is the Narrows. The Narrows is the most popular hike in Zion National Park. It's also on many bucket lists of hikes around the world.
It's a 16-mile round-trip hike through the Virgin River. The narrows are so named because in some areas you are walking between sheer sandstone walls that are only 20 feet apart!
The narrows are for people who enjoy hiking and who don't mind getting wet.
The Narrows is actually a canyon-like part of the Virgin River that twists, turns, and has walls that are in some places more than 1,000 feet tall.
The only way to hike it is to walk through the river, which can be anywhere from ankle to waist deep.
You need a permit to hike The Narrows as well as proper gear such as water shoes or hiking boots, clothing that dries quickly, and a walking stick which you can rent at one of several locations within Zion National Park (the one closest to the trailhead is Zion Adventure Company).
Buy some fudge or ice cream at Zion Lodge (or just take a selfie with the bear)
If you're going to take a selfie with a bear statue outside the Zion Lodge, make sure you're looking for something to eat at the same time. The Zion Lodge has some of the best strawberry ice cream on the planet, and that's saying a lot.
It's a great place to grab a sandwich or salad for lunch, too—and it doesn't hurt that you can walk around and take pictures of the gorgeous Canyon while you wait for your food to be ready.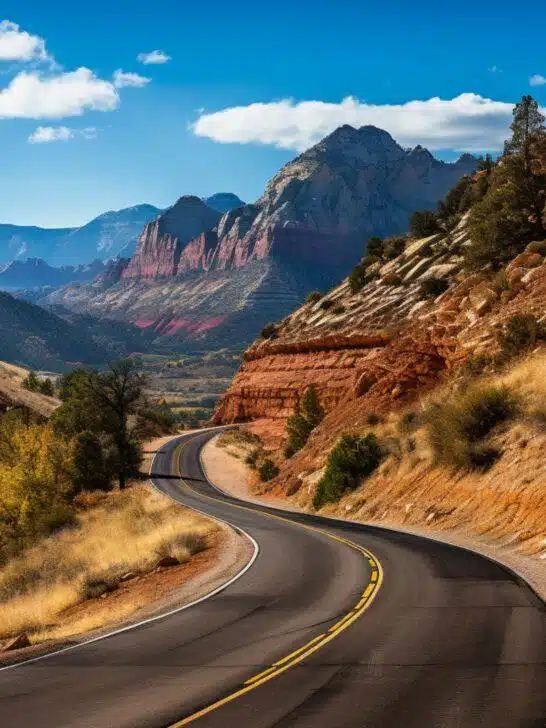 Drive the Zion-Mount Carmel Highway
One of the things to do in Zion National Park is drive the Zion-Mount Carmel Highway. This is a scenic drive through the park, and it's the only way to access The Narrows, another must-do on our list.
The Zion-Mount Carmel Tunnel was built in 1930, and it's a cool engineering feat that's worth checking out in person. It's 1.1 miles long and 11 feet wide, with beautiful canyon views from either end.
While you're driving through Zion, take some time to admire the scenery and check out some of the roadside attractions.
Some that we really enjoyed were Checkerboard Mesa (look for it on your left as you travel east), Weeping Rock (a large alcove with water dripping down the rock face), and Big Bend (the point where the road turns).
Visit the Kolob Canyons
One of the best things to do in Zion National Park is visit the Kolob Canyons. These majestic canyons offer great opportunities for hiking, backpacking, and camping.
Just like with all other parts of the park, there are several trails that you can choose from depending on your preference and how much time you have available.
If you are planning to hike any of these trails, make sure you have comfortable shoes, as well as plenty of water and snacks to keep you hydrated and energized.
The Kolob Canyons are located about two hours away from Zion's main entrance which makes them very accessible for visitors who may only be spending a few days at the park.
The Canyon Overlook Trail is one of the most popular hikes in the area, offering breathtaking views of some of the most beautiful scenery in all of Zion National Park.
Other activities include kayaking through Kolob Reservoir or visiting one of many lodges and resorts located along the way.
Many visitors choose to stay overnight at one of these lodges and enjoy an evening dinner before continuing on their travels through Zion National Park.
Visit The Gift Shop
Another thing to do in Zion National Park is to shop at the gift shop inside the lodge. You'll find all kinds of souvenirs, including books about local wildlife and birding guides, as well as t-shirts and hats emblazoned with the Zion National Park logo or bear insignia.
Zion Lodge is located right at the entrance to Zion Canyon Scenic Drive, which is one of only two paved roads in all of Zion National Park.
It's also where you'll find many hiking trails, such as Angels Landing (one of my favorites) and West Rim Trail (another favorite).
So, whether you're planning a trip to Zion National Park or just want to learn a few things to do in case you do visit, hopefully, these ten things will inspire you to include this fabulous place on your bucket list.