The state offers a treasure trove of natural wonders.
The great thing about visiting California's most popular national parks is that you don't need heavy-duty off-road vehicles such as a new Jeep Wrangler to do it.
All the most important sights and scenes can be experienced in normal crossover SUV models, which are more than sufficient for the gravel roads in the vast majority of the parks.
They also offer car-like fuel economy.
Of course, if you're after rugged off-road trails, those are in plentiful supply around the state, but for the purposes of this guide, we'll concentrate on attractions that are easily accessible.
A crossover SUV of any size is great for exploring California's parks, whether it's a small Jeep Renegade or a mid-size Grand Cherokee, or something a little more in between like a compact Toyota RAV4 or Honda CR-V.
In any event, many attractions are best experienced on foot, taking one of the thousands of hiking trails in the parks, so you might not even be driving all that much.
You just need something with a little more ground clearance than a sedan to get you most places.
Make It A Road Trip
It's a great idea to plan an entire California road trip and visit as many of the national parks along the way as possible.
The best time of the year for such a road trip in terms of weather conditions is probably the summer or fall.
High-altitude roads and areas such as Lassen Volcanic National Park and Yosemite's Tioga Pass Road are not even open in winter.
Also, keep in mind that the northern Californian coast's 'June Gloom' coastal fog can obscure the best views during the morning hours.
A Few Interesting Stats
Here are a few interesting facts about California's national parks:
California has a total of 28 national parks, more than any other state in the USA
The Redwood and Yosemite national parks are World Heritage sites
Yosemite National Park the first Californian national park, established in 1890
Pinnacles is the youngest Californian national park, established in 2013
Pinnacles is also the smallest Californian national park at 26,686 acres
Death Valley is the largest Californian national park at 3,408,407 acres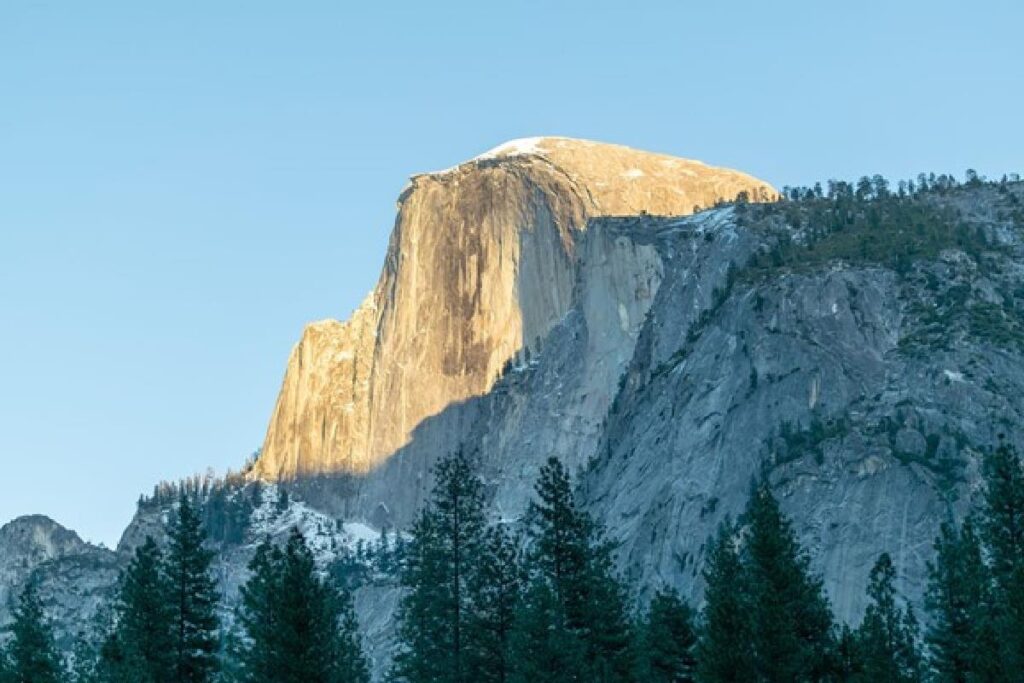 The Top 10 National Parks To Visit
After a careful review, we've come up with these top-ten must-see Californian national parks:
Yosemite. You have so many options at the world-famous Yosemite National Park, the oldest in California. You can sightsee in the park shuttle or in your own car, hike, climb, camp, and picnic. Yosemite is well known for its granite cliffs and its awesome waterfalls, lakes, forests, and wildlife. Half Dome is the best known of the park's granite features, best seen from Glacier Point. Bridalveil Fall is incredible when it's in full flow in spring. Also don't miss Tenaya and Mirror lakes, the Mist Trail to the Nevada Falls, and the Tioga Pass Road.
Redwood National and State Parks. This area is home to 35 percent of all coastal redwood trees on earth and includes the Jedediah Smith, Prairie Creek Redwoods, and Del Norte Coast state parks. These towering trees and the wildlife they harbor are a sight to behold and the area is a UNESCO World Heritage Site. Don't miss the Newton B. Drury Scenic Parkway or the Big Tree Wayside Walk.
Death Valley. A combination of desert landscapes, rock formations, salt flats, and snow-topped mountains makes Death Valley one of the most awe-inspiring places on earth. It's regarded as the hottest place on earth. The best vantage point to view the Furnace Creek badlands is Zabriskie Point. Also don't miss Dante's Peak, Badwater Basin, and the nine-mile Artist's Drive where you can view the multicolor Artist's Palette rocks.
Kings Canyon and Sequoia. These two parks have stunning forests of super-tall sequoia trees, sunny foothills, raging rivers, and beautiful wildlife. Don't miss out on the guided marble caves tour, the Giant Forest, and General Sherman, the largest tree in the world.
Joshua Tree. At the junction of the Colorado and Mojave deserts, Joshua Tree is a desert landscape dotted with the strange Joshua tree. Rock climbing, camping, and many guided outings that include nighttime amphitheater programs are among the highlights of this park.
Lassen Volcanic. You'll be enchanted by the turquoise pools, bubbling mud ponds, hot springs, and sulfur vents that mark out this fascinating park. There are many biking and hiking trails, the latter even up to the Lassen volcano, which last erupted in 1914. The most popular hydrothermal activity can be seen at Bumpass Hell and Big Boiler.
Pinnacles. The smallest and newest of the parks, Pinnacles' craggy volcanic cliffs and rock formations are as diverse as its wildlife, which includes the big California condor. Hiking is the most popular activity at Pinnacles, as are visits to the park's talus caves.
Point Reyes. Whale watching in winter is popular at this Pacific Ocean park with its remote meadows and isolated bays. Beach walks and spotting wild elk are highlights.
Channel Islands. Not unlike the Galapagos, the Channel Islands are known for their cliffs, sea arches, and unique fauna and flora. They can only be visited by plane or boat and top activities and attractions include kayaking, tidepooling, surfing, diving, snorkeling, and exploring on foot. Arch Rock, Cathedral Cove, and Anacapa Island are well worth a visit.
Devils Postpile. This national park and monument stands out for its imposing spires of basalt rock formed by volcanic activity. The Mammoth Lakes and Rainbow Falls (with a height of 100 feet) are popular attractions, as are swimming and attending summer festivals in the local towns.
Conclusion
If you don't have one, rent a crossover or SUV that's a bit higher off the ground and start exploring the incredible national parks in California.
If you want to make a road trip of it, a mid-size SUV with a bigger back seat and more cargo space might be more suitable for you, depending on how much driving you'll do and how many people are along for the ride.
But don't spend too much time in the car. Join in on all the available outdoor activities to get up close and personal with California's incredible natural treasures.