When it comes that time to start shopping for the holidays you often wonder where to even start. To begin with, you are probably going to have a lot of people on your list. This means you are going to need a fair share of options so you will have ideas to work with. Let's face it, holiday shopping with a single idea in mind can turn into quite the hassle. It's hard not to say that the more options you have to work with the better, right? Below you will find a number of gift ideas whether you are shopping for your kids, family members, or close friends.
Alex DIY Loopies
Stuff and fluff to make a plush character! The stuffed doll has a mesh pocket over its front side. Fill the pocket with bright, thick yarn, then pull out loops using a crochet hook. Sew on an adorable face, hands, feet and a tail to create a soft, kawaii-style pet! Great for kids who like to knit, crochet, sew or just collect stuffed animals.
Science Explorer 12 Days Of Discovery
Scientific Explorer 12 days of Discovery comes with everything a young scientist needs to create fun toys literally from scratch. Make creatures, crystals, slime, and snow! The advent calendar design lets kids have a new project each day. Countdown to a holiday, birthday or event! Keep one lucky kid busy for a dozen days or have a party and entertain a bunch of friends. The projects are: Ball Blast Bouncers, Mix & Make Gelly Bugs, Hydro Super Sand, DIY Bath Bomb, Grow A Crystal, and many more!
Calico Critters
Oh, the weather outside is frightfully warm, but Calico Critters is already decking the halls with lots of family merriment and cheer! This season, Calico Critters is expanding both their Village and Town series with new homes to collect and connect. Sweet Raspberry Home is the newest addition to the Village, perfectly matching the detail and design of the other Red Roof Cozy Cottage and Red Roof Country Home Gift Set.
The Baby Blind Bags Series are the perfect stocking stuffers for the holidays allowing that extra element of surprise.
Stella Hopscotch Rabbit upgrades her home with a stylish two-story manor in the Elegant Town Manor Gift Set. The Elegant Town Manor Gift Set can also connect to the Designer Studio to create Stella's Grand Residence.
Aquabeads
Make the holidays a fun crafting experience for you and your children! Just in time for holiday crafting and quality family time, Aquabeads offers new sets featuring an innovative Flip Tray and Bead Receiver to set artwork aside for faster drying while continuing to create additional masterpieces. Beginners Studio contains more than 840 shining jewels and solids beads for plenty of options for creative play. The Beginners Studio can be stacked with the Deluxe Studio which has more than 1,300 jewels & solid beads.
Good Morning, Beautiful
This 6pc gift set is sure to perk up anyone on your list! A 5pk of our hydrogel eye masks replenishes hydration and brightens the eye area, while our best-selling eye cream moisturizes, de-puffs, and banishes dark circles.
Coffee Bean Caffeine Eye Cream
Anti-inflammatory, caffeine rich green tea and coffee de-puff while increasing circulation to brighten dark circles. This eye cream with caffeine is concentrated with potent anti-aging vitamins and antioxidants to awaken the eye area, and nourishing rosehip oil for softer, more youthful skin.
Carpet One Floor & Home Welcome A Cure Mats
At Carpet One Floor & Home, they believe in providing exceptional customer experiences that lead to beautiful, quality flooring. Join in support of the Carpet One Floor & Home Welcome-A-Cure campaign! This campaign supports breast cancer research through sales of exclusive pink ribbon welcome mats! Of the many mat selections, you'll be able to find the perfect for yourself or a holiday gift for someone else. They are a number of collections featuring cure mats to consider like the British Collection, the Scandinavian Collection, or even the African Collection!
Modern Measuring Cups and Spoons Set
Move over rose gold, adorn your kitchen with the elevated glam and allure of gold bakeware. Sophisticated, on-trend with gold and brass kitchen decor, this 8-piece set of gold/brass measuring cups and spoons complete with measurement markings, in sturdy stainless steel will glam up your culinary & baking experiences. Each set is held together with an easy to open gold ring and neatly nests for space-saving storage.
Man Crates Peanut Butter Lover's Crate
The Peanut Butter Lover's Crate is a pleasing spread of the peanut spread in all its glorious forms. He'll find tons of tasty treats, like peanut butter puffs or pretzel mix, all generously covered in the creamy goodness of peanut butter. Give him the Peanut Butter Lover's Crate and he'll be happily smacking his lips and licking the roof of his mouth for days.
Senior Sleuths
Senior Sleuths is an immersive mystery-solving subscription experience designed for older adults and was created by Alana Tompkins after her father passed away from battling Alzheimer's for six years. Through interactive storytelling, Senior Sleuths challenges and ignites cognitive abilities such as problem-solving, recall and dexterity. Each package is delivered monthly and presents a new case to solve every three months. Equipped with clues, codes, ciphers, suspect photos and more, Senior Sleuths is ideal for puzzle enthusiasts, book lovers, fans of the crime genre and game guru.
Lip Balm Set
Moisturize and soften your lips with all-natural, simple ingredients. This set comes in a reusable or recyclable tin case and four lip balm flavors. Tropical coconut lime, cool Cocoa Mint, Sunny Orange Tangerine, or refreshing Grapefruit Lemon, who can decide on just one? You don't have to! All lip balms are made with all-natural, vegan-friendly ingredients, with pure therapeutic grade essential oils.
Lemongrass Body Butter
A luxurious combination of all-natural ingredients whipped together to create the ultimate body butter with an irresistible texture. Light, airy, thick and ultra-creamy. You'll feel so clean and refreshing with the essence of Lemongrass. P.S. it's totally okay to drench yourself from your neck down to your toes with this stuff.
The Nexar Beam
Nexar created the world's smartest dashcam system that does much more than just record the road. Nexar's goal is to reduce the chance of collisions to make our roads safer for everyone. The Nexar Beam is the latest in technology from Nexar and will be available just in time for the holiday buying season. The Nexar app connects drivers with others on the road so they get real-time information about what's happening up ahead. The dashcam records automatically, identifying incidents and saving clips to the cloud, so drivers always feel protected on the road.
SHASHI MEsh Grip Socks
SHASHI is taking over the Barre, Pilates, yoga, and dance worlds of fashion and function as well as activities that go beyond the studio. SHASHI is a one-of-a-kind, decorative mesh-grip, no-show sock with a blended, moisture-wicking fabric. Utilizing COOLMAX® technology, SHASHI pairs a unique mesh top with a full-sole grip. Perfect for the fashionista in your life, SHASHI® socks come in five different styles including regular toe, spilt toe, open toe, no show, and ballet tie and in a variety of fashionable colors. They offer the Classic, Star, Sweet, Essentials and Artist Series Collections.
Jasper Organics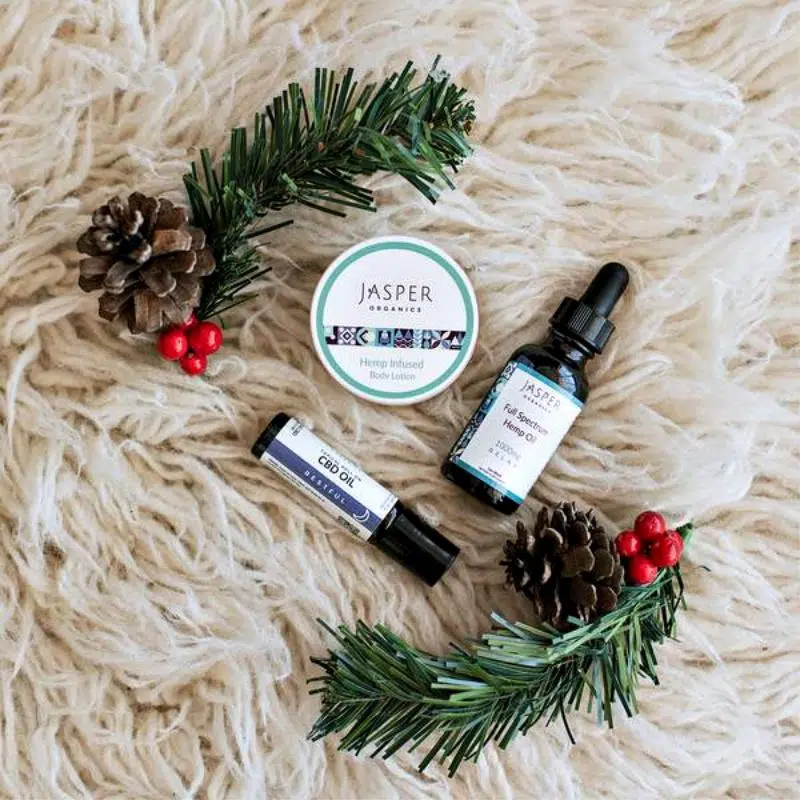 Jasper is a collection of carefully chosen CBD products that have been created through excellence and innovation. Unlocking the power of plant-based remedies that will improve and enrich your life. With them, you'll find the highest-quality hemp-based products backed by scientific research. They offer a number of different selections that could work for you like CBD Body Lotion, Full Spectrum CBD Capsules, or even the Jasper Organics Holiday Self-Care Kit!
KARIBO
All KARIBO skincare products are infused with quality broad-spectrum CBD from organically grown hemp, farmed in the U.S. There are a lot of products that would make incredible gifts, like their more popular selections.
CBD-infused Face Mask – Expertly designed with two separate sheets to make application easier and more precise, this silky cellulose material works its magic with restoring and calming hemp-derived, broad-spectrum CBD, as well as antioxidant rosemary flower extract and hydrating black licorice extract. The result is skin that looks softer and smoother.
CBD-infused Facial Moisturizer – KARIBO's lightweight facial moisturizer delivers all-day hydration for all skin types. The nourishing formula combines soothing aloe and hydrating ceramide with calming and restoring hemp-derived, broad-spectrum CBD for a smooth, non-greasy application that won't clog pores.
CBD-infused Hand & Body Lotion – KARIBO's non-greasy and fast-absorbing, hydrating hand and body lotion for all skin types delivers maximum moisture all day long without leaving a heavy film. The everyday lotion with CBD-rich broad-spectrum hemp oil helps to soothe, restore and protect hands and body from moisture loss with nourishing aloe vera, vitamin E and vitamin A.
Michel et Augustin
Michel et Augustin launched an exclusive gift box at Target and it's the perfect stocking stuffer for this holiday season! It features their delicious buttery cookies, flooded with dark chocolate ganache and topped with a pinch of sea salt. Plus, they are bite-sized and perfectly portioned, so they make for the perfect dessert, a quick snack, and are great to share with friends and family.
Circadian Optics Light Therapy Lamps
Circadian Optics is the maker of bright light therapy lamps to mimic daylight. Bright light influences the body. Too little light in the morning could cause the tired feeling during the day. Too much light at night may make us unable to fall asleep at bedtime. Light therapy such as Circadian Optics can reset the body's Circadian Rhythm to help you get a better night's sleep and feel naturally awake and energized throughout the day. As neuroscientists have discovered, harnessing the power of bright light could provide benefits to the mind and body. Circadian Optics lamps are an easy and effective way of getting exposure to bright light indoors. They use LED lights to provide bright light while filtering out dangerous UV rays.
JĀSÖN® Total Protection 5-In-1 Fluoride-Free Toothpaste
Formulated to provide 5-In-1 whole mouth benefits harnessing the power of unique ingredient pairings found in nature. Each toothpaste is infused with something different that will benefit you and your smile. All toothpaste are Kosher certified and free of SLS, parabens, artificial colors, artificial sweeteners, saccharin, propylene glycol, and gluten.
Baby Chalkboard Shoes
Chalkboard Shoes by Baby Says® are the ultimate gifts for baby showers, pregnancy announcements, gender reveals, new parents, and even decor! These chalk markers are safe, non-toxic, no smearing and no dusty mess! You get 2-for-1: stylish baby shoes with an innovative chalkboard sole for sharing expressions, drawings and thoughts. They are a unique maternity/baby photo prop and baby gift…you write, erase, repeat!
GoFish Cam
GoFish Cam is a wireless underwater camera that sits on your fishing line. Anglers can capture action-packed footage and gain insight into the underwater fishing experience. When you can See More, you can Catch More. This game-changing device makes the perfect gift for the fishermen in your life! Use your GoFish Cam in both freshwater and saltwater environments, and capture underwater video when casting, trolling, bottom fishing, and float fishing.
Star Wars: A Merry Sithmas Pop-Up Book
An enchanting journey through the galaxy, Star Wars: A Merry Sithmas Pop-Up Book includes removable paper pieces, more than two dozen stickers, and step-by-step instructions to construct and color holiday-themed 3D pop-ups. Each pop-up is easy and fun to build, from Darth Vader and a gingerbread Boba Fett to Chewbacca and a collection of caroling porgs—plus more—for the ultimate Star Wars holiday celebration.
Edifier W200BT SE
The Edifier W200BT SE uses the latest Bluetooth technology to offer cutting edge streaming quality with near-lossless playback and reduced latency. Fully charged, you get 7 hours of uninterrupted music, so feel free to keep your playlist going all throughout your workday. Available in white, black, silver or red, there's sure to be a color that suits your mood and coordinates with your outfit of the day. Its lightweight design means you'll barely remember you're wearing them during long listening sessions.
Medusa Divine Curl Cream
Concentrated! Define curls without the crunch! Adds moisture and shine, eliminates frizz and protects the color in a luxe formula infused with Shea Butter, African Date Seed Oil, Brazilian Pequi Fruit Oil, Coconut, Jojoba, Olive, and Chia Seed Extract. Free of gluten, parabens, phthalates, sulfates, iron oxides, mineral oil, petrolatum, synthetic colors, nut ingredients, palm oil, talc, and sodium chloride.
Banded
The headband that launched the Banded brand is still our most popular product. The 1" ribbon with velvet backing for no-slip, no-fuss, all-day wear makes the perfect holiday gift! Patented back elastic construction makes this the best fitting headband on the market. Fits kids and adults.
Another great selection from Banded is the Blushing Beauty – Luxe Headband. Beaded headbands come in a number of various styles and patterns!
Old Spice Holiday Gift Sets
Looking for stocking stuffers or great gifts under $10? Old Spice is the iconic men's staple that's on any guys' holiday wish list and this year's Old Spice Holiday Gift Sets offer gift-givers a trio of Old Spice products in three of our most popular scents to choose from Swagger, Fiji, and Bearglove! Each kit includes a bonus gift: a collection-themed game board on the back of the box for added holiday cheer.
How about the NFL's best defender hanging above the fireplace? Old Spice Sweat Defense Dry Spray is the perfect stocking stuffer for on-the-go, all-day freshness.
Ryan's World Colgate Kids Toothpaste and Soft Toothbrush Set
The Colgate Kids Toothpaste with Fluoride and Soft Toothbrush Set featuring Ryan's World contains 1 anticavity fluoride toothpaste and 2 manual kids toothbrushes with suction cups for easy storage. The toothpaste provides cavity and enamel protection, with a mild bubble fruit flavor kids will love.
Ryan's World Colgate Kids Oral Care Regimen Pack with a Toothbrush Cap
The Colgate Kids Toothbrush, Toothpaste, and Toothbrush Cover Set featuring Ryan's World contains a manual toothbrush, kids battery toothbrush, anticavity fluoride kids toothpaste, and toothbrush cover. The extra soft toothbrushes sweep away plaque while the toothpaste provides enamel protection.
Ryan's World Colgate Kids Oral Care Regimen Pack with a Mystery Kid Toy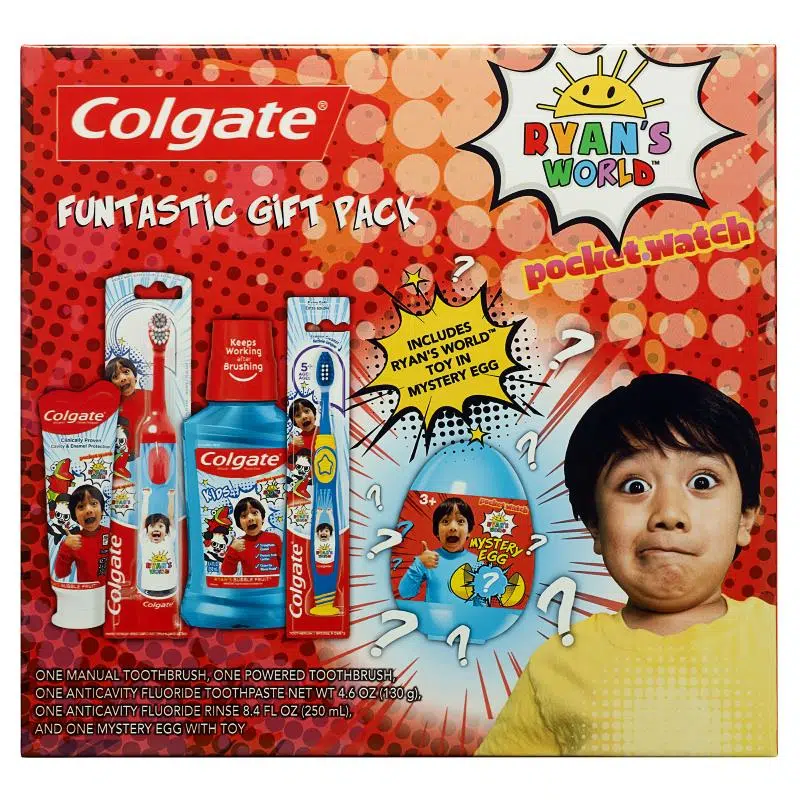 The Colgate Kids Set featuring Ryan's World contains a manual kids toothbrush, kids battery toothbrush, kids toothpaste with fluoride, kids mouthwash, and kid toy. Both toothbrushes have soft bristles, while the toothpaste and mouthwash provide cavity protection.