Surprise your special someone with this cute Valentine's Activity Pack with a Surprise Box Craft. You can make this with your kids, to surprise your boyfriend or husband during this special day.
Valentine's day is fast approaching and what better way to show your appreciation and love than through this sweet surprise box craft?
Fancy and creative, your special someone will truly love your heartwarming DIY Valentine Craft.
Why You'll Love This Valentine Craft.
It's fancy and creative
You can make this with your kids
It's easy to do
Readily-available materials
Kid-friendly
Cheap and personalized gift
Looking for a fun, festive way to spend Valentine's Day? Look no further! This activity pack is perfect for families or groups of friends. Plus, there's a sweet surprise waiting at the end. Interested? Keep reading for all the details.
Equipment Needed to Make Your Valentine Gift
How to Make Your Valentine's Activity Pack with a surprise Box Craft
Step 1. Cut out the box top and bottom
Step 2. Place a thin coat of glue or paste onto the areas marked 'apply glue here.'
Step 3. Carefully line up the box bottom above this. Press firmly and evenly so that it is glued down on both sides. With an empty 'pocket' in the middle area.
Step 4. Cut out the heart shape. Glue it to the center of the top of the box. Allow your Valentine box to dry.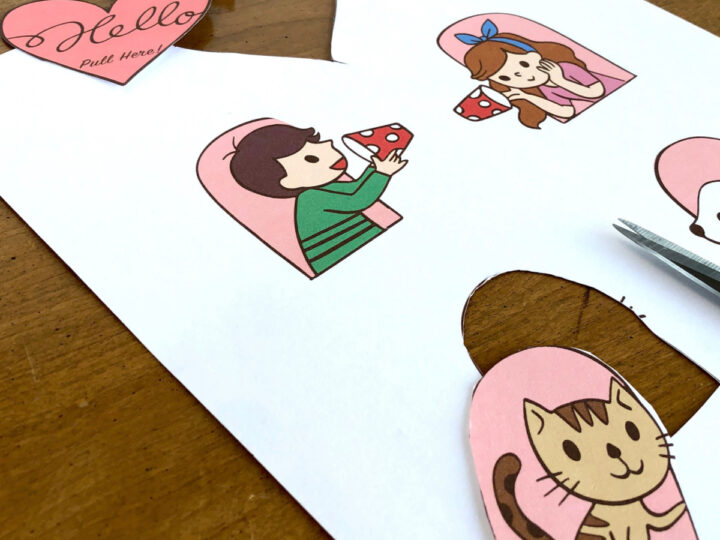 Step 5. Cut out the boy, girl, cat, and dog. It's fine to leave some white space around the cut lines.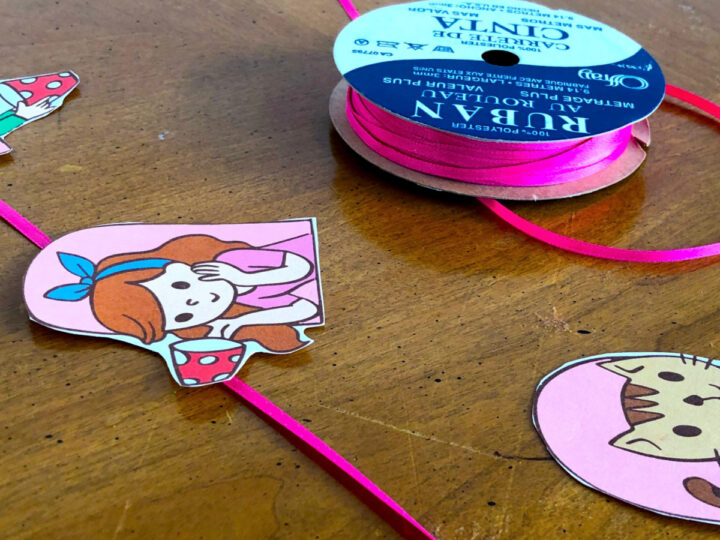 Step 6. Cut a length of approximately 15-16" of ribbon. Lay this ribbon piece down on a flat surface.
Step 7. Arrange the boy, girl, cat, and dog evenly along with the ribbon, leaving about 3 inches extra above the boy.
Step 8. Tape the backs of the paper figures to the ribbon. Be sure the ribbon stays flat.
Step 9. Next, stack the four figures up one on top of the other, with the boy on the top, then the girl, then the cat, and lastly, the dog. Carefully tuck this stack into the 'pocket' of your Valentine box.
Step 10. Allow the extra ribbon to stick out, just under the 'Pull here' text.
Other Easy Valentine's Day Crafts
These doilies make great table runners or you can use them in your other arts and crafts activities with your kids. You can also use these to stencil tote bags (another fun Valentine's Day project for your kids!). Create a pretty Valentine's Day wreath. Or you can paste them on balloons. You can also wrap your bottles with these using baker's twine. There are a lot more crafts you can do with these pretty and delicate doilies.
Adorn your family room with these dainty paper rosette hearts. Make your home festive and full of hearts this coming Valentine's Day as you create your DIY Valentine's home décor.
This flower heart will definitely stand out in your room! Make this eye-catching piece the center of your room. Nothing says 'I love you like this giant flower heart.
Tissue Paper Flower Wreath
Say 'I love you to your special someone with this bold and bright tissue paper flower wreath. An instant Valentine home décor.
Pom-Pom Heart Valentines Box
This is like a surprise box that we made, only this is made with pompoms and you can fill this box with love letters from your family and friends. You can keep your letters inside and read them at the end of the day. You will end your day all warm and fuzzy with all the love notes in your surprise box.
Fill these felt heart pockets with chocolates and other mini surprises for your kids and loved ones. They will surely enjoy the mini surprise this Valentine's Day.
You can make these as gifts for your friends and family on this day of hearts. You can put your favorite quotes or the names of your family and friends. Personalized gifts are the best gifts ever!
Make your table setting more adorable with these heart-shaped coasters. They make great Valentine gifts, too!
Make reading special with this personalized heart bookmark!
Fill these bags with sweet treats for your kids this Valentine's Day. Indulge your family and friends with their favorite candies.
These succulent Valentines make excellent party favors for your Valentine's Day party guests.
What are some good Valentine's Crafts?
DIY Valentine's Day Craft Ideas that you can do:
Conversation Heart Keychain
Love-Themed Pun Magnets
Heart-Shaped Phrase Pillow
Valentine Tea Bags
DIY Paper Flowers
Fringed Heart Pinata
Etched Wineglasses
Conversation Heart Bath Bombs
Biggest Fan Valentine
Heart Game Box
DIY Cupcake Bouquet
String Art Heart
What can children do for Valentine's Day?
Here are ways to celebrate Valentine's Day with your kids:
Read a love-themed bedtime story.
Craft valentines together.
Serve a Valentine's Day cheeseboard.
Give them a voucher for a one-on-one date.
Celebrate with heart-shaped food.
Dress in pink or red together.
Cut out paper hearts.
Treat them to a sweet surprise.
Teach them how to give compliments.
Snuggle up for a family movie night.
Complete a random act of kindness.
Attend a local event.
Buy them some Valentine's Day pajamas.
Wind down with a bath.
The Valentine's Activity Pack with Surprise Box Craft is a great way to show your loved ones how much you care. It's easy and fun to make, and it will definitely surprise and delight the recipient.
Whether you're making this for your kids or for your significant other, we hope you have a lot of fun creating it!
This is just a friendly reminder, as with all my printables on Kelly's Thoughts On Things, that these are for personal use only. You may not sell them, mass-produce them or claim the design as your own (Sadly, I see this happen all too often!). If you have questions about the design, feel free to email me.
WHAT'S NEXT?
Don't forget to come back and let me know how your Valentine's Activity Pack with a Surprise Box Craft turned out!
If you get a chance to use this recipe, let me know! Leave me a comment below, or share it with a picture on Instagram or Facebook! Don't forget to tag me @kelly_reci_ and use the hashtag #kellysthoughtsonthings so I can see how you use it!