Calling all SLIME MAKERS!

Stop all the searching ONLINE and get the SLIME SORCERY book. You will find 97 Slime recipes that have full-color pictures, easy to follow instructions and ways to customize. Now you might know the author Adam Vandergrift creator of Will It Slime- they have 800, 000 YouTube Followers now. We are among that high number that follows him and his daughters' slime videos.
The main thing as a parent I love that all the recipes are BORAX free. Oh yes and that is a GOOD THING! No Borax slime making in my house. Not knocking all the cool borax slime recipes, we just don't use it.
Slime Making Is For Everyone!
My daughter needs to make slime every day, so you can imagine the glue I buy on a weekly basis. Thank goodness for AMAZON Gallon Glue. This helps her cope with the stress she says. Slime is for every age, by the way, not just for kids. Looking through the recipes in Slime Sorcery I find my inner child wanting to come out and make some amazing slime.


Making slime is a fun way to introduce kids to basic concepts of chemistry and is a hands-on STEM activity that can be a family activity. On rainy days we whip up a couple of slime recipes to pass the time, and my daughter loves it when we do it as a family. FAMILY TIME rocks!
I'm sure Slime Sorcery will become your go-to guide for slime making and remember it is for all ages and skill levels. The book breaks it down into categories like- What is Slime, Slime FAQ's, Shopping List, The Basics, Sensory Slimes, Food-Inspired Slimes, Glitter Slimes, Glue-Free Slimes, and Viral Slimes.
You can make all kinds of cool slime like:
Mermaid Scale Slime
Unicorn Poop
Lava Slime
Confetti Birthday Cake Slime
Glow in the Dark Slime
Avalanche Slime

One of our favorites is FLUFFY SLIME!
One bottle of White Glue
3-5 drops of food coloring
2 cups of shaving cream
3 tablespoons contact lens solution
medium bowl
spoon
Pour the glue and food coloring into a medium bowl and mix to combine
Add the shaving cream and stir
Slowly add the contact lens solution while mixing. Once your slime has formed, it will be FLUFFY!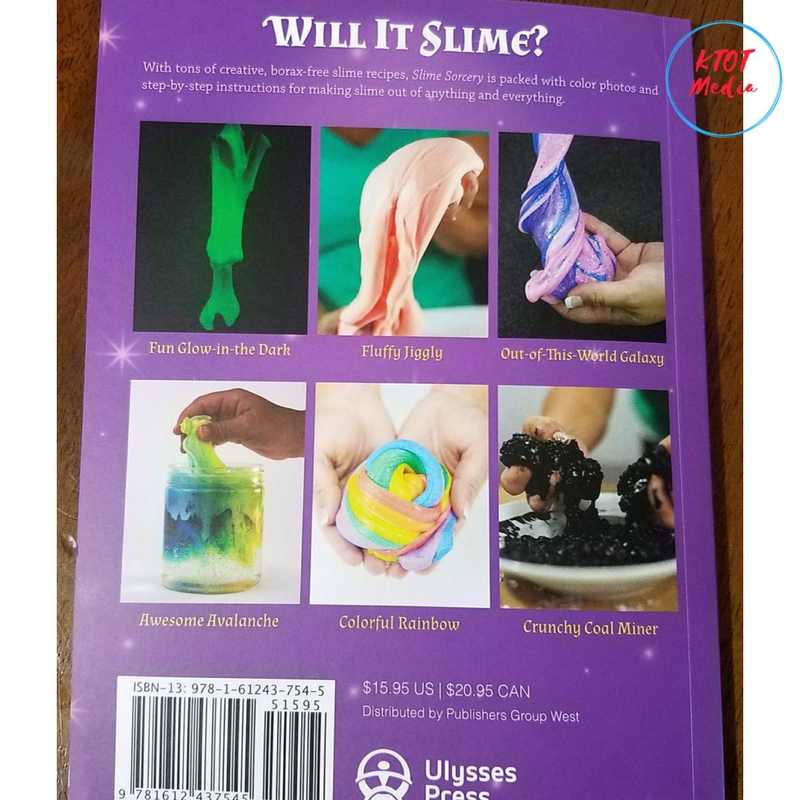 Now there are more HACKS to that recipe, so you need to pick up this book TODAY- Slime Sorcery.