From a bow and arrow blaster that shoots marshmallows to goggles that flip your vision upside down.
There is always so much to look forward to before the holiday rush arrives,
Think about every possible thing that kdis are going to want.
So you are going to need more than just a long list of great toy ideas. What you need is the right toy ideas.
Nothing But Toys For The Holidays
These toys are sure to be a hit this holiday season.
Check out all of the fun playthings below!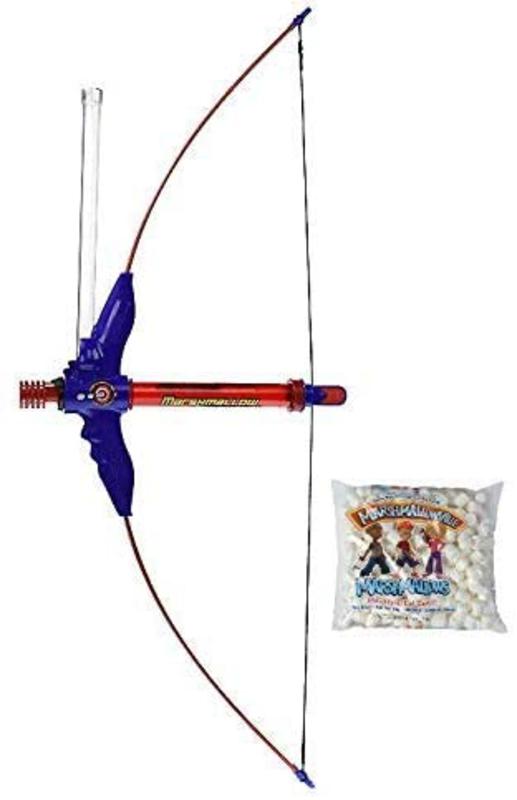 Marshmallow Blaster – Bow & Mallow Blaster – The big brother of the Mini Bow & Mallow, the Bow & Mallow Blaster continues to bring food and fun together — thanks to its edible ammo! With launching distances of up to 30 feet, your marshmallows will soar through the air! Available on Amazon
Pizza Party Throwdown – In this frantic, fun action game players race to see who can fling the most pizza toppings on the spinning pizza pie game board before time runs out! Available on Target
Atomic Power Popper with Sticky Targets – The classic Hog Wild ATOMIC POWER POPPER is back and better than ever – thanks to a flashy new design and cool new features! PLUS, it now comes complete with three super Sticky Targets you can use just about anywhere! Available on Target
Holiday Poppers – Hog Wild brings you your Holiday Poppers as part of its POPular Poppers line! We're offering you a Yeti Holiday Popper! Available on Amazon
Treemendous Ornament Decorating Kit – From the creators of the original EggMazing Egg Decorator…the perfect DIY craft to embrace the holiday season. Place one of the ornaments included with the kit into the tree-shaped decorator and let the fun begin! The machine holds and spins the ornament while the markers are used to create stripes, line and other designs! Available on Amazon
The #UpsideDownChallenge Game – This game literally flips your world upside down! Players wear goggles that flip their vision — and then attempt to compete seemingly easy challenges like writing your name and connecting dots. Sounds easy, but it's a challenge! Available on Target
Chalk of the Town Package – Chalk of the Town is a line of chalkboard products ranging from T-Shirt and Long Sleeve Kits to Tote Bags to Patches, allowing both kids and adults to create and design their own wearable fashion using Chalkboard markers. PLUS they're both erasable and reusable so you can design again, again and again! All of the product is available on Amazon

Youth Long Sleeve T-shirts: Long Sleeve Royal Blue w/ Speech Bubble Surface
Long Sleeve Purple w/ Unicorn Surface
Long Sleeve Red w/ Heart Surface
Comic World Viona Surprise Set – PLAYMOBIL is expanding the magical world of EverDreamerz with the new Comic World line!! We're offering a BRAND NEW Surprise Set where you can search for twelve magical characters from Comic World! Each mystery box has five surprises inside. You might even meet Colorista, a new limited edition character! A perfect stocking stuffer. Available on playmobil.us