Aside from bringing absolute excitement, ride-on toys also help develop children's motor and cognitive skills that not every parent is aware of. Ride-on toys make children feel like they're grown up because they're being entrusted with a plaything that's big enough to fit themselves in and take with wherever they want.
Even as an adult, you can still remember the moment you got your first rocking horse or two-wheel bike. And as a parent, it gives you the thrill to give the same experience to your kids. Nowadays, though, toy manufacturers are taking these toys a step further with kids electric cars. However, before purchasing that cute, pink, mini convertible for your little girl or that cool-looking motorbike for your boy, there are some important things you need to consider.
The Age and Size of Your Child
There are many electric cars available on the market, and each one has different features. So how do you choose from all of them? Taking into account your child's age and size should point you in the right direction. Here are some tips:
Never put a toddler in a toy car that has manual steering as little kids haven't yet developed the motor skills necessary to control a car like that.
Don't give older kids a car that's made for smaller children as that wouldn't be stimulating for them.
Make sure that your child is able to physically fit inside the vehicle.
If possible, choose a toy car that can be adjusted to accommodate your kids as they grow. This way, your child can enjoy it for a long time.
Buying age-appropriate toys are vital to developing the appropriate motor skills.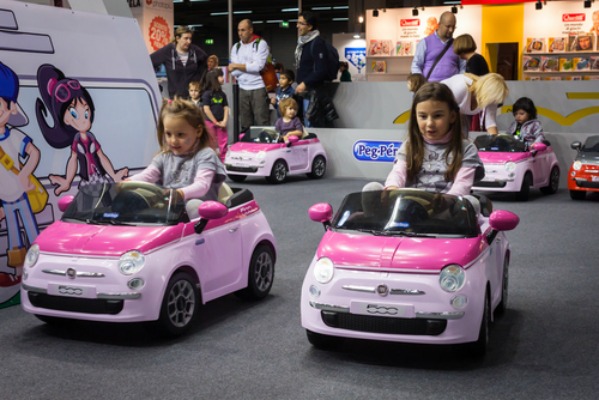 The Voltage Capacity of the Electric Car
Kids electric cars come with batteries at different voltages. The voltage capacity of a toy car will tell you how fast it can go, how long before it runs out of power, how much weight it can carry, and what kind of terrain it can run on. Also, each battery volt is recommended only for a specific age group:
6 V toys are recommended for children aged 2 to 4. They can only reach a maximum speed of 3 mph and are mostly suited for running on smooth surfaces for about 45 minutes.
12 V is made for children aged 3 to 6 and can last until 2 hours at 5 mph. They're also built to run on smooth or grassy surfaces.
24 V vehicles are suited for kids aged 6 to 9. They can run up to 4 hours at 6 mph and can drive uphill.
36 V toy cars are for 7- to 10-year-olds and can go very fast at 15 mph.
48 V toy cars are fast with a maximum speed of 18 mph. These are suited for children who are 10 years old and older.
Take note that these numbers are based on the average weight of a child at different age levels. This means that a lighter or a heavier weight can affect the speed and battery life of each toy.
Your Child's Safety
Safety is usually the number one concern of parents when it comes to electric cars. When buying your child an electronic ride-on toy, you should already expect the risks that go with it, such as falling, hitting barriers, and tipping. Provide your child with the necessary safety gears:
Helmet – to protect your child's head from falls
Elbow and knee pads – to protect them from scrapes and bumps
Taking precautionary measures can help avoid accidents and ensure your child's safety.
The Toy's Safety Standards
Check for the following safety features as these will give you peace of mind:
Make sure that the car is stable and isn't wobbly.
It should have a low center of gravity to avoid tipping over when making turns.
The materials used should be nontoxic and flame resistant. Toys containing lead and BPA can have detrimental effects on your kids.
The battery enclosure should be secured, and no other parts should be loose to prevent a choking hazard.
Conclusion
You have to think of what your child can do with the electric car because toys like these can be quite expensive. If you're going to buy one just for the novelty of it, your child will eventually lose interest and the toy will be left unused. On the other hand, if the toy car can help your child develop a skill or hone a talent, then it's a worthy investment.