A classic parlor party game is made over for Halloween, this Halloween Printable Would You Rather will be belly-laughing fun for kids and families!
Sixteen Halloween themed questions will spark fun, making you wonder, Would I Rather…. It's the perfect ice breaker for keeping kids entertained.
This Halloween Would You Rather Card Printable is filled with colorful pages, 16 large cards, easy to read font, and light-hearted questions that kids will love.
HOW TO MAKE HALLOWEEN WOULD YOU RATHER CARDS PRINTABLE
Sixteen colorful cards are printed on cardstock and cut out.
The cards are organized into a little deck the whole family will enjoy!
Are you ready to get started?
You'll find the printable Would You Rather PDF at the bottom of this post.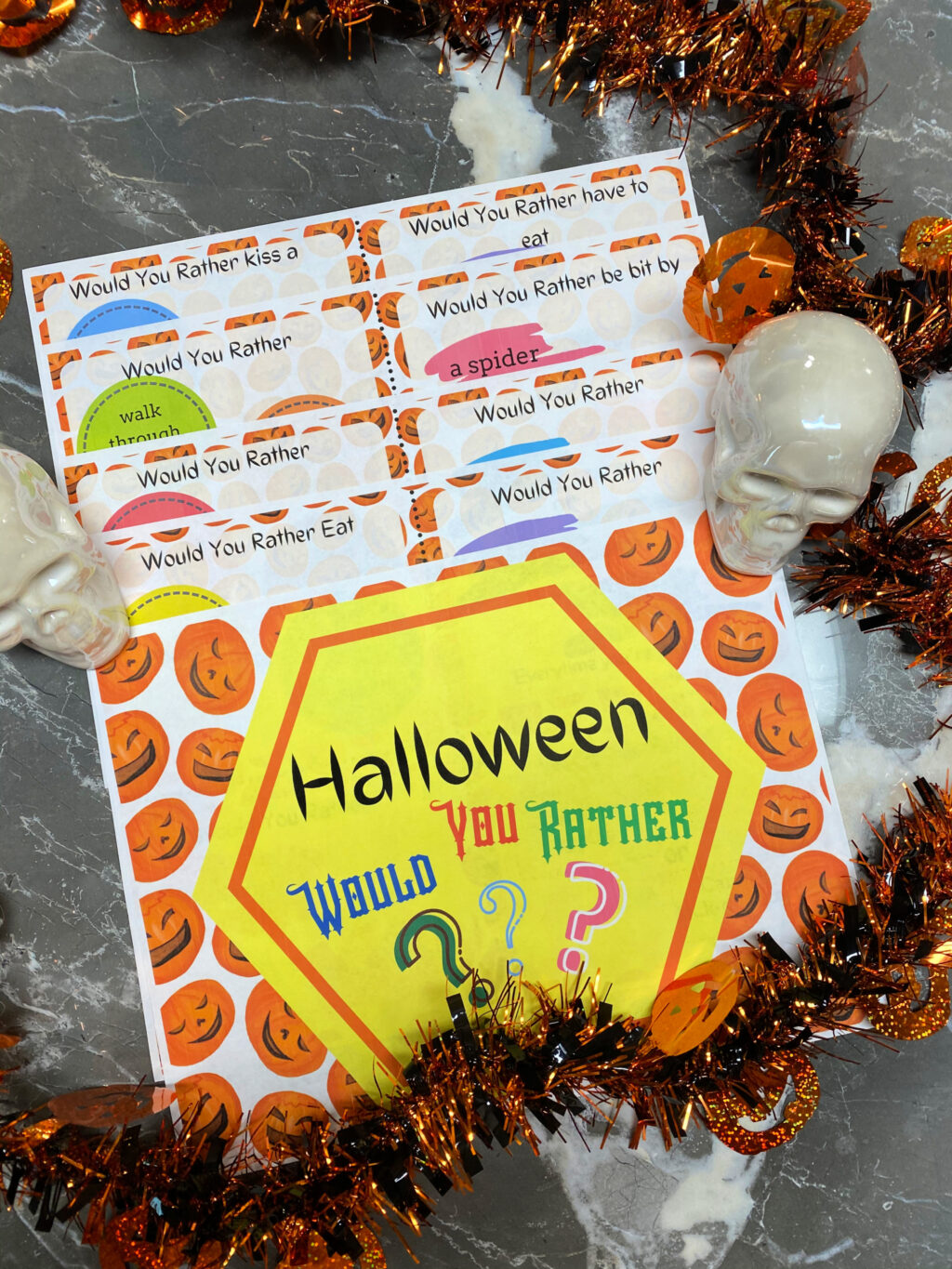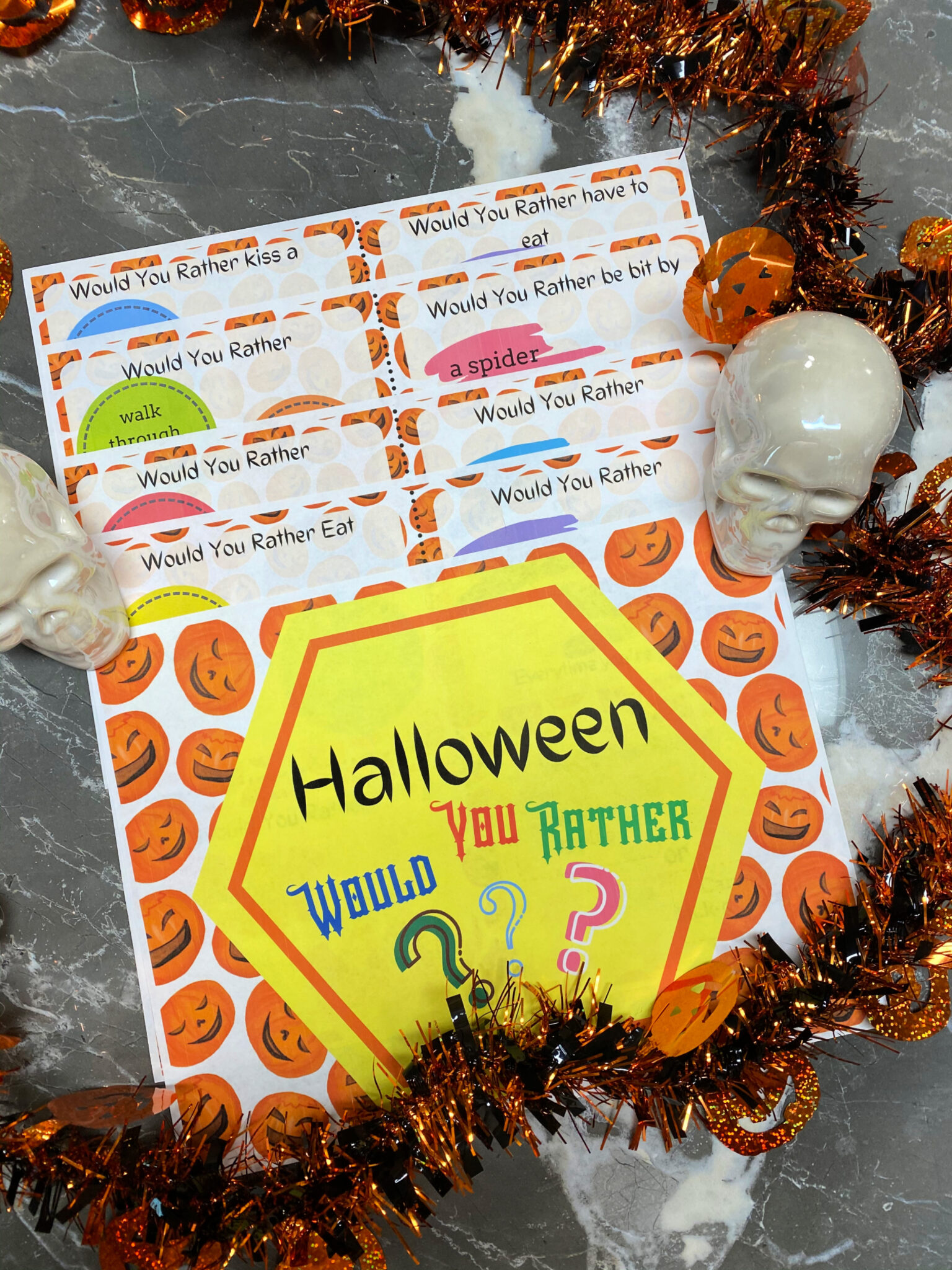 TOOLS YOU MAY NEED
Disclosure: This blog post contains affiliate links for products or services we think you'll like. This means if you make a purchase from one of these links, Kelly's Thoughts On Things may make a small commission at no additional cost to you. We only recommend items we use and love.
HALLOWEEN WOULD YOU RATHER PDF PRINTABLE INSTRUCTIONS
Download the PDF from the link. Locate the file in your computer, it should be in the download file.
Place 4 sheets of cardstock in your printer.
Click to open the file and select the print option.
Select to print pages 2-5 in color.
Using scissors, carefully cut out each card. Take all of the cards and organize them into a deck until ready to use.
This is a game that's sure to become a new favorite every Halloween!
Halloween Printable Game – Would You Rather TIPS AND QUESTIONS
If you've never played Would You Rather, don't worry!
Below are some common questions and helpful tips.
Hopefully, this will answer any questions you may have.
If not, feel free to ask in the comments and I'll answer the best I can.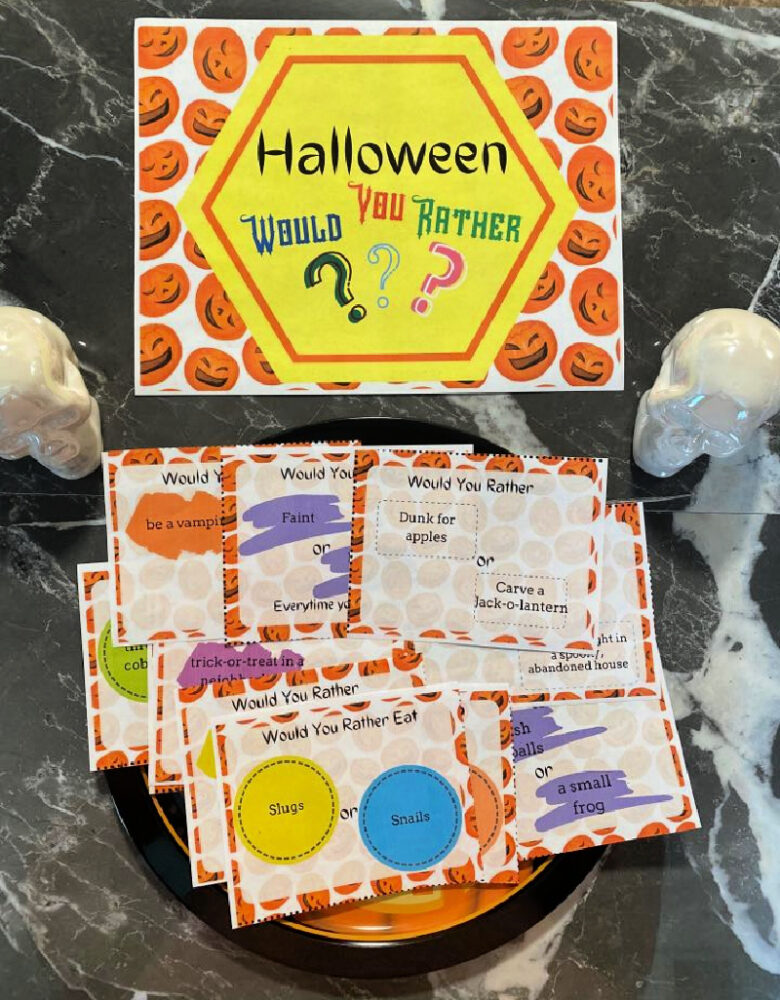 WHAT KIND OF PAPER SHOULD I USE TO PRINT THIS WOULD YOU RATHER CARD GAME?
You can print the Would You Rather Card Game PDF using regular paper or cardstock paper with color ink.
In my opinion, cardstock paper is the best because it's a heavier paper that makes the cards easier to shuffle.
HOW DO YOU PLAY THE CARD GAME WOULD YOU RATHER?
You can play Halloween Would You Rather by printing the cards, shuffling them, then give the deck of cards to the person who's birthday is closest to Halloween.
Have that person pick a card and say what they would rather do.
Then hand the deck to the person on their left and repeat.
The purpose of this game is to be an ice breaker for kids.
HOW MANY PEOPLE DO YOU NEED TO PLAY WOULD YOU RATHER?
You need at least 2 people to play, Halloween Would You Rather.
You can add as many people as you want and keep going through the questions.
WHAT OTHER GAMES GO WELL WITH WOULD YOU RATHER?
The game, Would You Rather, goes well with a wide variety of kids parlor games. Some of my personal favorites include:
Charades
Scavenger Hunt
Twister
Marco Polo
Hot Potato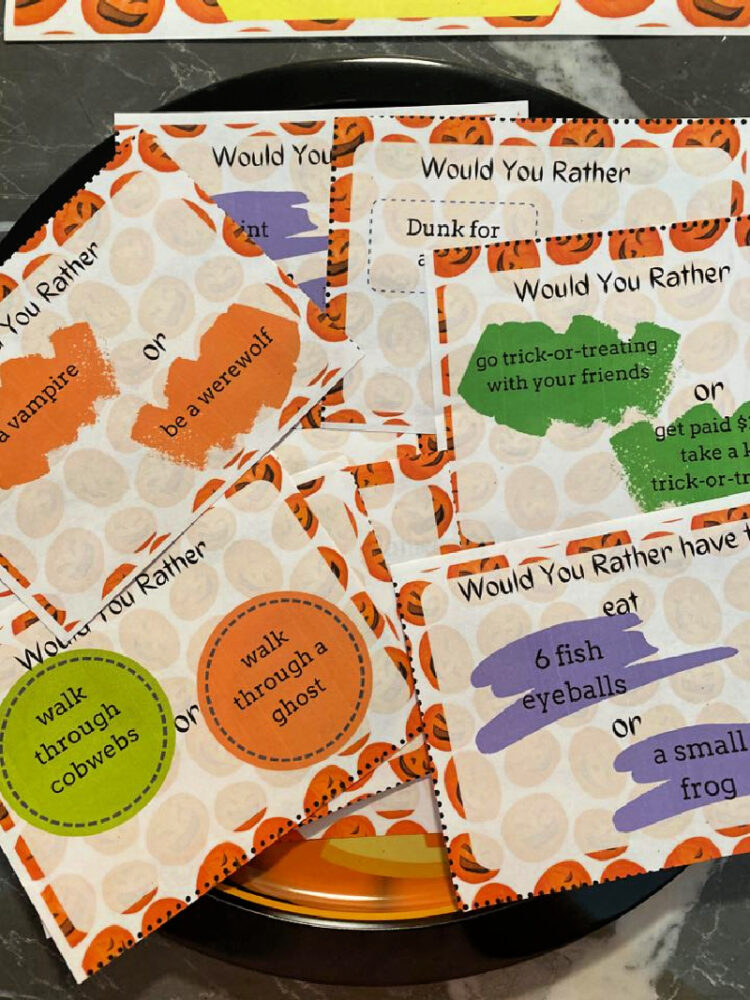 WHAT ELSE CAN I ADD TO THIS HALLOWEEN WOULD YOU RATHER PRINTABLE?
This simple Halloween Would You Rather Card Printable is so versatile.
You can try adding a spinner to this game and the spinner picks the person it ends up pointing to.
Click Here for the Halloween Printable Game – Would You Rather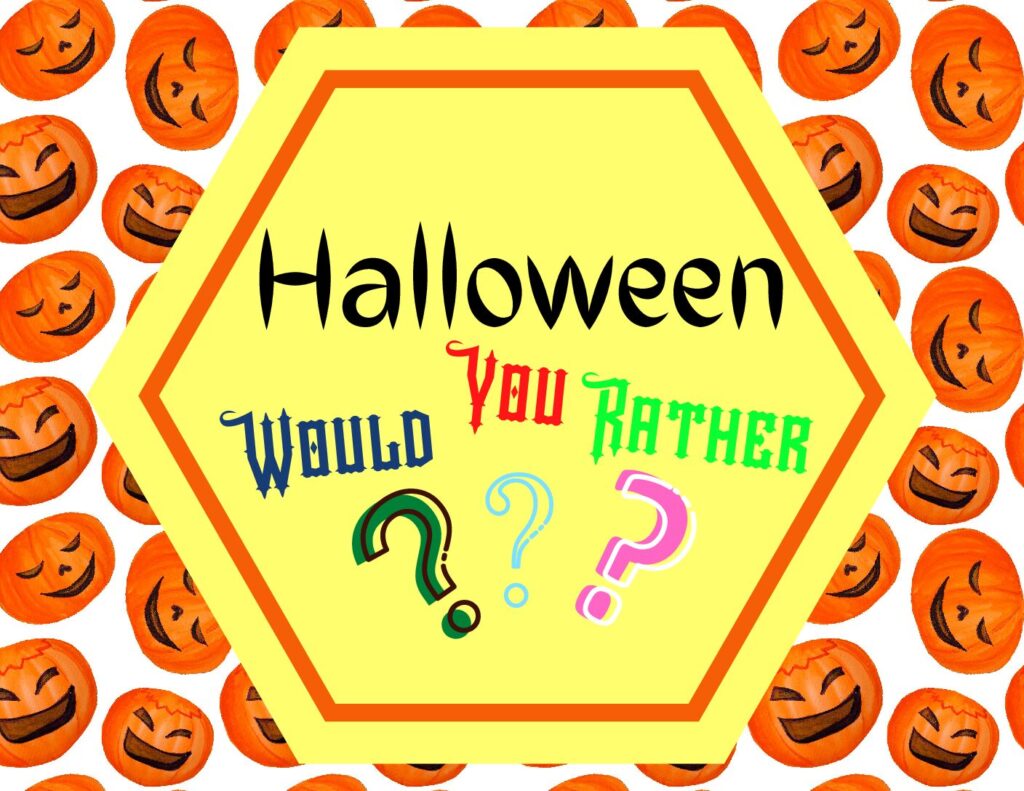 WHAT'S NEXT
I hope you enjoy this printable game as much as my family does!
Check Out These Printable's You Might Also Like
If you get a chance to try it, let us know! Leave us a comment below, or share it with a picture on Instagram or Facebook! Don't forget to tag us @kelly_reci_ and use the hashtag #Kellysthoughtsonthings so we can see what amazing meals you are cooking up!