Fall is absolutely my favorite season. I love decorating and making my home comfy for the season. These easy Fall Decorating Tips will make it so much easier for you to change from summer to Fall.
Re-decorating your home doesn't always have to break the bank.
I love giving the rooms in my home a slight makeover at the turn of every season.
No, that doesn't mean replacing furniture or taking on huge DIY projects.
Sometimes, it's little touches that can give a room some new life.
For the autumn season (which I'm a huge fan of, by the way), I decided to add some fall-themed décor to my home.
I like to use vases filled with cinnamon sticks and faux leaves.
It's a really easy way to add some scent to a room.
Also, frames with quotes can take you a long way.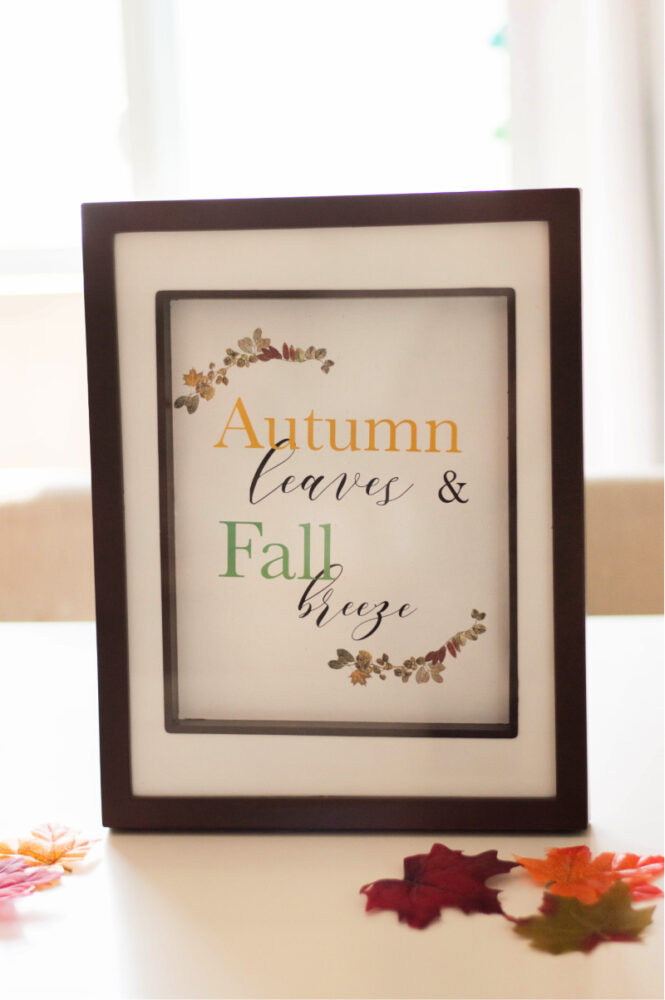 These Fall Decorating Tips will help you get started!
When Should You Start Decorating for The Fall
Whether you're changing your interior or exterior decor, you can hang fall decor as early as late August and throughout the holiday season.
The best option is to put up fall decor in September or October, once the weather starts changing.
While the outside might not reflect the season now, it's not too early to start decorating for fall on the inside of your home. I usually start in the middle of August.
How Do You Decorate For Fall Season
There are so many different ways to make your house ready for the Fall. Below I have listed a few to get you started.
Change your dining room table decor. If you have a table cloth or runner, switch it out to Fall colors. I also suggest a centerpiece with a medley of autumnal blooms.
Display mini pumpkins in a bowl, you can also add in acorns and gourds. this will make any table look inviting.
Display a Pumpkin Centerpiece. You can either make one with an easy DIY or purchase a cheap one and add flowers to it.
Add a little Fall color. It can be anything from taper candles to a vase with Fall flowers.
Scented candles. Nothing like a cozy scented candle to make you feel like Fall has arrived.
How Do You Decorate Outdoors In The Fall
We love decorating outside for the Fall.
Fall is one of my favorite seasons.
I don't know what it is about it, but when summer ends, I kinda feel a relief.
The cooler weather is coming.
I can go apple picking and get ready for the holidays.
Make my family their favorite pies and cakes.
Below are a few things you can do to get your outside ready for the Fall.
Display Colorful Mums. Mums come in a variety of colors and sizes.
A wooden pumpkin sign will dress up your outdoor space in no time.
Hanging up a wreath is the best way to give your front porch a little fall flair.
Hang garland around the door.
Decorate with pumpkins.
Add pillows to any outdoor furniture.
Following these Fall Decorating Tips will make it easier to make your home comfy and pretty for the Fall.
Disclosure: This blog post contains affiliate links for products or services we think you'll like. This means if you make a purchase from one of these links, Kelly's Thoughts On Things may make a small commission at no additional cost to you. We only recommend items we use and love.
I love creating printables that I can just add to a frame – it's budget-friendly and I can change it every season.
My "Fall Leaves" printable is available for you to download so that you can decorate your home for this new season.
You can use a standard 8×10 photo frame (you may just need to trim a little on the sides).
It's great because all you have to do is print it on regular printing paper and then you're good to go!
Grab The Fall Leaves Printable HERE.