If you love word games like Scrabble or crosswords then this Valentine's Day Scattergories will be perfect for you. This Valentine's Day Scattergories Printable is filled with ten categories that you have to think of a word that matches all the letters of Love.
Ten Valentine's Day-themed categories will spark fun, making you think hard to come up with an answer that matches the letter.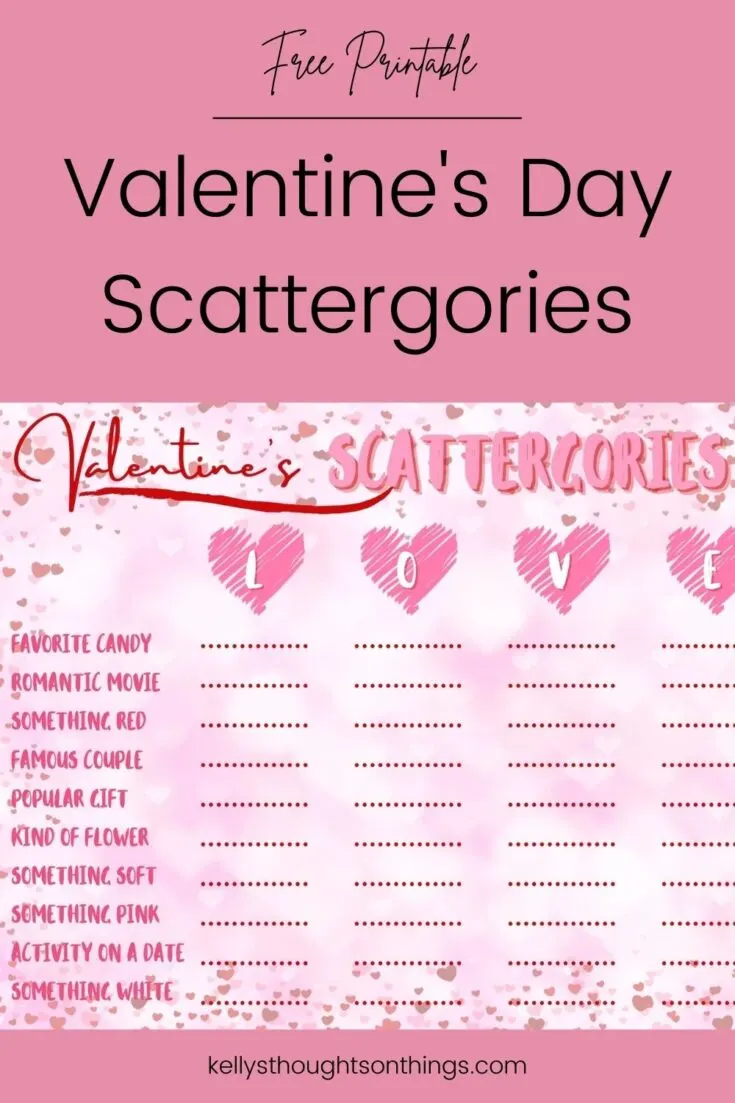 It's perfect for keeping everyone entertained throughout February.
This is a great game for older kids and adults that they will love playing.
Enjoy playing this game by yourself with a cup of hot cocoa made with Valentine's Day Hot Chocolate Bombs, invite a neighbor over and see who can come up with the most words, or play as a family activity.
This Valentine's Day Scattergories will be belly-laughing fun for kids and families as you try to come up with unique words for each category!

Turn this romance-inspired Scattergories game into an annual family tradition that everyone will look forward to.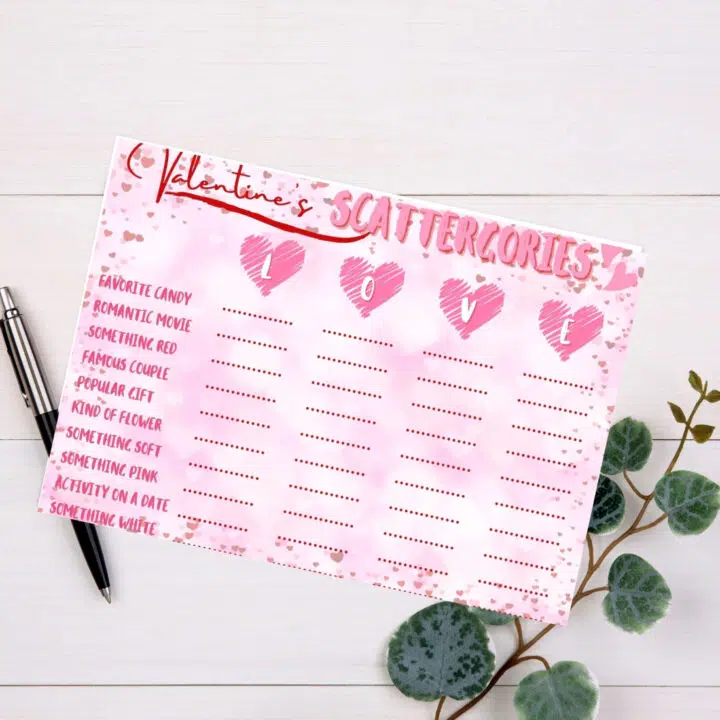 HOW TO MAKE VALENTINE'S DAY SCATTERGORIES PRINTABLE
One page is filled with ten categories that are printed on paper.
This is an activity the whole family will enjoy! Are you ready to get started?
You'll find the printable Valentine's Day Scattergories PDF at the bottom of this post.
TOOLS YOU MAY NEED
Disclosure: This blog post contains affiliate links for products or services we think you'll like. This means if you purchase from one of these links, Kelly's Thoughts On Things may make a small commission at no additional cost to you. We only recommend items we use and love.
We only recommend items we use and love.
VALENTINE'S DAY PDF PRINTABLE INSTRUCTIONS
Download the PDF from the link. Locate the file on your computer, it should be in the download file.
Decide how many people will probably play the game. Place enough pieces of paper in your printer so each person has a game sheet.
Click to open the file and select the print option. Select to print pages in color or black and white. This is a game that's sure to become a new favorite every Valentine's Day!
I recommend creating a digital folder on your computer where you can store printable games like this one, so every year you can reprint them effortlessly.
You will not have to search all over your computer documents if you keep it all organized in one digital file.
VALENTINE'S DAY PRINTABLE TIPS AND QUESTIONS
If you've never played Valentine's Day Scattergories, don't worry! Below are some common questions and helpful tips.
Hopefully, this will answer any questions you may have. If not, feel free to ask in the comments and I'll answer the best I can.
WHAT KIND OF PAPER SHOULD I USE TO PRINT THIS VALENTINE'S DAY SCATTERGORIES GAME?
You can print the Valentine's Day Scattergoires game using regular paper or cardstock paper with color ink. In my opinion, regular paper is the best because you will throw out this game once the sheet has been used by a participant.
HOW DO YOU PLAY THE GAME VALENTINE'S DAY SCATTERGORIES?
This Scattergories game contains four rounds that you can earn points for towards winning the overall game. To begin, you start with the first column, L, for Love.
Set a timer for whatever amount of time you chose, and have each player write down something for each category that begins with the letter L. Once the timer runs out, you add up the points.
To get a point, you must have a unique answer for each category. For example, something red, one answer could be lips.
Take turns reading the answers out loud. Next, cross out any matching answers that were said aloud.
You will score a point only for original answers that no one else has. The person with the most original answers wins the round.
That round is complete, now start the next round by doing it for the letter, O. If the word happens to have double letters, like "liquid lipstick" for example the letter L, you can award two points.
If you want to make the game easier you can award points for any answers that start with the letter instead of only giving points for unique answers.
HOW MANY PEOPLE DO YOU NEED TO PLAY VALENTINE'S DAY SCATTERGORIES?
You can play Valentine's Day Scattergories by yourself or with a group of people. You can add as many people as you want and keep going through the categories and letters.
This game requires a lot of concentration to come up with the answers. Whether you do it by yourself or with a group you'll have lots of fun.
CAN I REUSE THIS VALENTINE'S DAY SCATTERGORIES GAME?
You cannot reuse the sheets that participants have already used. I recommend saving this PDF Valentine's Game to a file on your computer, Printable Holiday Games, and reprinting the sheets every time you would like to play.
This would be a great holiday game to turn into an annual Valentine's Day family tradition. This game will always be fun to play no matter what age you are.
WHAT OTHER GAMES GO WELL WITH VALENTINE'S DAY SCATTERGORIES?
The game, Valentine's Day Scattergories, goes well with a wide variety of kid's and adults games. These games are easy and require two or more people to play.
All of these games are not only family-friendly but also budget-friendly. Some of my personal favorites include:
Valentine's Day Tic Tac Toe
Valentine's Day Scavenger Hunt
Valentine's Day Memory Game
Valentine's Day Charades
Valentine's Day Bingo
WHAT ELSE CAN I ADD TO THIS VALENTINE'S DAY SCATTERGORIES PRINTABLE?
This fun Valentine's Day Scattergories Printable is so versatile. You can add a shorter time limit when playing this game to make it more challenging. You can give little prizes for winning each round.
This is just a friendly reminder, as with all my printables on Kelly's Thoughts On Things, that these are for personal use only. You may not sell them, mass-produce them or claim the design as your own (Sadly, I see this happen all too often!). If you have questions about the design, feel free to email me.
WHAT'S NEXT
If you get a chance to use this recipe, let me know! Leave me a comment below, or share it with a picture on Instagram or Facebook! Don't forget to tag me @kelly_reci_ and use the hashtag #kellysthoughtsonthings so I can see how you use it!
I hope you enjoy this printable Valentine's Day game as much as my family does!