Tis the season for themed manicures and pedicures. Check out these seasonal hues and gift sets from Sally Hansen. I love them and know you will too.
Seasonal Hues and Gift Sets from Sally Hansen
I love doing my nails, but more so for the holidays. While I do pay to get a coat of acrylic over my natural nails, I paint them myself. My go to polishes are by Sally Hansen. I get that salon look from home and at an affordable price. It's the best of both worlds. With the holidays here, they have great seasonal sets to gift (and to keep.)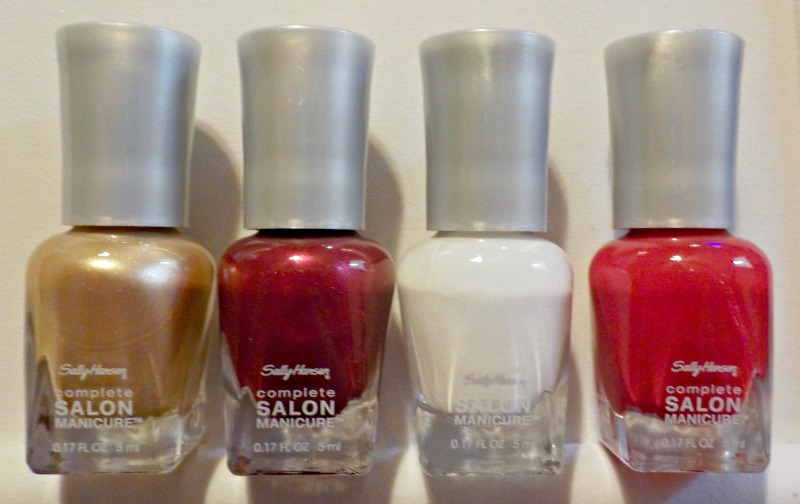 Two Sets, Two Color Themes
This year's Sally Hansen Holiday Collection features four mini bottles of their Complete Salon Manicure. This polish with you give a flawless color that lasts up to ten days! People will think you had your nails done at the salon instead of in the comfort of your own home.
One of their holiday sets is called the Merry and Bright Collection. It includes red, gold, and white for a peppermint, and Christmas themed manicure. The shades are Red My Lips, Let's Snow, Wine Not, and Fool's Gold. I love them! Try a reverse french manicure. Paint your nails in the one of the reds, and do your tips with the Let's Snow, or Fool's Gold. Or, if you have some stippling tools, try some holiday polka dots.
The other set, Winter Wonderland has four shades of purple which reminds me of a snowy morning. The colors are Gleam Supreme, A Perfect Tin, Devil Wears Nada, and Rags to Riches.
Show Your Cuticles Some Love
Winter wreaks havoc on our skin, which means our cuticles take a beating too. Try Sally Hansen's Vitamin E Nail and Cuticle Oil. Since it's the holidays it comes in two seasonal scents. You can choose from Peppermint or Vanilla Buttercream.
Awesome Holiday Gifts
All of these sets make awesome gifts. They're the perfect stocking stuffers for the ladies and girls on your holiday shopping list. You can find them at Walmart, Target, and more.