Being around for more than a few decades, American Plastic Toys has been a considerable part of the toy world. Let's be honest; the summer wouldn't be the same for the kids without toys. American Plastic Toys isn't just an ordinary toy brand; they offer countless collections that the young ones will love. Most of their toy selections cover a number of categories like sports toys, role-play toys, and even seasonal play options as well. Een with the collections that they have now, kids will always have something new to look forward to. Needless to say, this is a great time to introduce them to something new.
Keeping the kid's imaginations going is a great way to encourage them to play with their toys. There are two options in particular that they will be interested in for sure.
Summer Vacation Is About To Change
This year, you have a chance to surprise the kids with new toys just in time for the summer season. Each of these selections have something different to offer.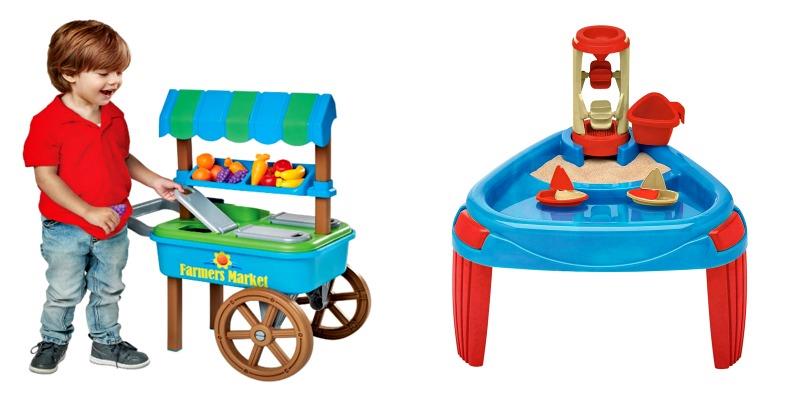 Sand & Water Wheel Table – a toy that will provide your child with hours of outdoor fun! Each set includes two sailboats, a pitcher, and a removable tower. The sand pit can transition into a boat ramp leading to the pool, and the removable tower is great for both sand and water. No tools are required; an easy snap-together assembly will have this toy ready in no time
My Very Own Market Cart – another classic for the open-ended play that taps into kids' imaginations. Just like the real thing, this kid-sized Market Cart features a colorful awning positioned over display shelving for all the tasty fruits and vegetables included as well as storage bins for all. There's even a cash register to complete the sales. The push handle and rugged wheels make it easy to move into place at the corner station or down the street. The 21-piece set comes complete with the Market Cart, an assortment of pretend fruits and vegetables, a credit card, and coins.
Imaginative play for kids is a way for them to enter a world of their own which is incredible. Seeing them be who they want to be brings nothing but joy to our hearts.