Being a bit of Literature geek, I love a good play on words. That's why I love these punny stocking stufferss. They'll not only make them smile, but they'll enjoy munching on them too!
Punny Stocking Stuffers to Make Them Smile
I want to introduce you to Crapola! What started as a fun play on words and an idea, became a snack that everyone (even Jay Leno) was craving! I give you Crapola, cranberry apple granola. (Get it?) It's a ready to eat breakfast cereal, or crunchy snack. Made from organic and all natural ingredients that you will feel good about giving to your loved ones. It's mixed by hand, oven roasted, then packed in handy resealable bags.
Tasty and Helpful
Not only is Crapola granola a tasty breakfast or snack option, but it's good for you too. The oats offer your body fiber which helps you, you know, go. They aid in digestion and will help improve your heart health too! So you're not just giving your loved ones a fun and tasty stocking stuffer. You're giving them a healthy treat too!
Number Two
The second flavor of Crapola is Number Two, (Get it! Lol!) This one is cranberry orange granola. Just like the original and other flavors of Crapola, it's all natural and organic. Speaking of other flavors, they also have Colon-ial Times. What started as a summer flavor became so demanded that they now offer it year round. This one is packed with real dried strawberries and blueberries. (I love them all, but I have to admit, Colon-ial Times is one of my favorites!)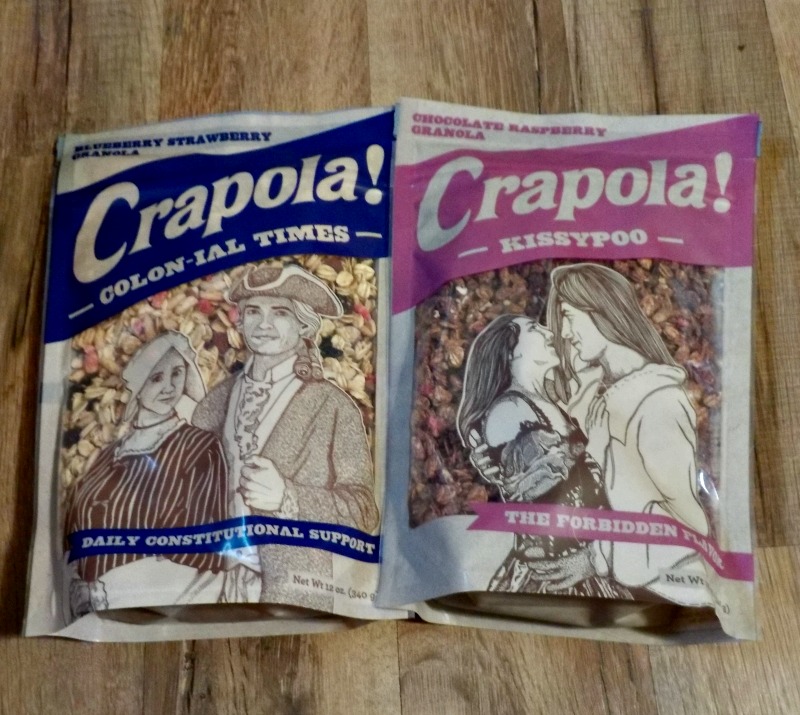 Last But Not Least, Kissypoo
Kissypoo is the newest addition to Crapola granolas. It was launched on Valentines Day. It's simple and natural, yet rich and decadent. Completely Vegan, Kissypoo features a dark chocolate landscape with a surge of flavor from the freeze dried raspberries. This is my most favorite Crapola flavor. It's so tasty!! I hide a bag in my room so I don't have to share it will my boys.
To purchase any or all of these Crapola! flavors, head to their website. You can also follow them via Facebook and Instagram.