A classic Christmas punch that will definitely keep the party going! Enjoy this delicious holiday cocktail made of cranberries, lime, apple cider, spices, and soda.
This non-alcoholic party drink is great for your party guests of all ages. Your kids will love this fruity punch recipe as you celebrate the festivities with your family.
You can customize this drink for your guests, too. Enjoy this fun and yummy drink!
Why You'll Love This Christmas Drink.
It's light and delicious
It's fun and festive
You can make it in advance
Easy to find ingredients
Kid-friendly
Highly customizable (can add alcohol for adult guests)
Christmas is a time for family and friends to come together and celebrate the joys of the season. But, it can also be a stressful time with all the planning and preparations that need to be made.
It's important to take some moments just for yourself in order to keep your sanity during this hectic time!
Here is an easy recipe for Christmas punch that will help you relax after a long day of cooking or wrapping presents.
This refreshing drink has all-natural ingredients such as cranberry juice, apple cider, fresh cranberries, Sprite, and lime slices so there will no artificial flavors or colors in your mix.
Make sure you have plenty of ice on hand so everyone can enjoy their glassful!
Disclosure: This blog post contains affiliate links for products or services we think you'll like. This means if you make a purchase from one of these links, Kelly's Thoughts On Things may make a small commission at no additional cost to you. We only recommend items we use and love.
Equipment Needed to Make this Holiday Cocktail
Ingredients for Your Christmas Punch
Sprite
Sparkling Apple Cider
Cranberry Juice
Lime Sliced
Fresh Cranberries
Rosemary
Ice Cubes
How to Make Christmas Punch
There are 3 easy and simple steps in making this classic holiday drink:
Step 1. Fill a large pitcher with ice cubes.
Step 2. Pour in the apple cider, Sprite, & cranberry juice.
Step 3. Garnish with limes, rosemary, & fresh cranberries.
Other recipes use sugar as a sweetener for their punch. For this, they usually dissolve the sugar first before adding it to the fruit juice. You can adjust the sweetness of your punch to your liking. As mentioned before, this holiday drink is highly customizable.
What to Serve/Pair with Your Holiday Drink
Serve your holiday drink with a side of peanuts or cheese sticks. Sugar-coated peanuts go best with fruit punch.
Cheddar or any kind of cheese sticks also go well with your Christmas punch.
You can serve chocolate bars or brownies, revel bars, and other sweet desserts with your Christmas punch.
Tequila, champagne, Cognac, and Jim Bean are some of the alcoholic drinks or cocktails that you can serve with your punch.
Popular Substitutions & Additions
Whiskey
Bourbon
Champagne
Strawberries
Lemon fizz
Sage and other fresh herbs
Pineapple juice
Frozen blueberries
Mango rum
Peach schnapps
Apricot nectar
Cognac
Lemonade
Pomegranate
Tequila
White wine
Vanilla
Melon
Raspberry
Pureed fruit (i.e., pineapple, etc)
Ginger ale
Sherbet
Caramel syrup
Ice cream
How to Store Christmas Punch
Christmas punch is best served fresh, as it has fruit juices, fresh fruit slices, and carbonated beverages in it.
Best Way to Store Holiday Cocktail Leftover
The best way to store your leftover holiday drinks is to freeze them. You can store them for months.
You may need to store them in portions or a batch so that you can just defrost what you will consume.
Another tip for making your punch ahead of time, not to add your carbonated drink, ice ring, or stir-ins if you're not going to consume everything.
Freeze this premixed batch (water, sugar, and fruit juice) and add your carbonated drink, and other ingredients when you are ready to serve your punch.
Can I Freeze Christmas Drink?
Yes, you can absolutely freeze your Christmas drink.
As mentioned earlier, the best way to store your Christmas drink is by freezing it.
How Long Will the Christmas Punch Last in the Freezer?
The Christmas punch or cocktail will last for many months when stored in the freezer.
Set your freezer to the coldest setting, and your punch will last your punch for months or even years, especially when it has alcohol in it.
Anything frozen will last longer.
How to Defrost the Holiday Cocktail?
Pull out the batch of punch that you are going to serve from the freezer and leave it in the fridge overnight.
You can also leave it on the countertop for 30 minutes to an hour.
Other ways to serve this is by putting your frozen punch in the blender and making a slushie out of it.
Your kids will love that (but make sure it does not contain alcohol!).
Christmas Punch FAQs
What is Christmas Punch made out of?
Christmas punch is technically made out of soda or carbonated drinks, slices of fresh fruits, any type of alcohol, fresh fruit juice, and sparkling cider.
What are the things you can use as a punch bowl?
You can turn a big fruit like watermelon or pumpkin into a punch bowl.
Bundt pans, deep soup bowls or tureen, pitcher, a bucket or pail, or a Halloween cauldron also make great punch bowls.
What is the most popular drink during Christmas?
The most popular drink during Christmas is the eggnog, according to 27 states.
How do you keep the punch bowl cold?
You can mix and freeze punches ahead of time and put them in when you serve your liquid punch.
You can use ice cube trays to put premixed punch to freeze them.
You can also use frozen fruits instead of ice cubes. They take a longer time to thaw than ice cubes melt.
How much alcohol should I add to the punch?
You can add 2 parts spirit, 1 part water, seltzer, soda, or sparkling wine, 1 part sweet like fruit juice or syrup, and 1 part sour like lemon or lime.
Do rum punch spoil? How long does alcoholic punch last?
Adding rum to fruit juice can preserve it, and it can last for up to 2 weeks.
What can you use to garnish your punch?
You can use any of the following:
Orange, lemon, or lime slices
Fruit kabobs like pineapple slices, citrus fruit wedges, skewered cherries, or strawberries
Melon or watermelon balls
Ice cubes with strawberry or cherries are frozen in the center
Paper umbrellas
Edible flowers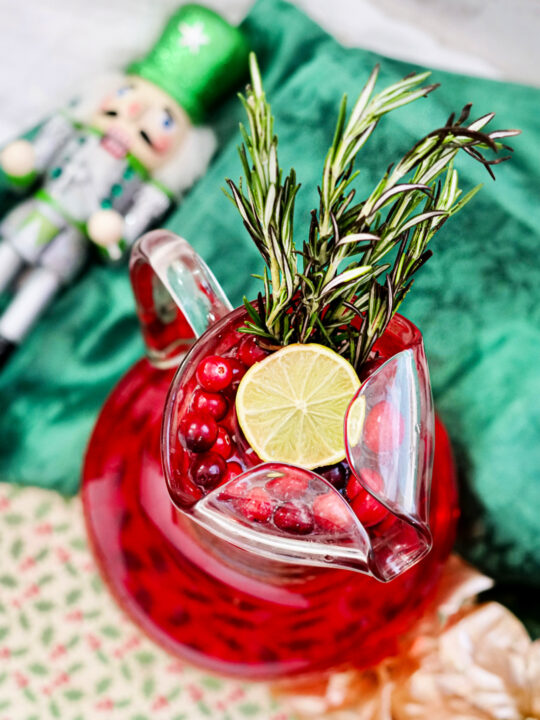 Other Christmas Punch Recipes You'll Love
Lemony Fruit Cooler
Grinch Punch
Tickle Me Strawberry Triple Crown Cocktail
Holly Jolly Christmas Citrus Cocktail
Crock Pot Wassail
Mistletoe Kiss
Rudolph Punch
Frothy Festive Punch
Peach Champagne
Banana Brunch Punch
Minty Tea Punch
Rainbow Spritzer
Sparkling Punch
Rhubarb Citrus Punch
Sparkling Celebration Punch
Cranberry Fizz
Orange-Apricot Mimosa Punch
Pretty Pink Punch
Champagne Party Punch
Chilly Coffee Punch
Raspberry Refresher
Fruited Punch
Grilled Peach And Pineapple Sangria
Sparkling Berry Punch
Citrus Punch
Cranberry Party Punch
It's time to get in the mood for Christmas and it doesn't hurt if you have a delicious holiday cocktail at your side.
This classic recipe is sure to keep your friends and family happy, no matter how late into the night they stay with you!
Don't forget—this punch also freezes well so make some extra batches.
Christmas Punch Recipe
Yield: 12
Christmas Punch Recipe
A classic Christmas punch that will definitely keep the party going! Enjoy this delicious holiday cocktail made of cranberries, lime, apple cider, spices, and soda.
Ingredients
1 Liter Sprite
1 Bottle Sparling Apple Cider
25oz Bottle Cranberry Juice
1 Lime Sliced
Fresh Cranberries
Rosemary
Ice Cubes
Instructions
Fill a large pitcher with ice cubes.
Pour in the cider, Sprite & cranberry juice.
Garnish with limes, rosemary & fresh cranberries.
Nutrition Information:
Yield:
12
Serving Size:
1
Amount Per Serving:
Calories:

79
Total Fat:

0g
Saturated Fat:

0g
Trans Fat:

0g
Unsaturated Fat:

0g
Cholesterol:

0mg
Sodium:

14mg
Carbohydrates:

20g
Fiber:

1g
Sugar:

18g
Protein:

0g
Nutritional information is automatically calculated with ingredients and serving size and may not be accurate. Please always double check with your own nutritional apps as well.
WHAT'S NEXT?
Don't forget to come back and let me know how your Christmas Punch turned out!
If you get a chance to use this recipe, let me know! Leave me a comment below, or share it with a picture on Instagram or Facebook! Don't forget to tag me @kelly_reci_ and use the hashtag #kellysthoughtsonthings so I can see how you use it!