This post may contain affiliate links. This means if you click on the link and purchase the item, I will receive an affiliate commission at no extra cost to you. All opinions remain my own.
Ah, the sweet aroma of a ham roasting in the oven. The scent draws families together during festive times and special occasions. But what if we could make it even more irresistible? Enter the Brown Sugar Ham Glaze, a delightful concoction that'll turn your main dish into the talk of the town! Let's embark on this culinary adventure together.
This isn't just a simple glaze; it's the secret to transforming your main dish into the show-stopper at every holiday dinner. This glaze promises to elevate every bite, whether it's a Christmas dinner or a cozy family gathering.
Why Brown Sugar Ham Glaze?
Mouthwatering Goodness: This glaze is the stuff of dreams. Its sweetness, combined with the tang of pineapple juice and the richness of butter, creates a taste sensation that dances on the palate.
Versatility: Whether it's a Christmas dinner or a Sunday family gathering, this glaze is your trusty companion. It's perfect for any occasion and ham, whether a bone-in, spiral cut or even a leftover ham slice from the grocery store.
Easy Recipe: With just a few simple ingredients and minimal cooking time, this glaze is a breeze to prepare, making it a go-to for those last-minute dinner plans.
This glaze isn't just a sauce; it's an experience, a memory maker, and the secret ingredient to elevate any feast, whether drizzling over a holiday ham or jazzing up those weekday ham steaks! This is the best brown sugar glaze, so put it on your fresh ham and add it to your side dishes.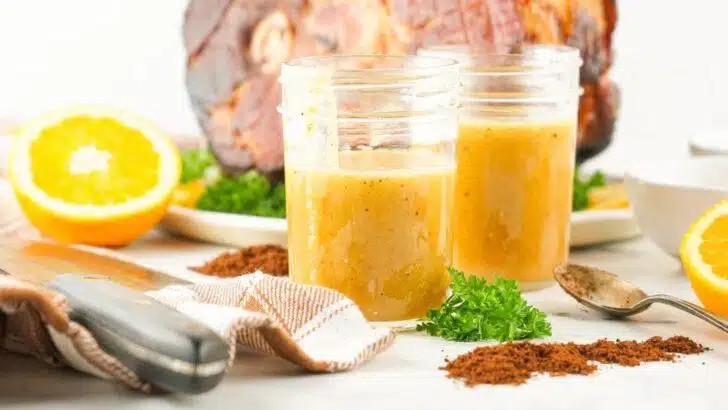 Why This Ham Glaze Stands Out
Every family has its secret recipes, right? The ones that get passed down from generation to generation. This glaze is that recipe in my family. It's been a tried-and-true favorite for years, and for good reason!
Sweet and Tangy: The combination of brown sugar with pineapple juice creates this tantalizing balance of sweetness with just the right hint of tang.
Rich and Buttery: The melted butter gives the glaze a luscious richness that melts in your mouth.
A Hint of Spice: Ground cloves and minced garlic add a subtle depth of flavor that makes all the difference.
So, are you ready to elevate your ham game? Let's dive right in!
You'll find the specific ingredient amounts and detailed instructions in the printable recipe at the bottom of this post.
Let's Get Cooking The Brown Sugar Ham Glaze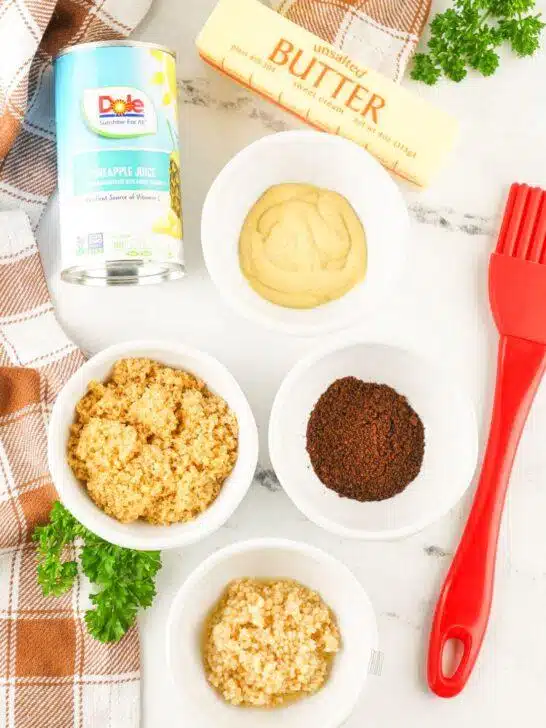 Ingredients Needed for Brown Sugar Ham Glaze
Equipment Needed for Ham Glaze
Directions For Brown Sugar Ham Glaze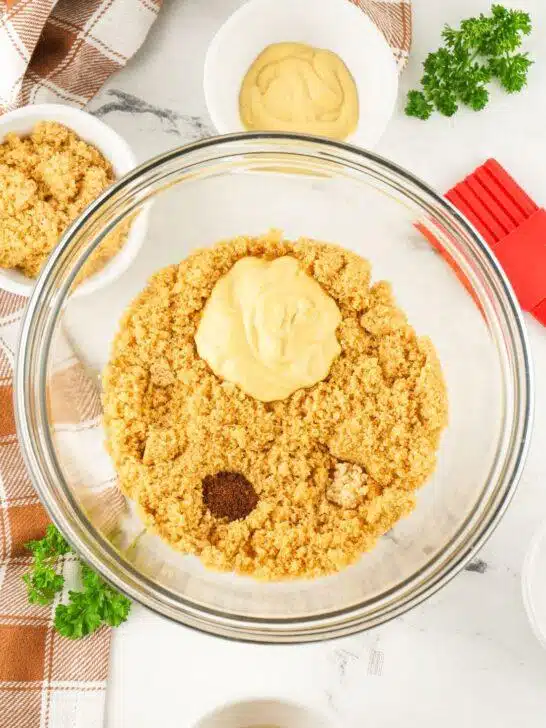 Begin by placing the brown sugar into your mixing bowl. It's about to get a delicious makeover!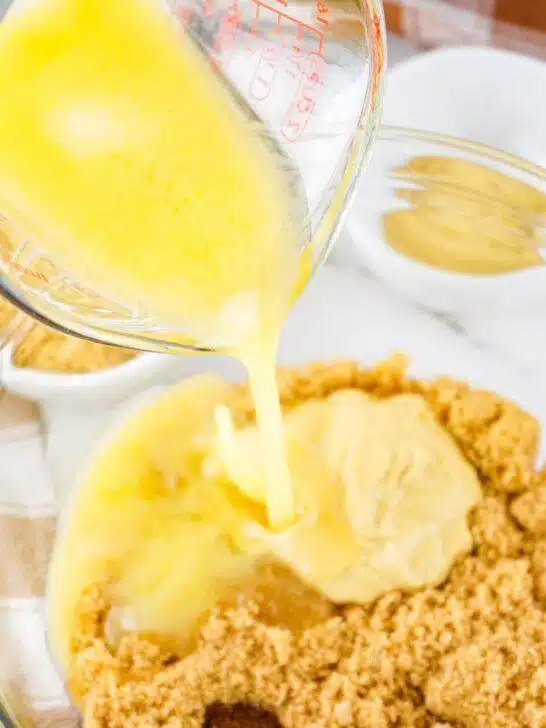 Now, layer on the remaining ingredients.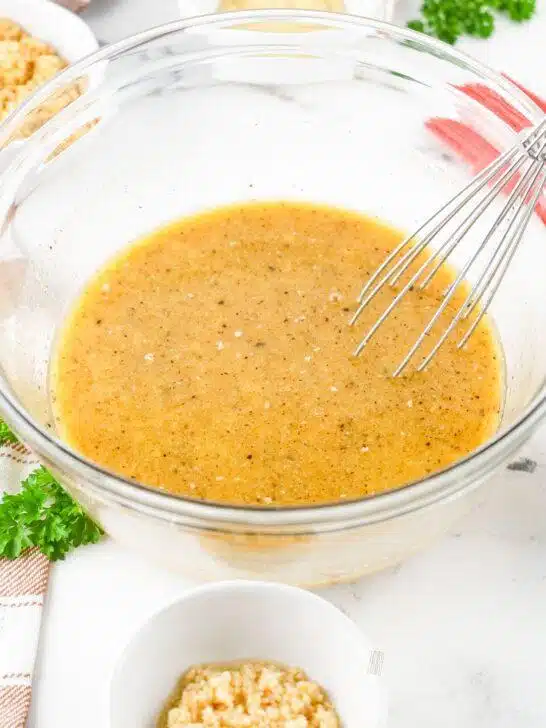 Whisk them together until you have a beautiful, glistening mixture of yumminess.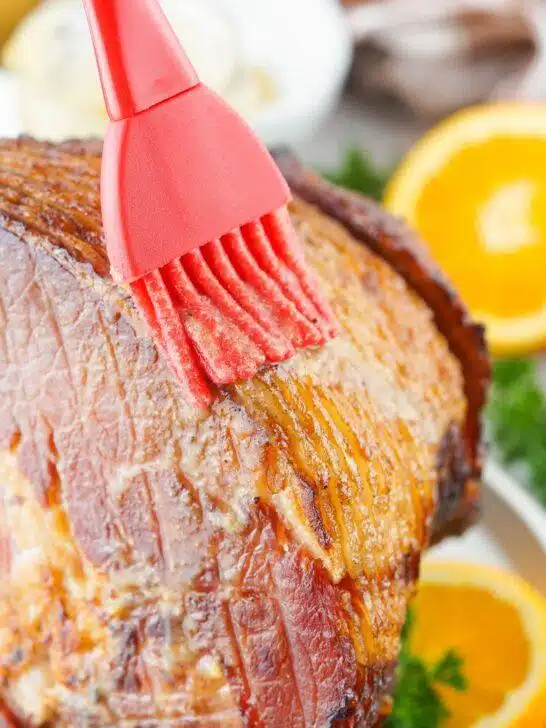 Here comes the fun part! With about 15-30 minutes left in your ham's cooking time, grab your basting brush and give that ham the royal treatment. Coat it generously with the glaze.
Got some leftover glaze? Serve it on the side. It's so good you might catch someone eating it with a spoon!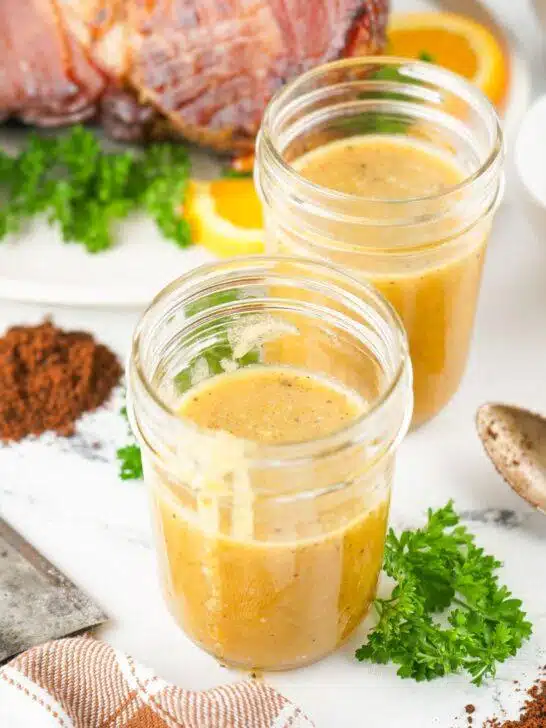 Top Tips and Tricks
Pineapple Juice: Be cautious with the pineapple juice. While it adds a delightful tang, using pure pineapple juice straight from the fruit might not be your best friend here. It contains an enzyme that can make your ham go all weird in texture. Always opt for mixed pineapple juices.
Mustard Choices: Dijon mustard is my hero in this recipe. It has this unique flavor that pairs beautifully with the sweet ingredients. But hey, if you have another favorite mustard, try it!
Pour or Brush?: Whether you're meticulously brushing the glaze onto every nook and cranny of the ham or just drenching the entire thing in one go, you're doing it right. After all, can there ever be too much glaze?
The Grainy Mystery: Notice that your glaze is a bit grainy. Don't fret! As the ham heats up, it works its magic, transforming the glaze into a silky-smooth delight.
Type of Ham: Spiral, football, you name it! This glaze is like the little black dress of the culinary world – it goes with everything!
Storage Savvy: While you can store this glaze in the fridge for a couple of weeks, why would you? It's so darn delicious; there won't be any leftovers! Plus, whipping it up is a breeze.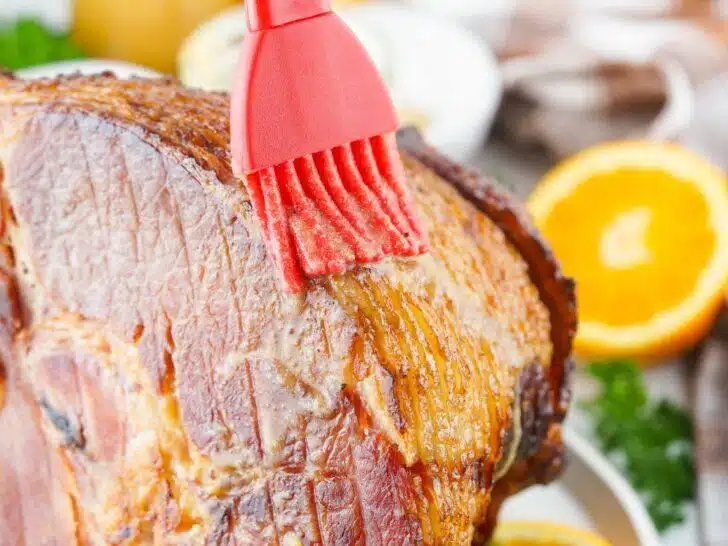 Pro Tips for the Perfect Feast
Choice of Ham: From spiral-sliced ham, bone-in ham, and whole ham, this glaze complements them all. Even leftover ham from the grocery store can be revived with this glaze!
Storing Your Glaze: Made a little extra? No worries! Store it in an airtight container, and it'll be good for your next feast.
A Dash of Creativity: Feel free to experiment! The possibilities are endless, from adding apple cider vinegar for a tangy kick to introducing spicy mustard for added warmth.
Frequently Asked Glazing Questions
Q: Can I use other types of mustard?
A: Experiment with your favorites while Dijon mustard reigns supreme in this recipe. Just avoid overpowering flavors.
Q: Why is my glaze grainy?
A: That's completely normal! The heat from the ham melds everything together, turning the glaze into a smooth, shiny delight.
Q: Can I prepare the glaze in advance?
A: Absolutely! Store it in an airtight container, and it'll be your trusty sidekick for up to two weeks.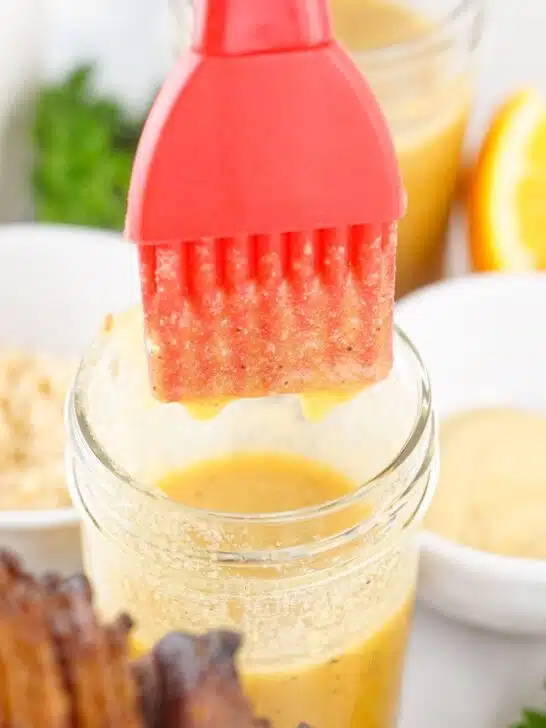 Glaze Galore: What Can You Use It On?
From spiral-cut ham to ham steaks, this glaze doesn't discriminate. But why stop there? Venture out and try it on:
Roasted Veggies: Think carrots, parsnips, or even Brussels sprouts.
Chicken: A generous brush before the final roasting minutes. Heavenly!
Pork Chops: Turn an ordinary dish into something gourmet.
Timing is Everything: When Do You Glaze a Ham?
It's all about the grand finale! As your ham's cooking time nears its end (about 15-30 minutes out), that's your cue. Brush on a generous amount, ensuring it reaches every nook, especially the surface of the ham. Watch as it caramelizes to perfection, creating a feast for the eyes and the palate.
VARIATIONS: Spice It Up!
Tropical Bliss: Swap out pineapple juice for orange juice. Or better yet, a blend of both!
Syrupy Dreams: A hint of maple syrup can introduce a delightful depth of flavor.
Herb Heaven: Infuse the glaze with rosemary or thyme for an aromatic twist.
Let's Wrap This Up (Without the Aluminum Foil!)
Alright, culinary adventurers, we've uncovered the magic of the Brown Sugar Ham Glaze. As you gear up for your next feast, remember this glaze. Whether it's a Christmas ham, a holiday ham, or a simple oven-baked ham recipe for a family dinner, this glaze promises to be the star.
So, the next time you're wandering the aisles of your grocery store, envision that succulent ham adorned with the best glaze ever. And remember, good food is an experience, a journey, and most importantly, a memory in the making.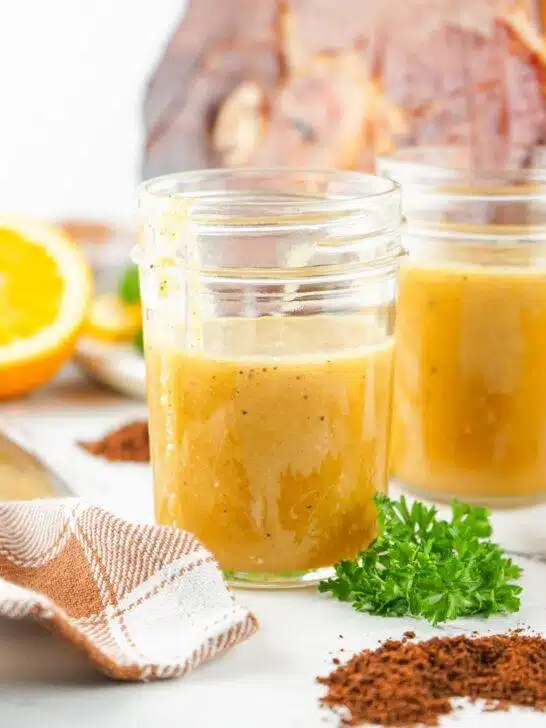 Brown Sugar Ham Glaze Recipe
Yield: 2 ¼ Cups
Brown Sugar Ham Glaze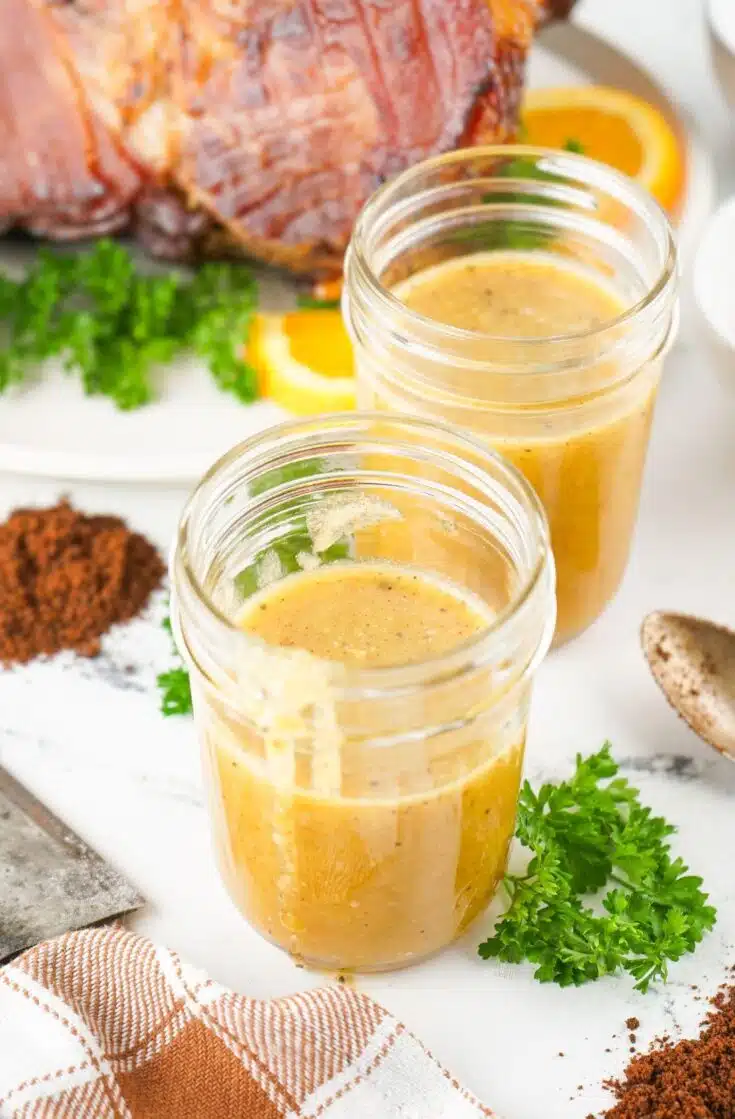 Ah, the sweet aroma of a ham roasting in the oven. The scent draws families together during festive times and special occasions. But what if we could make it even more irresistible? Enter the Brown Sugar Ham Glaze, a delightful concoction that'll turn your main dish into the talk of the town! Let's embark on this culinary adventure together.
Ingredients
1 Cup Brown Sugar, packed
½ Cup Pineapple Juice
½ Cup Salted Butter, melted
¼ Cup Dijon Mustard
½ Teaspoon Minced Garlic
½ Teaspoon Ground Cloves
Instructions
Place the brown sugar in a medium mixing bowl.
Add the remaining ingredients on top and whisk until fully combined.
Use a basting brush to completely coat the ham when it's about 15-30 minutes away from being done. Once basted, continue cooking the ham for however long it has left.
Serve any excess glaze as a side for people to add more, or drizzle it over the ham as soon as it comes out of the oven if desired.
Notes
● It's important that you do not use 100% pineapple juice or real pineapple juice straight from a pineapple or it will ruin your ham. There's an enzyme from the pineapple that will start to break down your ham, making it a weird texture. Pineapple juices that are mixed with other ingredients are the only options for this recipe.
● You can use the mustard you prefer, just don't go for a weird flavor or it will shine through in your glaze. I have found dijon to be the absolute best flavor for this glaze, but that's my preference.
● You can either use a basting brush to baste the entire thing, or be willy nilly about it and just pour it over the top with a spoon or pourable container. I tend to spread the slices a bit and get it in every crook and cranny because I love the glaze and want it everywhere.
● The glaze will seem grainy, but that's normal. The heat from the ham will do the rest of the work and it will no longer be grainy, but it will definitely be quite perfect.
● If you don't have salted butter, unsalted is just fine. You might want to throw a pinch of salt in the glaze though, if you use unsalted, unless the ham itself has been salted.
● This can be used on any type of ham. Spiral, football, etc.
● Technically, you can store this glaze in the fridge for up to 2 weeks, in a sealed container, but I tend to use every bit of the glaze. Plus, it's so quick and easy, that there's really no reason to make it in advance and store it. You'll want to whisk it up a before before using it, if you decide to store it.
Nutrition Information:
Yield:
1
Serving Size:
1
Amount Per Serving:
Calories:

1616
Total Fat:

94g
Saturated Fat:

58g
Trans Fat:

4g
Unsaturated Fat:

29g
Cholesterol:

244mg
Sodium:

2407mg
Carbohydrates:

200g
Fiber:

3g
Sugar:

190g
Protein:

4g
Nutritional information is automatically calculated with ingredients and serving size and may not be accurate. Please always double check with your own nutritional apps as well.