Spring has sprung and what better way to celebrate the warm weather than with a delicious cocktail? This recipe for a Peeps mimosa is perfect for any occasion. It's simple to make and sure to please your guests. So gather up your ingredients and get started!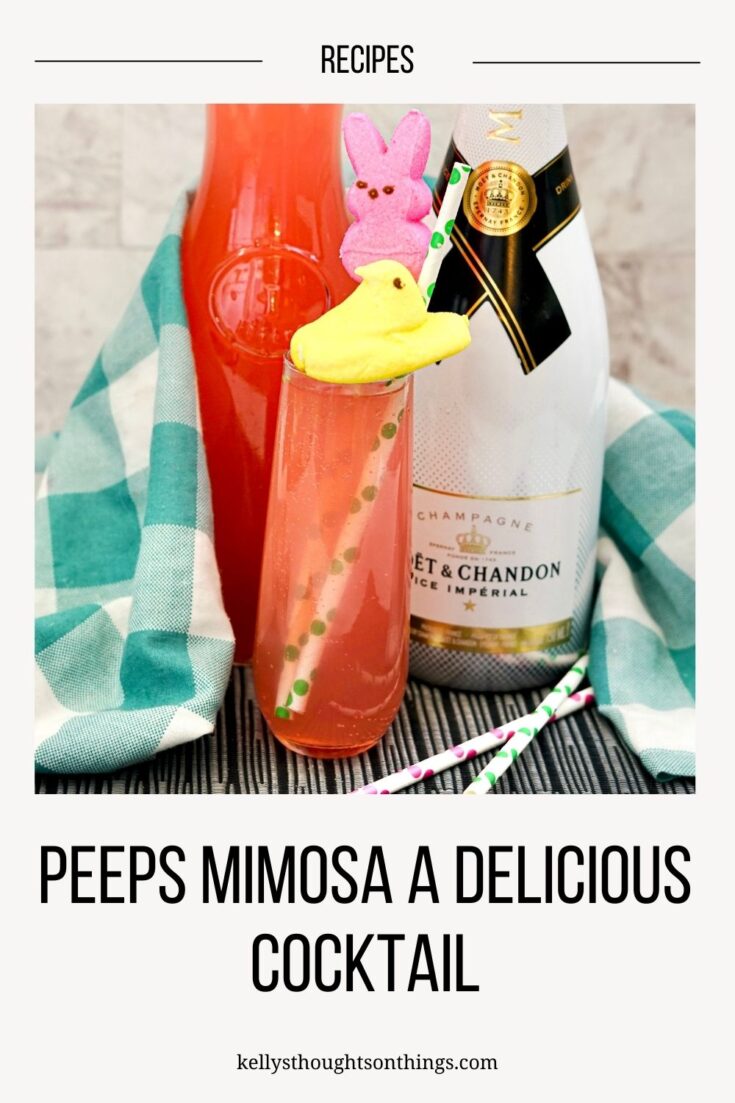 Mimosas are delicious cocktail drinks that consist of champagne or wine, and fruit juice.
They are perfect party drinks for brunch; your all-around fun alcoholic drink that can be served on different occasions, mostly during holidays, weddings, or birthdays.
These are simple yet fun drinks. You can make this yummy drink in advance.
This is a guaranteed hit with your guests!
Why You'll Love This Easy Cocktail Recipe
It's delicious
Perfect party drink for all occasions
Easy to make
Readily available ingredients
Needs just a few ingredients
Can be made in advance
Highly customizable drink
PEEPS mimosas are a festive and delicious way to celebrate Easter! This fun twist on the classic brunch cocktail is made with Peeps marshmallows and sparkling champagne.
It's sure to be a hit with your guests!
You can find the full recipe with ingredients and instructions in the printable card below.
Disclosure: This blog post contains affiliate links for products or services we think you'll like. This means if you make a purchase from one of these links, Kelly's Thoughts On Things may make a small commission at no additional cost to you. We only recommend items we use and love.
Equipment Needed to Make Your Party Drinks
You will only need two things for this party drink:
Ingredients for Your Peeps Mimosa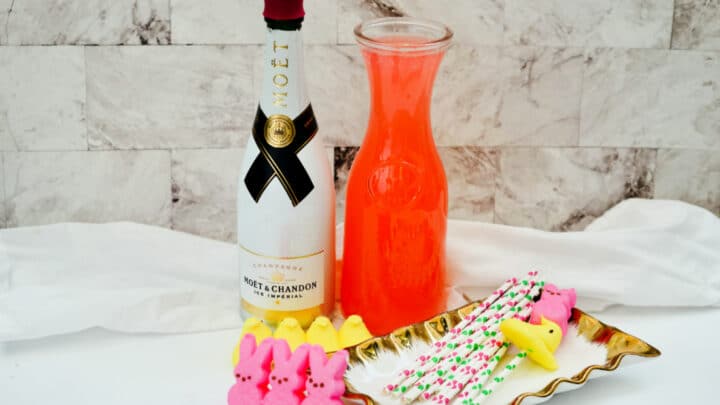 • Champagne
• Pink Lemonade
• Pink & Yellow Peeps
How to Make a Peeps Mimosa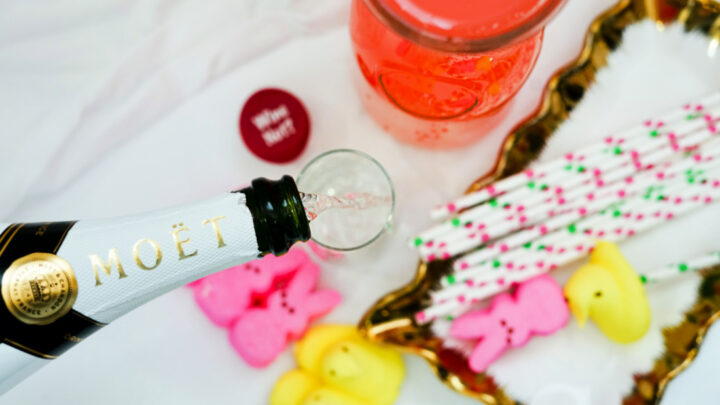 Step 1. Fill a champagne flute 3/4ths of the way full with champagne.
Step 2. Top off with pink lemonade.
Step 3. Take a straw and poke 1 yellow and 1 pink peep though for garnish.
Step 4. Place the peel straw into the champagne flute.
Step 5. Cheers!
What to Serve with Your Girly Drink
This girly drink is perfect for breakfast or brunch foods like salty bacon, granola-topped yogurt, and savory quiche.
Scrambled eggs and risotto are great with mimosas, too.
Mushroom dishes, seafood such as fish and lobster can also be paired with this drink.
Instagram is an amazing place to be! We're always on there sharing our everyday adventures with you. Join us on Instagram as we share our, travels, recipes, and crafts! Be sure to check out the stories for real-time fun.
These snack or appetizer ideas are also great compliments to this Peeps Mimosa:
Mixed berries
Chocolate-covered almonds
Cheddar popcorn
Southern heat mix
Figs
Olives
These fruit juices are fabulous with mimosa:
Grapefruit
blood orange
tangerine
peach
guava
watermelon
cranberry
pomegranate
passion fruit
Popular Substitutions & Additions
cranberry juice
lemonade
pineapple juice
grapefruit juice
apple cider
pomegranate juice
watermelon juice
grenadine syrup
orange liqueur
fresh fruits (strawberry, raspberry, pineapple, etc.)
herbs (rosemary, mint, basil, thyme, lavender, etc.)
ice cream
club soda
wine
How to Store Peeps Mimosa
Mimosa, which contains fresh fruit juice and champagne, is best consumed immediately.
Should you have any leftovers from this girly drink, it is best to store the ingredients separately (i.e., champagne and fruit juice).
Best Way to Store Peeps Mimosa Leftover
The best way to store your yummy drinks leftover is to store the champagne and fruit juice and other ingredients separately.
Champagne bottles that are opened can still be refrigerated for up to 5 days, but this should have a stopper to maintain the texture of your champagne.
However, if your champagne is unopened, you should just store this in a cool, dry, and dark place, as this is sensitive and reacts to the slightest heat, light, and vibrations.
You can chill your champagne for 3 hours in the fridge when you are to consume them within that time.
How Long Will Peeps Mimosa Last in the Fridge?
Your Peeps Mimosa will last for at least 2 to 3 days if it is mixed with fruit juice.
If possible, consume your mimosa before the end of the night so as not to spoil the fruit juice in it.
Can I Freeze My Cocktail Drink
Yes, you can freeze your cocktail drink. However, you have to consistently freeze it at 0 degrees. If properly stored, your champagne can last up to 6 months in the freezer.
Are you on Facebook? I am too! Join me as I share everyday adventures with you. I will be sharing our, travels, recipes, and crafts!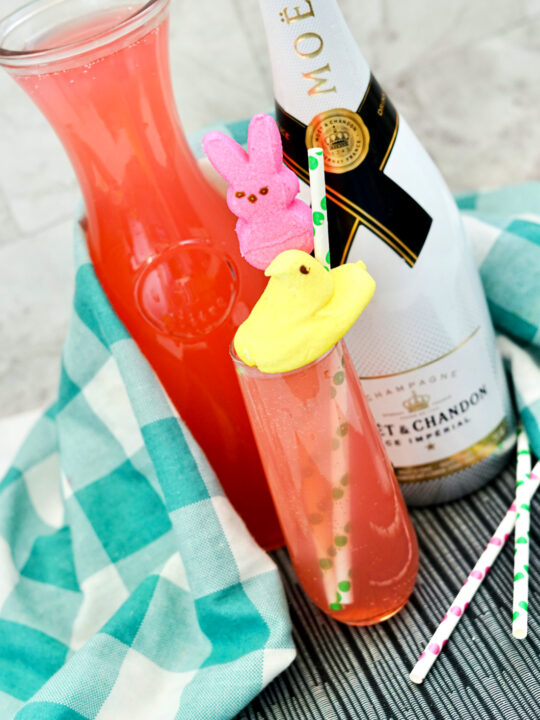 What can I do with leftover champagne?
Here are some ideas and tips on what you can do with your leftover champagne:
Whip up cocktails
For champagne, you can make another variant of mimosa or a base for a sangria cocktail.
Freeze into ice cubes
If you accidentally left your champagne open for too long in the fridge and it has gone flat, make ice cubes out of them.
You can use these for your cocktail drinks in the future.
Make a pan sauce
You can sauté this with garlic and onions, and let the wine evaporate, leaving you with a beautiful pan sauce.
Add some cream and seasoning, and you can use this for your meat dishes.
Steam shellfish
You can simmer herbs and garlic in wine/champagne and water.
This natural pairing has a perfect combination of acidity from the champagne and the sweetness of seafood.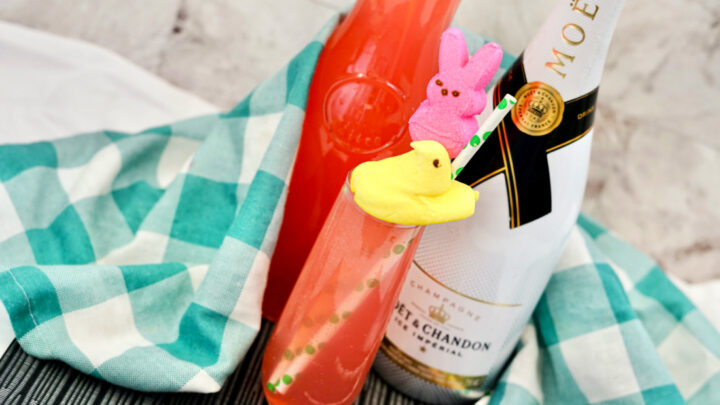 Make a dessert such as crepes
Replace the milk with the leftover champagne in the batter and you will have yourself a light and airy crepe.
Garnish this with powdered sugar and strawberries with the perfect filling of your choice for an awesome dessert.
Soak your fruits for breakfast
You can soak and marinate your fruits in your leftover champagne for 30 minutes in the morning.
You can use these fruits for your pancakes for breakfast. Apples, pears, and oranges taste great with champagne.
Add your leftover champagne to your stew
Champagne complements Mediterranean flavors. You can use this for chicken, lamb, pork, beef, fish, or vegetable stew.
Make a champagne vinaigrette
For this, you have to let your champagne ferment for a few weeks.
You can then add lemon juice, salt, pepper, honey, shallot, olive oil, and Dijon mustard to make a vinaigrette.
Make luscious champagne truffles
To make this fancy dessert, you can add heavy cream and chocolate to your leftover champagne.
Cook a risotto
You can add your champagne when sauteing the rice in butter.
Bake some champagne cupcakes
You can simply add your champagne into the cake base or use the champagne in the frosting for a yummy champagne dessert.
Make a creamy champagne chicken
You can make this by searing your chicken in butter, olive oil, and champagne.
Would you like a free e-cookbook? Of course, who doesn't love free stuff? And not only do you get a free e-cookbook but also great emails packed with wonderful information and free printables. What could be better than that? Imagine all the amazing recipes you'll be able to cook once you have your very own copy of my e-cookbook! Plus, all the other goodies I send out in my emails. You won't want to miss out on anything, so make sure to subscribe today. Click this button and enter your email address to subscribe now!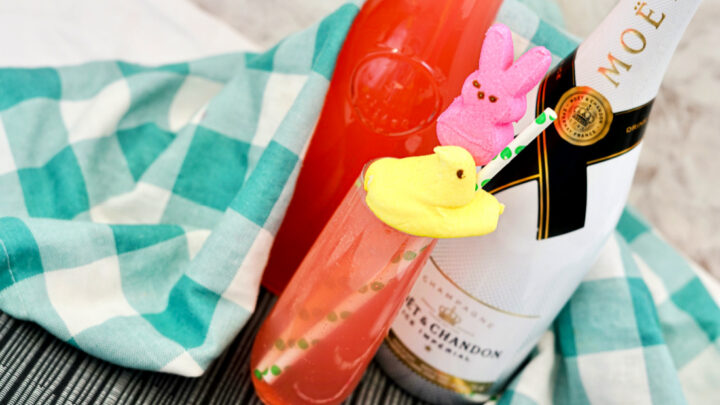 Cocktail Recipe FAQs
What is a good garnish for mimosas?
Orange slices, strawberries, and blueberries are great garnishes for your mimosas.
What kind of orange juice goes in mimosas?
Fresh orange juice is the best juice for mimosas. Orange juices in cans or store-bought orange juice have a different texture and taste than freshly-squeezed orange juice.
Are mimosas vegan?
No. Not all champagne is vegan. You can ask for a specific brand if you prefer vegan champagne to use for your mimosa.
What fruit goes with mimosas?
Here are some of the fruit juices that go well with champagne:
Orange juice
Peach purée
Mango purée
Pineapple purée
Watermelon purée
Blackberry juice
Strawberry purée
Pomegranate juice
Other Mimosa Recipes You'll Love
The Classic Mimosa
Pineapple Mimosa
Pomegranate Mimosa
Pomegranate Tequila Sunrise Mimosa
Bellini
Poinsettia
Christmas Mimosa
St. Germain Cocktail
Champagne and Chambord
So gather up your ingredients and get started! Whether you're celebrating Easter, the end of winter, or just feeling like something sweet and celebratory, this Peeps mimosa recipe is perfect for you.
Be sure to share a photo of your creation on our social media page, we can't wait to see them.
Peeps Mimosa Recipe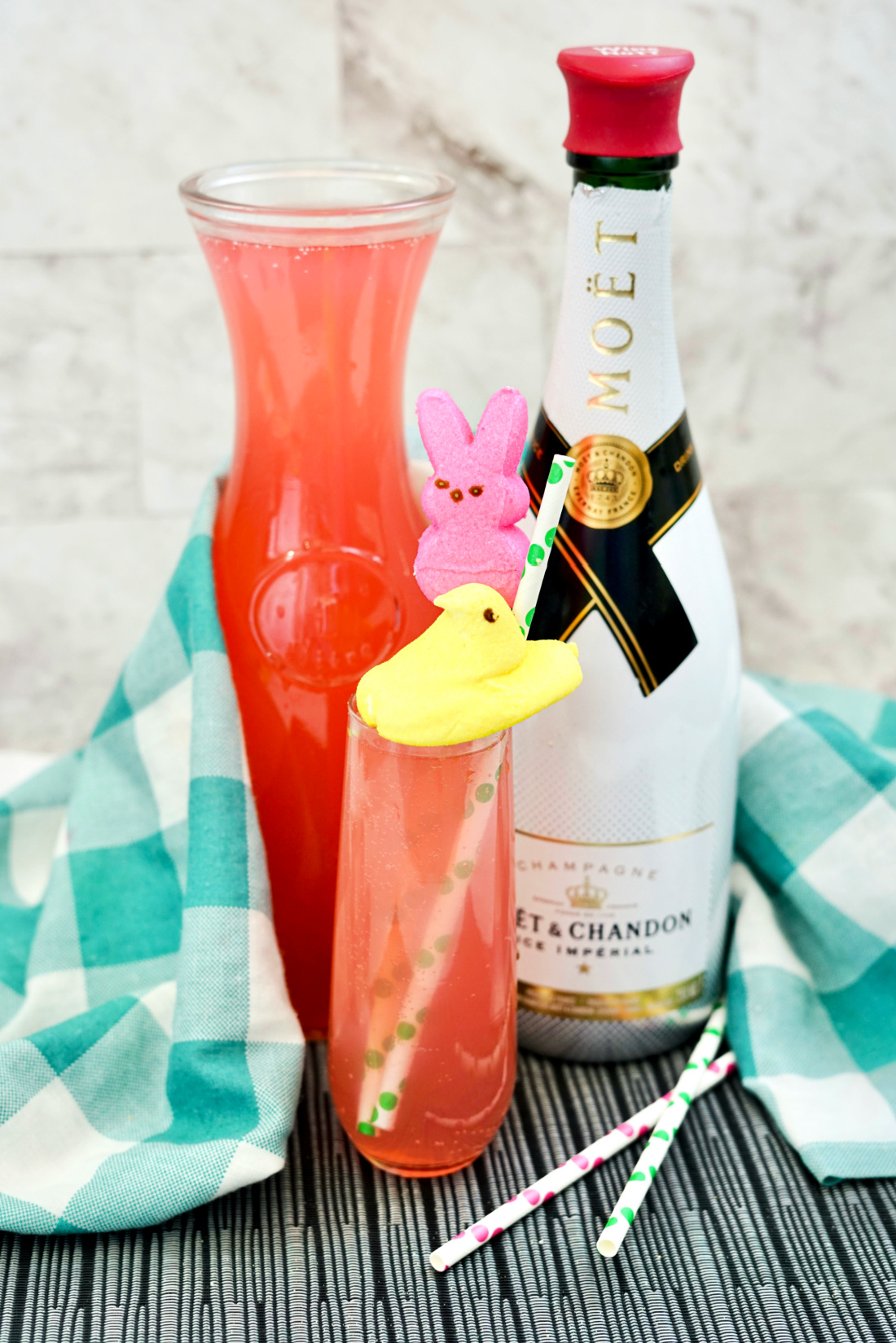 Spring has sprung and what better way to celebrate the warm weather than with a delicious cocktail? This recipe for a Peeps mimosa is perfect for any occasion. It's simple to make and sure to please your guests. So gather up your ingredients and get started!
Ingredients
Champagne
Pink Lemonade
Pink & Yellow Peeps
Straw
Instructions
Fill a champagne flute 3/4ths of the way full with champagne.
Top off with pink lemonade.
Take a straw and poke 1 yellow and 1 pink peep though for garnish.
Place the peel straw into the champagne flute.
Cheers
Nutrition Information:
Yield:
1
Serving Size:
1
Amount Per Serving:
Calories:

253
Total Fat:

0g
Saturated Fat:

0g
Trans Fat:

0g
Unsaturated Fat:

0g
Cholesterol:

0mg
Sodium:

24mg
Carbohydrates:

37g
Fiber:

0g
Sugar:

32g
Protein:

0g
Nutritional information is automatically calculated with ingredients and serving size and may not be accurate. Please always double check with your own nutritional apps as well.
WHAT'S NEXT?
Don't forget to come back and let me know how your Peeps Mimosa turned out!
If you get a chance to try it, let us know! Leave us a comment below, or share it with a picture on Instagram or Facebook! Don't forget to tag us @kelly_reci_ and use the hashtag #Kellysthoughtsonthings so we can see what amazing meals you are cooking up!