This post may contain affiliate links. This means if you click on the link and purchase the item, I will receive an affiliate commission at no extra cost to you. All opinions remain my own.
Hey there, fellow food fanatics! With the 4th of July just around the corner, it's high time we cooked up something special. Picture this: fireworks lighting up the sky, the aroma of the grill wafting through the air, and everyone's favorite, Campfire Cones, but not just any cones. We're talking about the star-spangled, red, white, and blue 4th of July Campfire Cones Recipe.
Campfire Cones: A New Twist on a Classic Tradition
The most memorable moments are often the simplest ones.
Sitting around a campfire, sharing stories and laughter, while delighting in a sweet treat is a tradition that never gets old.
Campfire cones are a unique twist on the classic s'mores, offering a delightful surprise in every bite.
Where Did It All Begin?
While the exact origin of the Campfire Cones is a bit hazy, it's clear that these sweet treats have been a staple of American camping and backyard gatherings for quite some time.
The idea is simple yet ingenious: stuff a waffle cone with all your favorite sweet goodies, wrap it in foil and let the campfire do the rest.
A Sweet Symphony: What Goes Into a 4th Of July Campfire Cone
Making your 4th Of July Campfire Cones is as easy as pie, and it's an activity the whole family can get involved in.
The best part? You can tailor each cone to individual tastes, making them a hit at any gathering.
You'll find the specific ingredient amounts and detailed instructions in the printable recipe at the bottom of this post.
How to Make 4th of July Campfire Cones
Ingredients You'll Need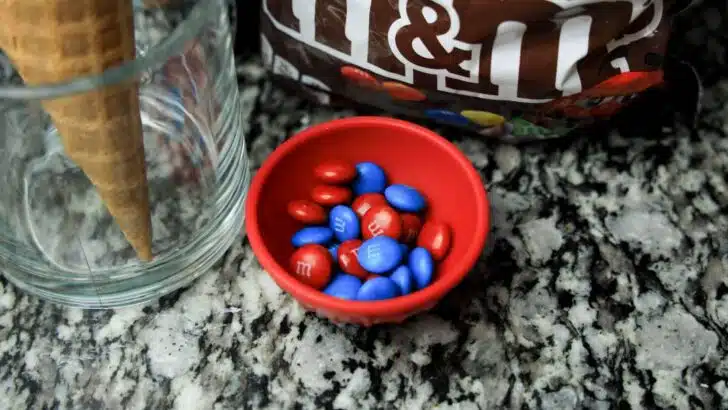 waffles cones
mini marshmallows
red and blue M&M's
Hershey's kisses
Necessary Equipment
To make campfire cones, you'll need the following equipment:
Aluminum foil: This is crucial for wrapping and cooking your cones.
Tongs or a grilling glove: Use these to safely handle the cones over the campfire or grill.
parchment paper
Step-by-Step Instructions For 4th of July Campfire Cones
Preparing the Cones
Start by laying out all of your ingredients and getting your campfire ready. Make sure you have a safe and contained fire for cooking.
Filling the Cones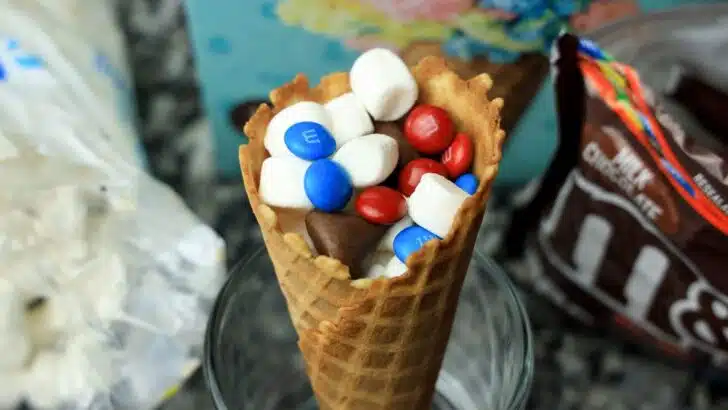 To fill the cones, start by placing a layer of red and blue M&M's at the bottom of the cone.
Next, add a layer of mini marshmallows. For a festive touch, you can also mix in some fresh fruit, like strawberries or blueberries.
Continue layering the Hershey Kisses, M&M's, and marshmallows until the cone is full, leaving some space at the top.
Wrapping and Cooking the Cones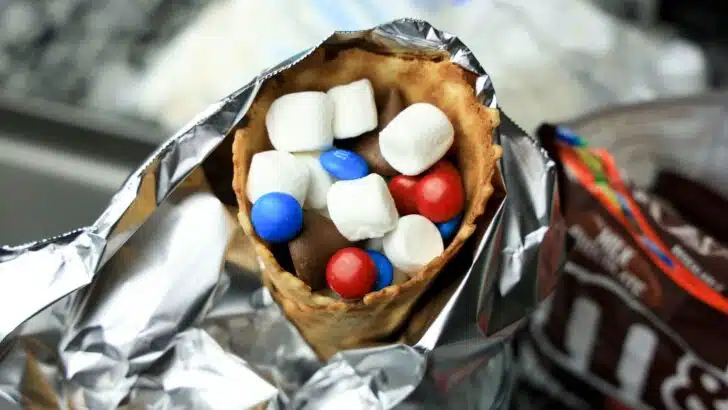 Wrap each cone in aluminum foil, ensuring it's sealed tightly to avoid any spillage or leaks during cooking.
If cooking on the grill, wrap the cone in foil. Place on the grill for about five minutes until the insides start to melt.
If cooking in the oven, place on parchment paper on a baking sheet, then broil for 3 minutes until the insides melt.
Serve warm!
Serving Your Campfire Cones
Once cooked, carefully remove the cones from the fire using tongs or a heat-resistant glove, and let them cool for a few minutes.
Unwrap the foil and top your campfire cones with whipped cream, crushed graham crackers, and sprinkles for a festive finish. Enjoy your delicious 4th of July Campfire Cones with friends and family!
Expert Tips for Campfire Cone Success
Use heavy-duty aluminum foil to minimize the risk of tearing or leakage.
If you don't have a campfire, you can also cook the cones in an oven at 350°F (175°C) for 5-7 minutes or on a grill over medium heat.
To make a vegan or dairy-free version, use dairy-free chocolate chips and marshmallows.
Customization Ideas for Your Campfire Cones
Unleash your creativity and try these unique combinations for your gourmet campfire cones:
S'mores Twist: Combine crushed graham crackers, marshmallows, and chocolate chips for a campfire classic.
Tropical Delight: Layer pineapple chunks, shredded coconut, and white chocolate chips for a tropical escape.
PB&J Fun: Alternate peanut butter and jelly layers with fresh berries for a nostalgic favorite.
Allergy-Friendly and Dietary Alternatives for Campfire Cones
Cater to various dietary preferences and restrictions with these thoughtful alternatives:
1. Gluten-free: Use gluten-free ice cream cones and ensure all fillings are gluten-free as well.
2. Nut-free: Avoid using nuts or nut-based spreads and opt for seeds, such as sunflower seeds, as a crunchy alternative.
3. Low-sugar: Choose sugar-free chocolate chips, low-sugar fruits, and sugar-free marshmallows to reduce sugar content.
Make-Ahead Tips and Tricks
If you're hosting a 4th of July party or attending a potluck, consider preparing your campfire cones ahead of time to make the process even easier:
Assemble the cones with fillings, wrap them in foil, and store them in the fridge until you're ready to cook.
Pre-measure and mix toppings in airtight containers for easy transport and serving.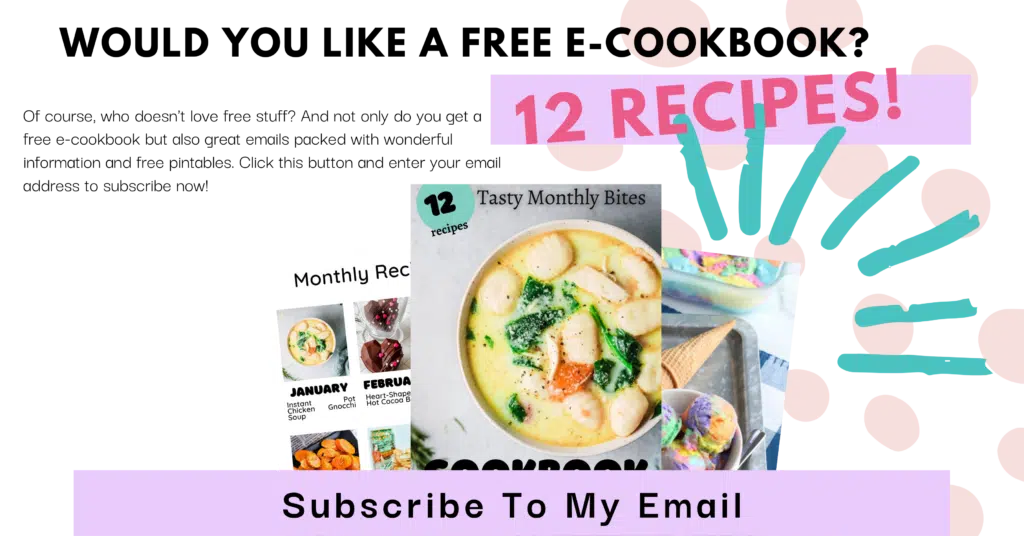 Check out this Kitchen Toolbox! It has cheat sheets that will help you cook easier and faster.
Variations of The 4th Of July Campfire Cones Recipe
While the classic 4th of July Campfire Cones are delectable, playing around with the recipe is always fun.
Here are a few variations you might fancy.
The Nutty Patriot
Add some chopped pecans or almonds to your cone for a crunchy surprise. Nut lovers will go nuts over this!
The Choco-Berry Blast
Double the chocolate, double the fun! Add a layer of white chocolate chips along with the regular ones for an extra creamy texture.
The Caramel Salute
Drizzle some caramel sauce into your cone before adding the other ingredients. It's a salute to sweetness that's hard to resist.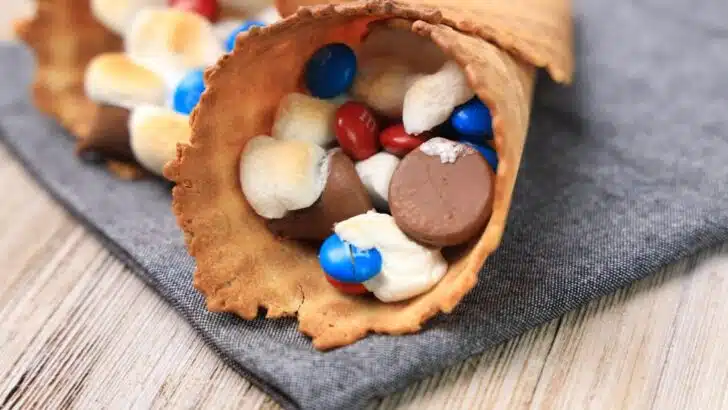 FAQs About The 4th of July Campfire Cones Recipe
Let's answer some burning questions you might have about our star-spangled recipe.
1. Can I Use Other Types of Berries?
Absolutely! Feel free to mix it up. Raspberries, blackberries, or even cherries could add an exciting twist.
2. How Long Should I Cook The Cones?
5-10 minutes over the campfire or grill should do the trick. In the oven, bake at 375°F (190°C) for about 5-7. But remember, each heat source is different, so keep an eye on those cones.
3. Can I Make These Ahead of Time?
You betcha! Prep your cones, wrap them in foil, and store them in the fridge. Pop them on the grill or in the oven when it's go-time. Easy-peasy!
4. What If I'm Not a Fan of Waffle Cones?
No problemo! Sugar cones work just as well. In fact, you could even use ice cream cups and turn them into Campfire Cups. Now, that's what we call thinking outside the cone!
5. Can I Add Other Fillings?
Go wild, my friend! Nuts, banana slices, caramel chips—the sky's the limit. Just remember to stick with the patriotic theme.
6. Can I Make This Without a Campfire?
Sure thing! As mentioned, these cones can be prepared in the oven or grill. So even if you're not planning a campfire, you can still enjoy this festive treat.
7. Can I use marshmallow fluff instead of mini marshmallows in my campfire cones?
While you can certainly use marshmallow fluff in your campfire cones, remember that it may melt faster than mini marshmallows and could make your cones a bit messier. But if you're a fan of extra gooey goodness, go for it!
4th of July Campfire Cones for Kids: Fun and Engaging Activity
Turn campfire cone-making into an enjoyable and interactive experience for children with these kid-friendly tips:
Get them involved: Encourage children to participate in the preparation process, from selecting the ingredients to filling their cones.
Kid-approved fillings: Offer a variety of child-friendly fillings like candy, sprinkles, and mini chocolate candies.
Teach and supervise: Show children how to wrap the cones securely in foil and ensure an adult is present to supervise the cooking process.
Create a theme: Make the activity even more entertaining with themed cones, such as superhero-inspired, rainbow-colored, or animal-themed fillings.
So, there you have it, the perfect recipe to spark joy this 4th of July.
The 4th of July Campfire Cones Recipe is not just about creating a treat, it's about crafting an experience.
It's the anticipation as the cones cook, the thrill of unwrapping the foil, and the delight of biting into a warm, gooey cone.
And the best part? Sharing this experience with your loved ones.
After all, isn't that what the 4th of July is all about?
4th of July Campfire Cones Recipe
Yield: 4
4th of July Campfire Cones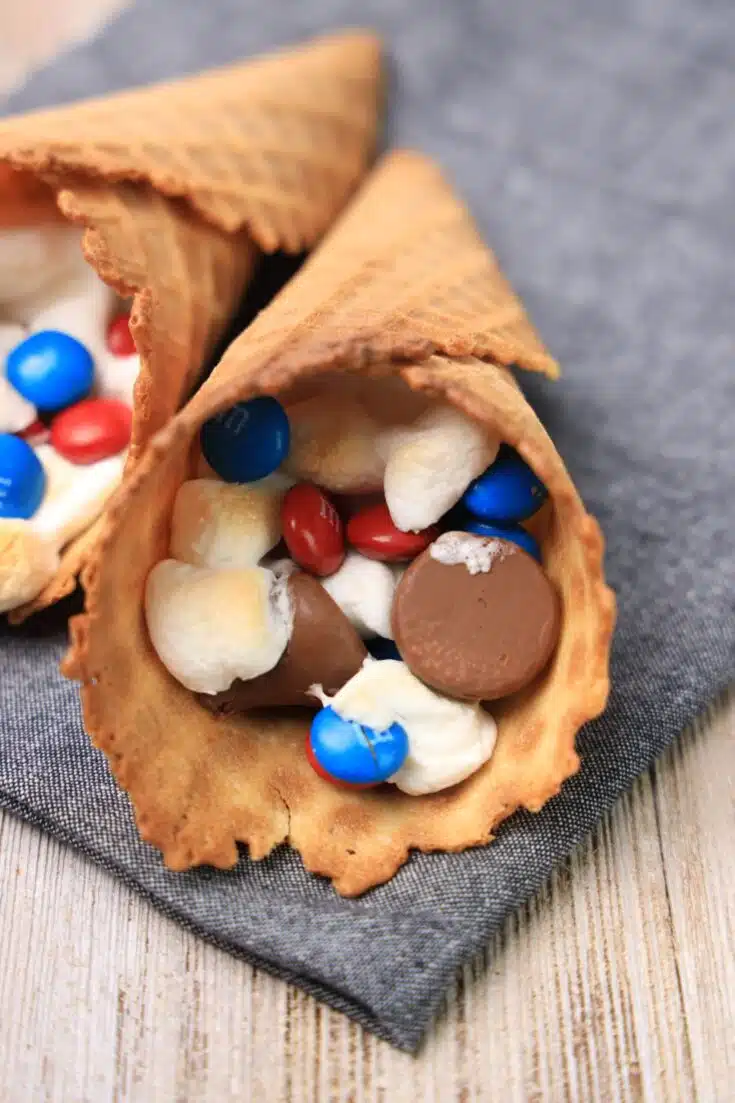 Ingredients
4 waffles cones
1 1/2 cups mini marshmallows
4 tablespoons red and blue M&M's
8 Hershey's kisses
Instructions
In a waffle cone, place marshmallows, Hershey's kisses, and red and blue M&M's.

If cooking on the grill, wrap the cone in foil. Place on the grill for about five minutes until the insides start to melt.
If cooking in the oven, place on parchment paper on a baking sheet, then broil for 3 minutes just until the insides start to melt.
Serve warm!


Nutrition Information:
Yield:
4
Serving Size:
1
Amount Per Serving:
Calories:

367
Total Fat:

14g
Saturated Fat:

4g
Trans Fat:

0g
Unsaturated Fat:

9g
Cholesterol:

54mg
Sodium:

428mg
Carbohydrates:

53g
Fiber:

1g
Sugar:

19g
Protein:

8g
Nutritional information is automatically calculated with ingredients and serving size and may not be accurate. Please always double check with your own nutritional apps as well.
WHAT'S NEXT?
If you get a chance to use this printable, let me know! Leave me a comment below, or share it with a picture on Instagram or Facebook! Don't forget to tag me @kelly_reci_ and use the hashtag #kellysthoughtsonthings so I can see how you are using it!