Finding a hotel that caters to traditional family hospitality can be difficult but the Hofsas House in Carmel-by-the-Sea does precisely that!
The Hofsas House is all about the Hospitality
The Hofsas House has been open for the past six decades, so they must doing something right! Carrie Theis (granddaughter of Donna Hofsas who opened this family-run inn in the 1950's) now runs this beautiful casual European elegance family-run boutique inn. Carrie carries on her grandmother's legacy of service and hospitality. The Hofsas House is located on San Carlos Street, north of Fourth Avenue in Carmel-by-the-Sea- walking distance to everything.
The room we stayed in is the Family Suite which has a long balcony, mini kitchenette, table/chairs, two daybeds, two FULL bathrooms with tubs and separate mirror rooms, and a bedroom with a king size bed. I swear this room is bigger than our rental. The day beds are comfy, and the king bed is a dream. If you are looking for modern day amenities, then this is not the hotel for you, but if you want amazing hospitality and the wealth of history, then this is the place for you!
Breakfast in the LOBBY starting at 8 am
Things We Love About Hofsas House-Traditional Family Hospitality
The hospitality is our number one reason we love coming back to the Hofsas House. Carrie and her staff are amazing. They are there to help you figure out what to do, where to go, and places to eat. Everything is in walking distance to the inn- the beach, shopping, restaurants, art exhibits, and wine tasting.
We stayed on the top floor that overlooked everything around the hotel plus a beautiful view of the ocean. The balcony is our favorite place to sit at night and listen to…NOTHING! We are from the Bay Area, and the quiet is something we don't get to experience. The first morning we were in Carmel I enjoyed the best cup of coffee with the sounds of the waves hitting the beach. Amazing!
Other features:
The pool is heated all year
There is a dry sauna for women and men
Continental breakfast is yummy
Free wifi and not slow at all
By the way, from San Francisco, it is a two-hour drive that goes by very quickly. Hoping in the car with the family and enjoying the ocean beach air is well worth any traffic you might come across (which isn't much). There is so much to do with the family around Carmel. Every year we go, we find something new and fun to do.
Things To Do In Carmel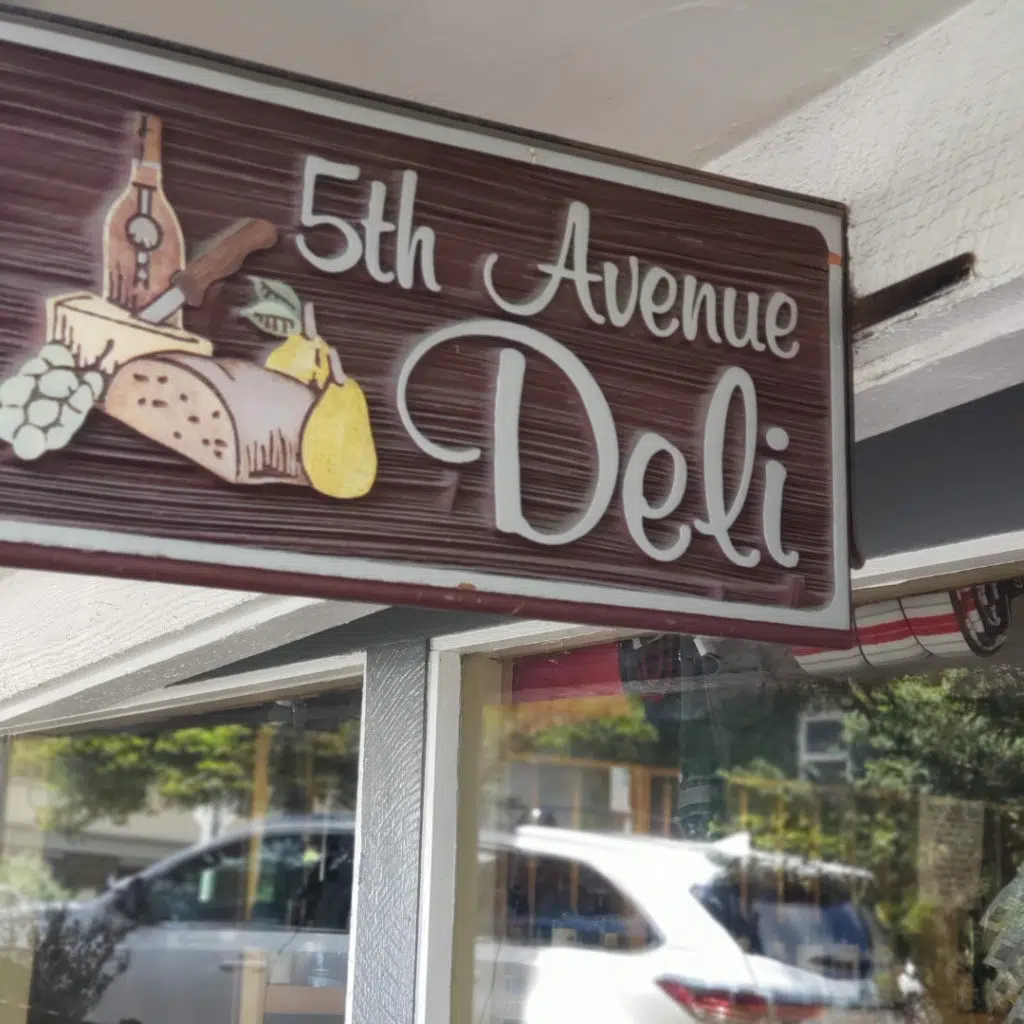 Remember to ask the front desk they will give suggestions and maps to help you with your adventures. The beach is our favorite thing to do. We love to grab a picnic lunch from 5th Ave Deli and head down to the beach which we can walk to from the hotel. Make sure to bring a blanket, so the sand doesn't get all in your food. Also, it's best to wear flip flops or shoes that sand won't get into because let me tell you the sand will get into everything! We love to people watch; we were laughing so hard watching dogs and their owners. Plus all the people taking selfies with the ocean in the background, but it is amusing when the waves get close, and they run.
You will find high-end shops, novelty, pet, beauty, art, clothing, and even a cool Christmas store. We have been to Carmel four times and still haven't gone into all the stores, why because there are a lot and some even hidden in the town's stone-paved alleyways or curlicue-roofed shops. One place we always go to is LUSH to get bath bombs because the Hofsas House has bathtubs that are big enough for adults. You know what I'm talking about, a lot of hotels have those small tubs now that my teen has a hard time getting into- not Hofsas House!
Eating Out
There are all kinds of restaurants in Carmel-by-the Sea and no driving required. You can get about just anything there too. There are plenty of fancy places but this time around we took a different route and went more family friendly, which was more our speed. The Villiage Corner is a charming bistro that serves the best french dip and burgers! The server was terrific, and the food was delicious. Try their cozy heated outdoor fireside dining- they even have blankets. We enjoyed this place and will go back indeed.
Dog-Friendly
Last year we brought our dog Harley and oh my goodness- Carmel-by-the-Sea is probably the most dog-friendly area I've ever seen. The shops and restaurants have bowls of water, some have treats, and there are stores/cafes that allow pets inside. If you travel with your dog, then you need to stay at the Hofsas House in Carmel-by-the-Sea.
Please check out our yearly trips to Hofsas House:
Summer is almost here and it's time to enjoy the beach and sand so you need to go to Carmel-by-the-Sea and definitely stay at the Hofsas House and you will be treated with the amazing hospitality!