Need to get away from all noise from the CITY! We live in the Bay Area, and we love to travel to Carmel/Monterey area at least 2-3 times a year! It is only a 2-hour drive from Oakland/SF area which makes it a wonderful mini vacation. We like to go during the week (not so busy) BUT of course, the weekend works too!
When we go down to Carmel-By-The-Sea, we always stay at the HOFSAS HOUSE! Why…it is a family hotel that understands what it takes to have fun and comfy! My kids get all excited when I say we are going to Carmel because that means BEACH, SHOPPING, and AMAZING FOOD!
Heated Swimming Pool: The year-round heated swimming pool is quite a luxury in Carmel-by-the-Sea since most of the inns in the heart of the village are on small lots. My daughter loves to swim so one more reason why we come to the HOFSAS HOUSE!

Dry Saunas: In the European tradition, there are two dry saunas, men's and women's, to enjoy after your swim or walk to the beach.

View Deck Area: Since the Hofsas House was built into a hill that allows for magnificent ocean views from our fourth-floor deck area. This view deck area is a great place to sit, read, and enjoy a glass of wine while watching a glorious sunset. We always get the deck view room. We are from a big city, so my husband and I love to sit out there at night and enjoy the QUIET! We are always amazed at how quiet it is in Carmel than where we live.
Off-Street Parking: We have never had an issue with parking- plenty of it. However, we rarely use the car when we are at Hofsas House since we can walk everywhere!

Continental Breakfast: Every morning from 8 to 10 AM there is spread of goodies in the Lobby. The breakfast includes orange juice, French Roast coffee, tea, hot chocolate, a variety of fresh pastries delivered from a local bakery and fresh fruit. The staff is there to chat about what is happening and always want to give suggestions on what to do and where to eat.

In-Room Amenities: All of the spacious rooms have cable television, telephones with voice mail, coffee makers, hair dryers and private bathrooms with such amenities as shampoo, conditioner, lotion, and a vanity kit. Fireplaces, wet bars, kitchens or private balconies are available in some rooms. Deluxe rooms have microwaves and refrigerators. Everything you need in the rooms! We love going to LUSH to get bath bombs so we can take a nice relaxing bath.
Free Wireless DSL: As a blogger and with the family this is important!
Dog-Friendly Room: We don't have a dog, BUT this is an excellent feature because this is the perfect place to go on vacation if you do have a dog! There is an additional charge for the pet. Carmel is a dog-friendly town where dogs can run off-leash on Carmel Beach. The staff will recommend restaurants that welcome your pet for lunch and dinner. Amazing!
Packages at the Hofsas House
We always enjoy the Cheese and Wine that the staff sets up in our room (it is the Wine and Cheese Package– and extra $30). Wine is a bottle of Monterey County Wine and the cheese is from the Cheese Shop.
There is a Golfer's Delight package (code HHQUAIL) for an extra $125 you can play an 18-hole round of golf including shared cart and range balls at the historic Quail Lodge Golf Club!
Remember if you have a dog- ask for the Tail Wagging package which has so many special treats!
The Hofsas House Hike package is our favorite package! Make sure you use the code HHNature when booking. You will get a water bottle plus a $25 deli certificate.
It does cost $10 to get into the park but so WORTH IT! There are miles of beach and trails. Make a picnic and enjoy a day at the coast.
See how beautiful the beach can be:
We found a beach where the waves came in, and it was so amazing to watch.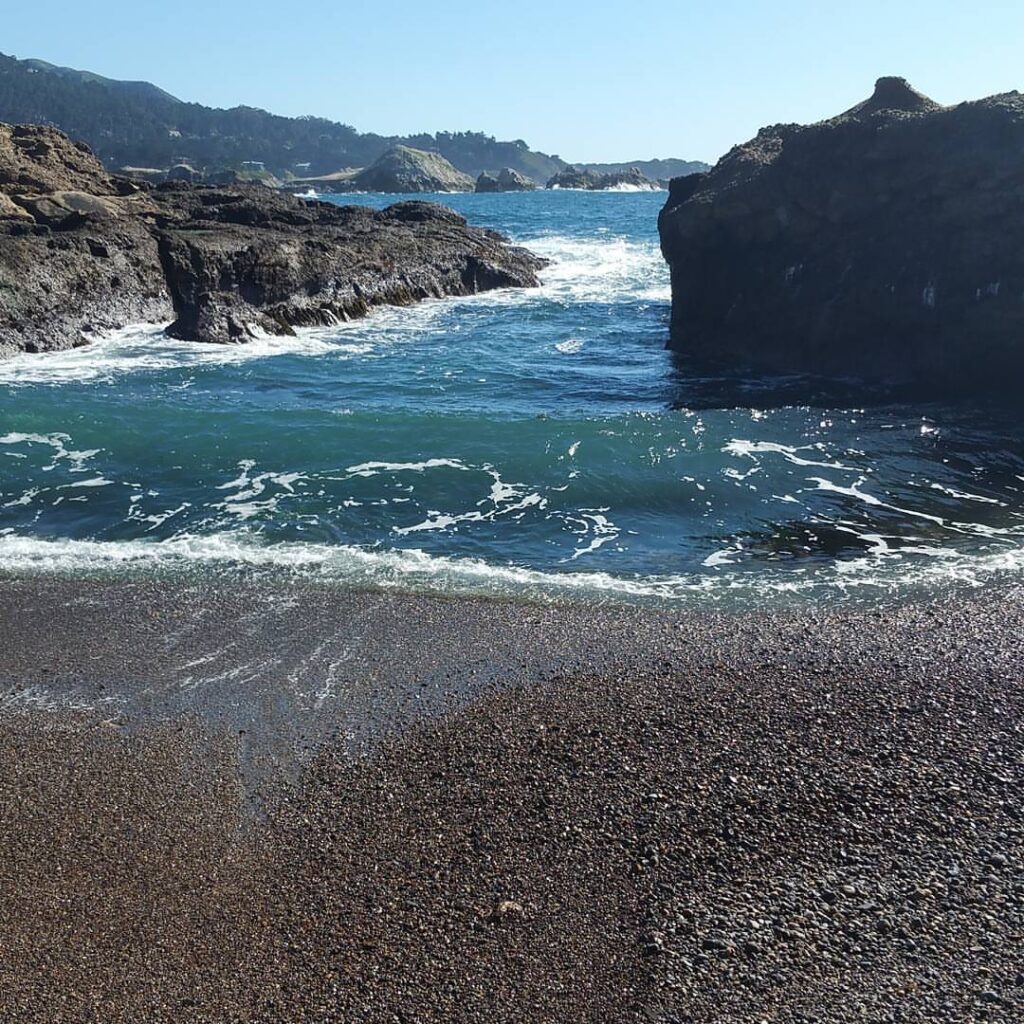 Now our favorite part of going to the Hofsas House is our trip to the BEACH!
We always head down right before the sunset starts. See how beautiful the sunset was this trip:
We always do the heart in the sand:
My daughter and husband love the beach!
Sun and the beach always do my health a world of good!
WHERE TO EAT:
We were able to go to a new place (Carmel Belle) this time around, and we had some amazing Clam Chowder and hot drinks before heading Point Lobos State Park.
Want to enjoy a fabulous dinner right off the coast, then you need to head to Beach House at Lover's Point in Pacific Grove (which is a 10-15 minute drive from Hofsas House). It is right on the beach and oh my goodness so beautiful. Before we headed into dinner, we walked down and watched surfers hit the waves.
My Lover's Point Selfie!
We couldn't wait to see what the Beach House offered, and we weren't disappointed at all! We had a beautiful view, but it was dark outside, so no pictures (sorry) but the food was scrumptious!
Carmel-by-the-sea is the perfect place to plan a getaway for a couple of days.
So relaxing and beautiful plus so many things to do! The Hofsas House is the place to stay, Carmel Belle for lunch, and Beach House at Lover's Point in Pacific Grove for dinner! Family fun vacation for sure! It doesn't matter what time of year you go to Carmel-by-the-Sea, you will LOVE IT!
Carrie Thesis and the whole Hofsas House staff is amazing and always there for their guests!
Check out our Hofsas House stay a couple of years ago: HERE