Are you ready for this? There are only one hundred and eighteen days left until Christmas! That's it! It's sneaking up on us! So whether you're getting a head start on your holiday shopping or you're looking for gifts for another occasion, check out the tee shirts from Oviyam.
Oviyam Tee Shirts Make Great Gifts for Any Occasion
I love getting tees as a gift. Especially ones that deliver a message, have some "punny" quote on them, or especially something nerdy. Oviyam has some tees that do just that.
Autism Acceptance
The first tee-shirt I noticed in Oviyam's Amazon Store was their Autism Acceptance one. Being on the spectrum myself with a son also on the spectrum, I always notice autism themed items. So of course I had to had their Embrace the Difference Tee Shirt. The tee features the outline of a head in blue. Inside the head are multi-colored puzzle pieces. (A puzzle piece has been used to represent Autism because the disorder is puzzling, and varies greatly from person to person.)
I've been wearing my autism tee by Oviyam with pride, and I love it. If you love someone on the spectrum you'll love it too. They have men's, women's and even youth sizes in five color choices.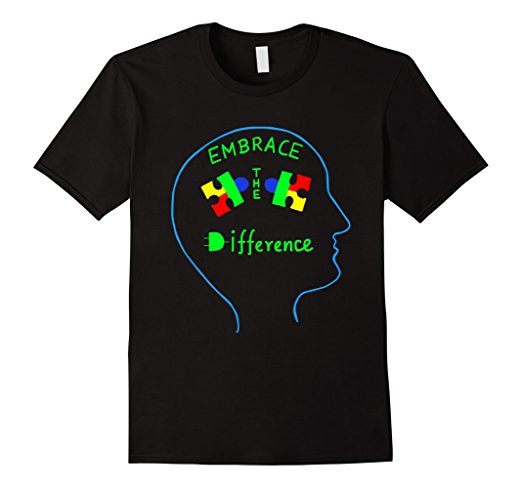 Daddy Gifts
If you're looking for a gift for your dad or for your kids father, may I suggest Oviyam's "The Old Block" tee-shirt. You can then purchase the "Chip off the old block" tee for your child. The dad tee comes in five colors, as does the youth tee. What a memorable gift to show dad how much he's loved.
Mommy Gifts
Mommy isn't to be left out. Oviyam has an adorable mom tee that says "Mommy Saurus," and features a Brachiosaurus on it. Get the matching children's version for your child that says, "Kiddie-Rex." Both come in five color options.
Where to Buy
These are just a few of the neat tee shirts that you can find at Oviyam. For all of their styles, check out their Amazon store. You can also connect via Facebook, Twitter, and Instagram.
I received this product to facilitate my post. All opinions are my own!