We all know that traveling with a baby can be challenging. It is even more challenging during the holiday season because there are more people traveling than usual. I have three great products that can help make traveling with a baby easier.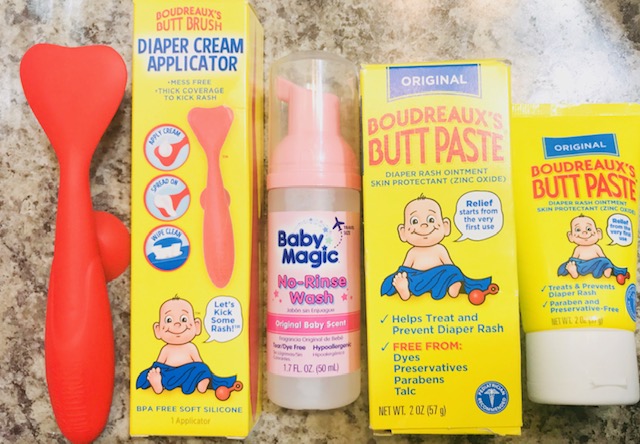 Baby

Magic

No-Rinse Wash
If you have stayed at hotels before, then you know that tubs are not always available. Maybe a family member does not have tub. What do you do? If you want to skip out on trying to bathe your baby in the shower, then the Baby Magic No-Rinse Wash is just what you need. Baby Magic No-Rinse Wash is a foaming application that allows you to clean your baby without running a full bath. It is great to use when you are away from home for a quick and easy airport, or road trip clean-up. This No-Rinse Wash is specially formulated for baby's sensitive skin. No water is needed. Just pump some on a wipe or wet wash cloth and apply to your baby's skin. There are two sizes available (1.7 oz. and 7 oz.).
Boudreaux's Butt Paste
As a parent, diaper creams are must. No matter if you are taking a quick trip to grandma's house down the road, grocery store, library, or traveling from coast to coast. Sometimes diaper rashes creep up when you least expect it, so keeping a tried and true diaper cream is essential. Boudreaux Butt Paste is my all time favorite diaper cream.
The original pharmacist-formulated Butt Paste® helps treat and prevent diaper rash with every changing.
Helps treat and prevent diaper rash
Starts relieving diaper rash discomfort on contact
16% zinc oxide
FREE FROM: dyes, preservatives, parabens and talc
Pediatrician-recommended brand
Boudreaux's Butt Paste Butt Brush
So I told you what my favorite diaper cream is, but I feel that you must also have the Boudreaux's Butt Paste Butt Brush to help aid in getting rid of diaper rashes. Boudreaux's Butt Paste Butt Brush is a mess-free silicone applicator that helps parents gently apply a thick and smooth coat of Butt Paste® on baby's booty to form a protective barrier from wetness – perfect for on the go and keeping mom's or dad's hands clean!
What are some of your must haves when traveling with a baby or kids in general?