It's almost time to go back to school. Whether you're a student, teacher or parent/guardian, it's always great to have reliable snacks to keep you energized during the day. A new school year entails many changes – getting back into a routine, adapting to new classrooms & getting to know new teachers and peers. Sometimes it's just too difficult to have a sit-down meal. Running from one classroom to another, it always makes sense to have something tasty to keep you going during the day. Take a look at this roundup of must haves to munch on.
Back to School Savory Must Haves
gimMe Snacks Seaweed Thins and Roasted Seaweed Snacks – Organic, non-GMO, and full of nutrients—making them the perfect school-time snack for all ages. These naturally low-calorie and fiber-rich snacks are a healthy way to cut out crunchy chips or cookies. Also, they're personally-sized to fit conveniently in a backpack or lunchbox. Available in flavors including Teriyaki, Wasabi, Sriracha Almond, Almond Sesame, Toasted Coconut and Toasted Sesame.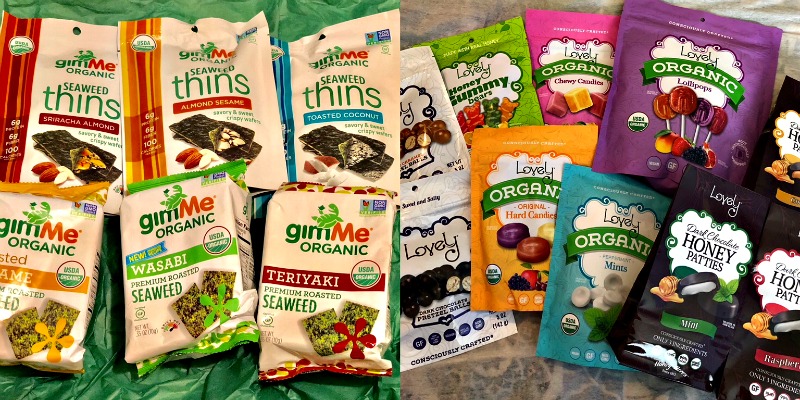 Good Karma Foods Flaxmilk – Make a healthy and positive start to the school year while fostering positive new habits with Good Karma's new Flaxmilk + Omega-3 Lunchbox Cartons. They're designed to meet growing demands from parents for a convenient low-sugar milk alternative that delivers nutrition while being school-safe. Great for families dealing with a variety of food allergies. Available in Unsweetened, Vanilla and Chocolate.
Back to School Sweet Must Haves
Numa Foods Milk Chews – All-natural milk-based chewy snacks infused with nuts and dried fruit. They contain no artificial ingredients or preservatives and more than 10 essential vitamins, including calcium and protein. These new and innovative treats often remind people of childhood treats/candy and would be a fun better for you option for Halloween candy.
Lovely Candy Company – Their collection of small batch, premium candies is free of high fructose corn syrup, gluten, GMO's and artificial colors and ingredients. Another perfect option for those looking to indulge a sweet tooth while eating candy made with better for you ingredients.
OnO's (pronounced O and O's): bite-sized chocolate gems in a candy coated shell which are the first of its kind to be Certified Organic. They come in Milk Chocolate, Almond and Dark Chocolate flavors.
Lovely Organic Chewy Candies: Delicious, individually wrapped chewy candies that are vegan, non-GMO, free of gluten and artificial ingredients.
Lovely Organic Hard Candies: Delicious candies prefect for keeping in your purse or your on-the-go bag. Available in original and tropical flavors.
Lovely Organic Lollipops: 40-count bag of lollipops perfect for sharing! These pops are free of gluten, gelatin, artificial ingredients and high fructose corn Syrup.
Lovely Honey Gummies: The first gummy candy that features honey as its first ingredient. Made without gelatin and peanut free, these are a fan favorite.
Lovely Juicy Chews™ Fruit Chews: These all-natural fruit chews are made with real fruit bits and do not contain any artificial colors or flavors.
Lovely Gluten-Free Pretzel Balls: Perfect combination of sweet and salty, these gluten-free treats come in dark chocolate, milk and salted caramel.
CONNECT WITH…
gimMe Snacks: Site
Good Karma Foods: Site
Numa Foods: Site
Lovely Candy Company: Site