This Love Potion Amaretto Cocktail is so easy to make. The vibrant red color of these drinks is sure to win over anyone who tries it!
Nothing says "I love you" quite like a Love Potion Cocktail. This fun drink recipe is sure to add some spice to any celebration, whether it's for your partner, family, or yourself!
Whip up these love potion drinks for a fun way to celebrate the holiday of love.
This is the perfect cocktail to start off Valentine's Day celebration, made with Amaretto, soda, and some grenadine, you can whip this cocktail out in just a matter of minutes.
Why You'll Love This Love Potion Amaretto Cocktail
Don't settle for a watered-down drink; this is the quickest way to a classic cocktail. A quick, fun, and straightforward way to prepare your favorite alcoholic beverage.
This tasty and easy-to-make cocktail is perfect for any occasion. You can either leave the drink alone or add a few ingredients to make it spectacular.
A tropical drink with a punchy blend that will have you dreaming of warmer weather and an unending summer with each sip.
The Love Potion Cocktail is a straightforward drink to make, with easy-to-find ingredients and a simple recipe.
There's nothing quite like the sweet taste of amaretto, especially when it's mixed together with other delicious ingredients to create a love potion cocktail!
This romantic drink is perfect for enjoying with your loved one on a special night out. Read on for the recipe and how to make it.
You'll find the specific ingredient amounts and detailed instructions in the printable recipe at the bottom of this post.
Disclosure: This blog post contains affiliate links for products or services we think you'll like. This means if you make a purchase from one of these links, Kelly's Thoughts On Things may make a small commission at no additional cost to you. We only recommend items we use and love.
Equipment Needed to Make Love Potion Amaretto Cocktail
Ingredients For Your Love Potion Amaretto Cocktail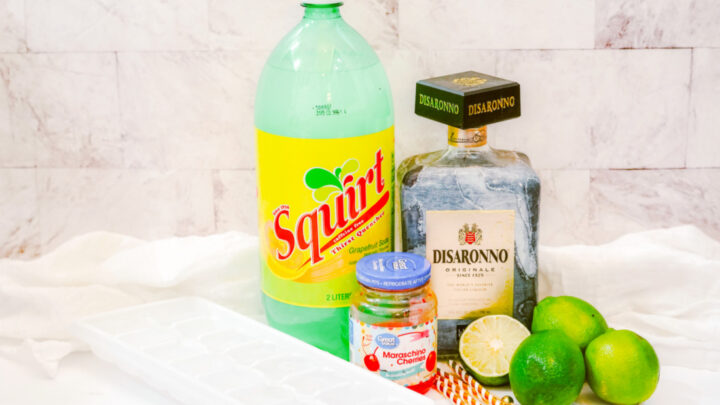 Amaretto
Squirt Soda
Grenadine
Ice Cubes
Limes & Strawberries for Garnish
How To Make A Love Potion Amaretto Cocktail
Step 1: Ice it Up
This recipe is so simple and quick to prepare that it can be completed in under 3 minutes.
Fill a mason jar or whatever cocktail glass you have available with ice cubes.
Step 2: Mix and Pour
Once the glass is prepared, take 1 shot of Amaretto and pour it in. Then, add 1 tablespoon of Grenadine.
In case Grenadine is not available, you can use the juice out of a cherry jar, which works perfectly fine.
Then, top it off with Squirt soda.
Step 3: Garnish, Serve and Enjoy
See how easy it is? Now you have your mixture, it's time to garnish it off. Before serving, garnish the drink with strawberries and sliced limes.
Serve and enjoy!
What to Serve with Your Love Potion Cocktail
Sides
Light and slightly sweet, this fruit cocktail drink is a crowd-pleaser. It goes well with savory or salty foods, and pairs nicely with desserts.
The sweetness of this drink will help to balance out the saltiness or savory flavor of the meal items that you are serving.
This is a very quick and easy appetizer to prepare, so it's sure to impress your guests at your next dinner or cocktail party.
Cocktail
Love Potion Cocktail is a fantastic cocktail with three ingredients, each of which has been amplified in intensity.
This cocktail's sweetness can be modified to your preference. For a different texture, shaved ice can be used instead of ice cubes.
For added presentation flare, various garnishes can be placed on the glass rim.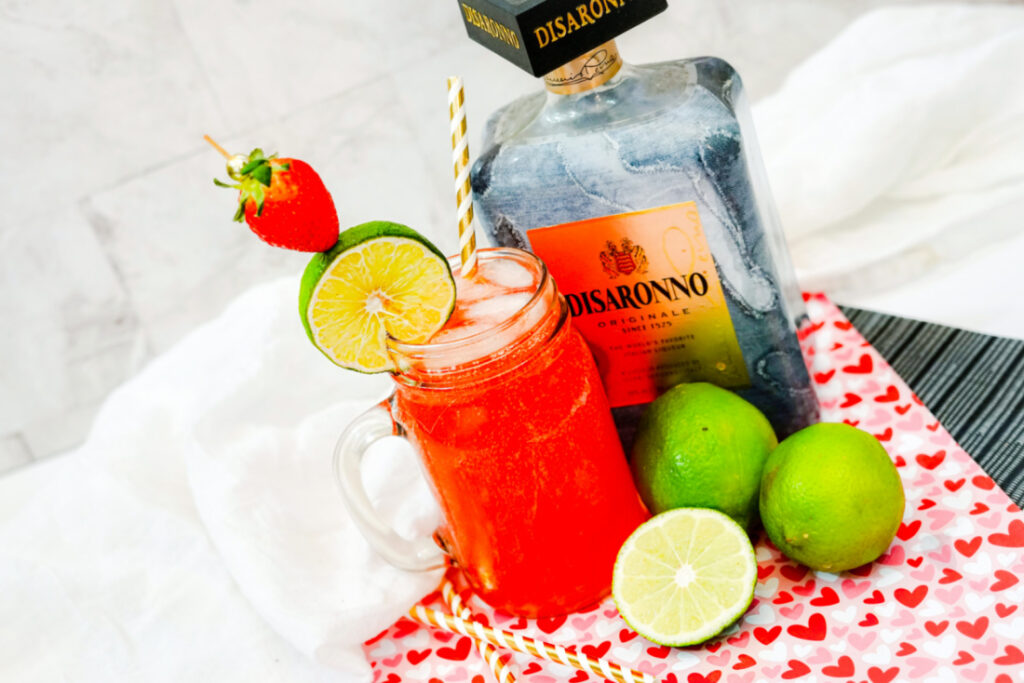 Popular Substitutions & Additions
This Love Potion Cocktail comes in three parts. Some like their drinks on the sweeter side, some on the sour side, and some in between.
The recipe is just meant to be a guide to help you make it, so each drink is customized to your taste buds.
To create a cocktail with this much sweet flavor, adjust the amount of Grenadine in the mixture.
You can also include other garnishes, I personally love pineapple slices, but feel free to substitute any other tropical fruit according to available ingredients.
If you're feeling saucy, add a cinnamon stick or cardamom pod and this will give it an extra spicy kick!
These Love Potion Cocktails should be prepared one at a time.
Make one up for someone special or enjoy one alone with your favorite book to help relax from the stress of day-to-day life.
How To Store Love Potion Amaretto Cocktail
Best Way To Store Love Potion Cocktail Leftover
Place any leftover drink in a pitcher or bottle to keep it cool.
Make sure leftovers are sterilized before moving them to another container. Then, before reserving it, properly mix it.
How Long Will Love Potion Cocktail Last In the Fridge?
If kept refrigerated, the mixture should last at least 4 days to a week, if not longer.
It won't spoil after that time, but the flavor won't be as good as it was when you first made it.
Can I Freeze Love Potion Cocktail
Like any other drink, the Love Potion Cocktail can be frozen.
For a delicious summer treat, pour any leftovers into popsicle molds. Make sure the freezer is set to high while freezing it.
Love Potion Cocktail FAQs
Is it possible to prepare drinks ahead of time?
You may also start batching your beverages ahead of time by putting all shelf-stable components in a tightly sealed container in the fridge.
Even if you aren't ready to start measuring and mixing, chilling all your cocktail ingredients (vermouth, spirits, and syrups) the night before is a good idea.
Can I garnish it with different fruit?
Yes. Adding a variety of garnishes is a nice idea. If you don't care for strawberries or limes, any tropical fruit will work.
Some people add crushed mint leaves to their drink as well.
Is it possible to make a Love Potion Cocktail blended with ice?
Yes, you may blend this cocktail with ice and keep the flavor the same; however, adding ice to the cocktail adds texture and is always a refreshing and cool way to start any Valentine's Day event.
Can I serve it in a highball glass?
Yes, you are free to use whatever type of glass you choose based on your preferences and how you want it to be served; however, I prefer to use elegant-looking glasses for a more extra flair of presentation, but anything that is available will do.
Can I use vodka instead in the mix?
Yes. The typical Love Potion recipe often uses a shot of vodka instead of Amaretto.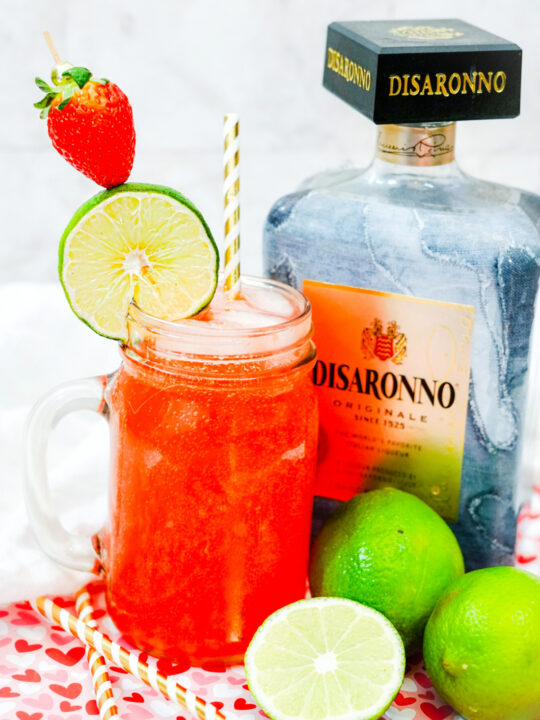 Would you like a free e-cookbook? Of course, who doesn't love free stuff? And not only do you get a free e-cookbook but also great emails packed with wonderful information and free printables. What could be better than that? Imagine all the amazing recipes you'll be able to cook once you have your very own copy of my e-cookbook! Plus, all the other goodies I send out in my emails. You won't want to miss out on anything, so make sure to subscribe today. Click this button and enter your email address to subscribe now!
Other Cocktail Recipes You'll Love
Valentine's Day is the perfect opportunity to express how much you care for and adore your companion.
The celebration includes gifts, romantic dates, and beautiful moments.
The Love Potion Amaretto Cocktail, which makes so many Valentine's Day celebrations extra special, is what makes it so amazing!
It's a unique and enjoyable way to serve your friends and family.
On Valentine's Day, the Love Potion Amaretto Cocktail is a great way to toast your loved one or have a nice time with friends and family.
Why not serve this Love Potion Cocktail with an interesting and fun recipe? So many Valentine's Day events are elevated by this drink!
It's a one-of-a-kind and pleasurable way to serve your loved ones.
In addition to Love Potion Amaretto Cocktail, you can try these interesting and enjoyable recipes:
Love Potion Amaretto Cocktail Recipe
Yield: 1
Love Potion Amaretto Cocktail
This Love Potion Amaretto Cocktail is so easy to make. The vibrant red color of these drinks is sure to win over anyone who tries it!
Ingredients
Amaretto
Squirt Soda
Grenadine
Ice Cubes
Limes & Strawberries for Garnish
Instructions
Fill a glass with ice cubes.
Pour in 1 shot of Amaretto.
Add 1 Tbs Grenadine. Juice out of a cherry jar works just as well.
Top off with Squirt soda.
Garnish with strawberries & limes.
Cheers.
Nutrition Information:
Yield:
1
Serving Size:
1
Amount Per Serving:
Calories:

361
Total Fat:

1g
Saturated Fat:

0g
Trans Fat:

0g
Unsaturated Fat:

0g
Cholesterol:

0mg
Sodium:

48mg
Carbohydrates:

77g
Fiber:

4g
Sugar:

64g
Protein:

1g
Nutritional information is automatically calculated with ingredients and serving size and may not be accurate. Please always double check with your own nutritional apps as well.
Whether you're looking for a new drink to add to your repertoire or are in need of some inspiration for your next date night, this amaretto love potion is sure to please. Be sure to give it a try!
WHAT'S NEXT?
Please return and share your thoughts and experiences with me on how your Love Potion Amaretto Cocktail turned out and let me know how you enjoyed it!
If you get a chance to try it, let us know! Leave us a comment below, or share it with a picture on Instagram or Facebook! Don't forget to tag us @kelly_reci_ and use the hashtag #Kellysthoughtsonthings so we can see what amazing meals you are cooking up!