For many, part of ringing in the holiday is enjoying beverages with our adult family and friends. At my house we always have special drinks for us adults, and "kid wine," (sparkling grape juice) for the littles. Here are some fantastic drink recipes that you can offer your guests.
Holiday Beverages for Your Adult Family and Friends
Everclear is my go to for creating holiday beverages. It's the perfect base for creating one of a kind liqueurs, and makes amazing moonshine too! Today I am going to share a few recipes from Everclear that you and your guests will love.
Pomegranate Green Tea Liqueur (Not Your Grandma's Sweet Tea!)
This is pretty easy to make, and very tasty! You will need:
8 Pomegranate Green Tea Bags
6 ounces of Everclear
7 ounces of filtered water
13 ounces of white simple syrup (click here for that recipe)
All you need to do now is grab a sealable container, and combine your tea bags and Everclear. Let it steep for two hours. Once steeped, remove the tea bags, add the simple syrup and enjoy!
Holiday Road Punch
Gran your Pomegranate Green Tea Liqueur! You're going to need it for this perky punch! Here's what you'll need:
15 ounces Pomegranate Green Tea Liqueur
5 ounces of Vodka
5 ounces of White Rum
10 ounces of lime juice
10 ounces of Champagne
Combine all ingredients except Champagne in a punch bowl. Mix well and chill in the fridge for eight hours or over night. Just before serving stir, and add Champagne. Now enjoy!
Cranberry Spiced Moonshine (Our personal favorite! I'm currently steeping Everclear and cranberries as I type this!)
What you'll need:
One pound of fresh or frozen cranberries
6 cinnamon sticks
1 teaspoon of whole cloves
1/2 tsp of whole all spice berries (crush them)
2 whole nutmeg (quartered)
3 cups of apple cider
1/2 gallon cranberry juice
1 bottle (750 ml) bottle of Everclear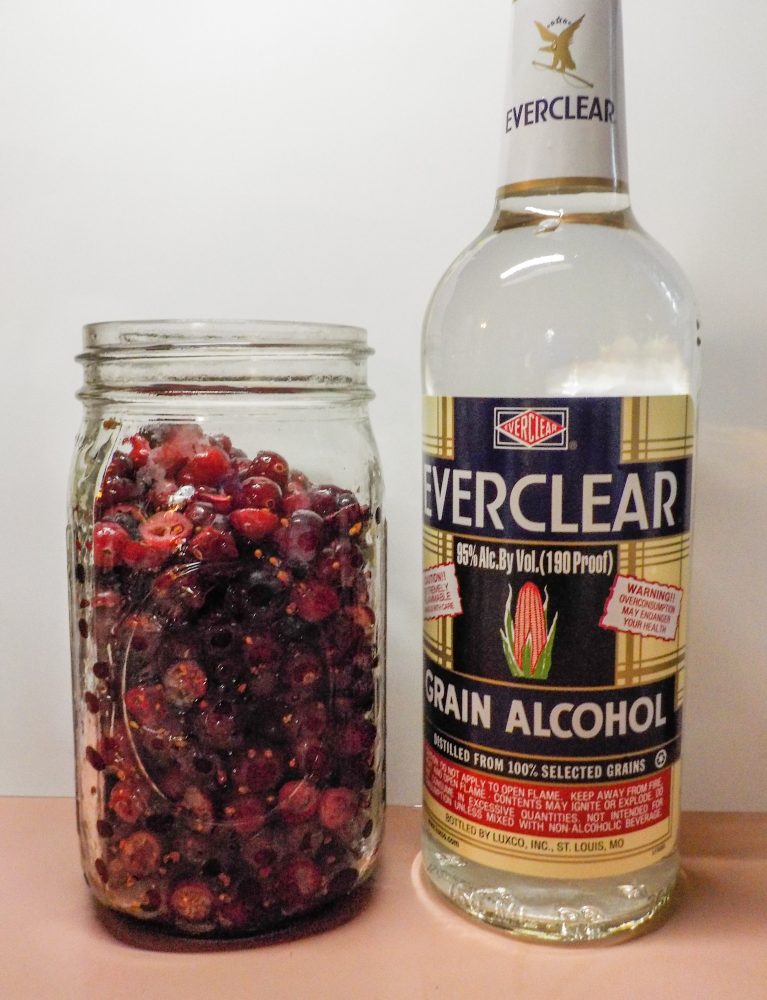 Are you ready to rock? Okay, so first, take your cranberries and chop them all up. Then, in a big mason jar, combine them with the entire bottle of Everclear. Put the lid on it, and put it in your fridge. Let it steep that way for a week or longer. (The longer it steeps, the more infused with flavor it will be.) Once it's done steeping, combine your cranberry juice, cider, and spices in a large pot. Bring it to a boil, then reduce the heat and simmer it for fifteen minutes. Remove from heat and let it cool for another thirty minutes or so. Now get a large sealable container, and strain both mixtures into. That's it! Keep it all for yourself, and pour into smaller jars and give as gifts. Your friends and family will love it. Take some burlap or rope, and tie a cinnamon stick to the jar to for added decor.
To get your own Everclear and start crafting these drinks and more, click here. You can also follow them on Facebook and YouTube for more recipes.
I received this product to facilitate my post. All opinions are my own!