We love to travel and check out places we have never been to. Last month we went to Clearwater Beach in Florida and stayed at the Hyatt Regency Clearwater Beach Resort & Spa. This is one of the most beautiful resorts we have stayed at! The Hyatt Regency is a across the street from Clearwater Beach. The hotel has 250 spacious suites ranging from 600 to 2,000 square feet.
There are so many reasons to stay at the Hyatt Regency Clearwater Beach Resort & Spa, easy access to beach, walking distance to Pier 60 and restaurants. Cabanas rentals by the pool and beach chairs and umbrellas for rent on the beach.
When we first arrived we had the option to self park for $16 a day or valet park for $20. We decided to go with the valet option, we thought it would be so much easier for us when we went out. The parking can be added to your room bill. The check-in area is on the main floor and is set separately from the main lobby with the conference rooms, restaurant and main entrance to the beach area. Check-in was fast and seamless, when we arrived the Hyatt Regency employees working at the front desk were very helpful and pleasant.
The main lobby area is located on the second floor and features the conference rooms, restaurant and main entrance to the beach area. The spa and entrance area to the pool is on the 8th floor. There is also a 24-hour Stay Fit exercise room, as well as laundry facilities on each floor.
Now on to our room. We had an one bedroom suite and it was absolutely gorgeous! Every room at the Hyatt has a full kitchen and I know how helpful that can be when your traveling with your family. It really helps to keep your food bill down so you can enjoy other things like the area attractions or shopping. We were on the 14th floor and we had such a wonderful view of the beach from our oversize balcony. We actually had 2 balconies, one facing the side were you could see the ocean and beach and the other was facing the back and you could see the bay area of the Island.

The bathroom was nice and spacious with granite counter tops and spacious double sink. There is a separate tub and a standalone shower that was really a nice size. In our suite we had two bathrooms. Some of the amenities that came with our suite were:
Hairdryer, Full deluxe Hyatt bath amenities, Coffee maker, Hyatt Stereo iPod docking station, 42-inch LCD TV. Fully equipped kitchen granite counter tops, microwave, refrigerator, counter cooktop, iron/ironing board, room service, cable/satellite TV channels, bottled water, sleep sofa, generous work area with ergonomic chair, deluxe bath with Portico amenities, in-room safe large enough to store a laptop computer and an iHome alarm clock radio.

We loved our suite and it was very spacious. One thing that I really find remarkable about Hyatt Regency Clearwater Beach Resort & Spa is how helpful the employees are. In our room was a list of items that if you forgot something at home or needed you could call the front desk and they would send it right up to you. Well Ronnie forgot his shaver and shaving cream, he called down and the employee he spoke to was really helpful and not even 5 minutes later someone was knocking at our door with what he needed. Some of the items that are listed on the list are: slippers, nail polish removers, hairbrushes and deodorant, baby shampoo and also items to borrow like curling and flat irons, a humidifier, steamer and tea kettle. Complimentary cribs or Pack 'n Plays are available upon request at the time of reservations.

The Hyatt Regency Clearwater Beach Resort & Spa has a decent-sized pool with private cabana rental options. The pool area overlooks the beach, has two separate pools ,one kiddie pool and a regular pool, it also has food/beverage services and a patio restaurant, the chairs are really comfortable. They also have a kids entertainment program called Camp Hyatt, which has lots of supervised programs from animal education to scavenger hunts. The cabana are actually little rooms, each cabana is climate-controlled with WiFi, a 42″ high-def flat-screen television, wet bar area, personal restroom, and a little outdoor poolside space with lounge chairs.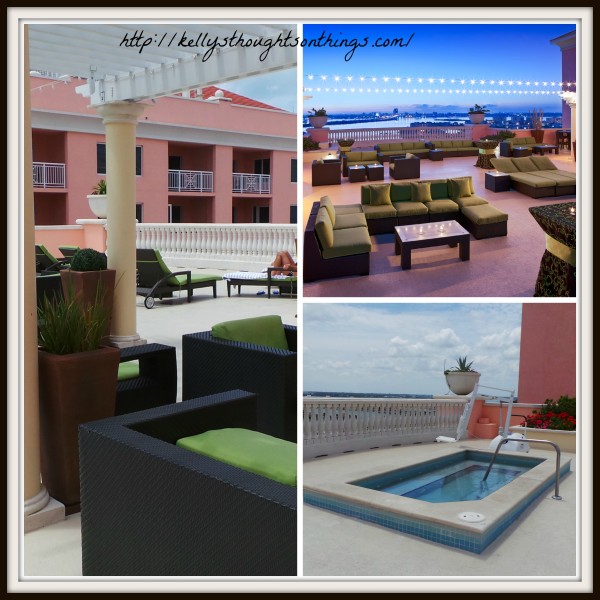 Hyatt Regency Clearwater Beach Resort and Spa Restaurants & Bars are located throughout the resort. From the contemporary American Seafood restaurant to the flair of the bar and grill, you will find something that you would enjoy.
Skimmers Lobby Bar – Join the atmosphere nightly at Skimmers Lobby Bar to enjoy a range of happy hour specials.
SHOR American Seafood Grill – Take in captivating views of the Gulf as you enjoy creative cuisine using the freshest ingredients. SHOR offers breakfast, lunch and dinner daily. What I love about the SHOR is the children's buffet area that they have. The buffet area is at a child'e height so the children can have the fun of fixing their own plate.
Swim Bar & Grill – This one is located next to the pool. Perfect menu for the pool and beach atmosphere.
Skimmers Coffee Bar – Grab a quick breakfast or afternoon snack, serving fresh brewed coffee, pastries, juice, and fruit.
The View From Our Suite

Overall, we truly loved our getaway at the Hyatt Regency Clearwater Beach Resort & Spa. The resort has everything a family would need or want, a home away from home. The hotel staff was very courteous throughout our entire stay. It is conveniently located across the street from one of the most beautiful beaches. There are good restaurants inside the hotel as well as in the area. Most are within walking distance.Valet parking was fast and dependable. What else could you ask for?!

If your heading to the beach and your looking for beautiful place to stay, then you should check out the Hyatt Regency Clearwater Beach Resort & Spa. Make sure you check out their deals that they have.

Connect with Hyatt Regency Clearwater Beach Resort & Spa on Facebook and Twitter.
Disclosure: The Hyatt Regency Clearwater Beach Resort & Spa offered me free nights, and upgraded suite, in exchange for this resort review. I was not compensated for this post and, as always, opinions are my own.