We just talked about some awesome men's grooming products, so now it's the women's turn. Give her skin and hair PUR attitude this holiday. She'll love you for it.
Give Her Skin and Hair PUR attitude
Ladies, we're not getting any younger. Time has a tendency to sneak up on is, and likes to attack our skin and hair among other things. So we need to pamper them, which is where PUR attitude comes in. I'm going to tell you a bit about their awesome products. Then you can send your significant other this post, as a nice holiday hint. ;)
Let's Start at the Top
It's the most logical place to start! PUR Caviar Anti Aging Shampoo is a low lather and sulfate free way to wash your tresses. It has caviar extract to restore moisture and protect your locks from daily damage. Your hair will become stronger, healthier and look younger! Be sure to follow-up with PUR's Anti Aging Hair Conditioner. The conditioner is infused with Moroccan Argan oil, kukui nut oil, jojoba and coconut oil, as well as caviar extract. Nourish your scalp while giving your mane some much-needed moisture.
For the Busy Ladies
Some of us are so busy, that getting time to wash, let alone condition our hair is a miracle. So check out PUR's Active+ Hair and Body Wash. This two in one formula is for your hair and body. It's revitalizing scent is sure to perk your senses. And hey, you'll actually have time to wash your hair this way!
Foaming Body Scrub
PUR's Scrub Foaming Bamboo Almond is a dream! It sloughs off those dead skin cells, so the fresh new ones can shine! Then it moisturizes your new skin, leaving it silky soft and gorgeous. Use it on your entire body paying special attention to elbows, heels, even your hands. PUR even has this scrub, as well as the anti-aging shampoo and conditioner in a convenient gift set. (Hint hint to your hubby!)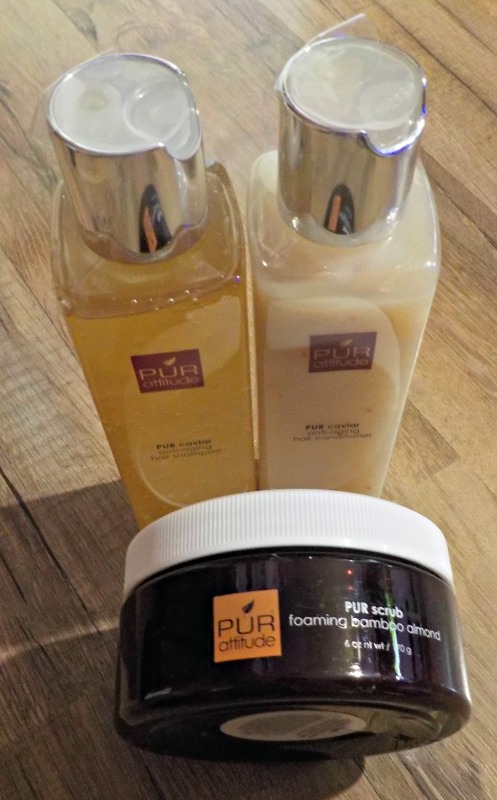 Pain Assassin
I live with chronic pain, so I was stoked to see that PUR had something to help. Check out their Pain Assassin. The patent pending topical solution is for arthritis pain, sore muscles, strains, sprains, bruises and more.
These are just a handful of PUR attitude's fantastic products. Check them all out here. Follow via Facebook, Twitter, and Instagram.