I'm a big fan of candles, especially nice, colorful ones. They really play a huge role in the ambiance of any room. A nice scented candle is always a bonus. I use them at home, at work and while traveling. Candles are great at helping me relax, be calm and enjoy the present moment. They're equally as great at rejuvenation and starting the day as they are for winding down in the evening.
One of my favorite uses for them is while in the bath. I have tons of them in different shades and aromas. I'm always looking for new candles that I don't have yet. Always searching for unique things, in general, and came across something that really caught my eye. It's perfect timing for this as well.
Meet Hoppa, the Bunny Candle!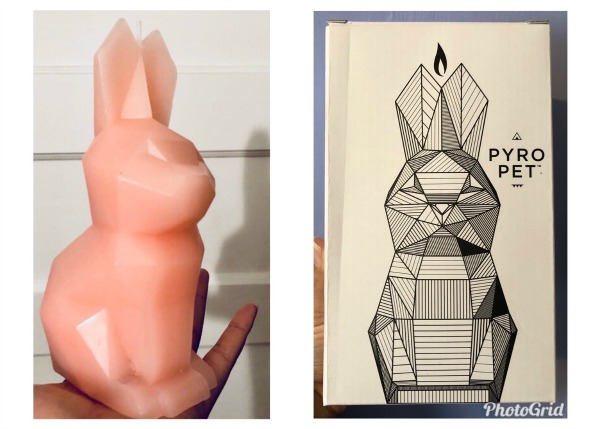 Looking for something different? Meet Hoppa, the Bunny candle. You can use her all year long, but this could be a cool Easter basket addition. This is something that I've never seen before and wanted to share with all of you. This unique bunny candle burns to reveal a surprise inside. It's a skeleton! I guess I gave it away, huh? Sorry, but I couldn't keep the secret.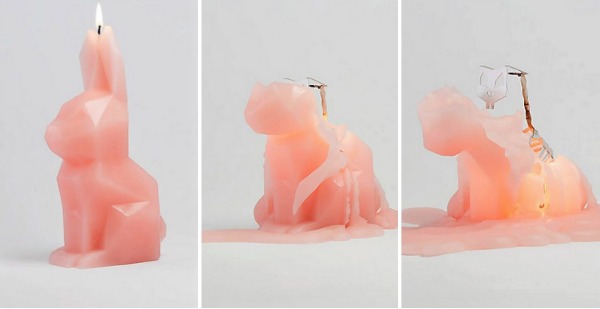 Hoppa, meaning "jump" in Icelandic is the common name for a pet rabbit there. From the Pyro Pet Candle Company and designed by an artist in Iceland, it will make you jump when Hoppa's true character is revealed. Light Hoppa's wick and prepare to be shaken. After about 16 hours, a metal silhouette is all that's left. This is a very cool product and in a league of its own, as far as I know. I'm waiting until Easter to light mine. How about you?
The Hoppa candle is available in two colors: peach and white, with silver skeleton.
The dimensions of a Hoppa candle are: 6.7 x 2.7 x 3.9 Inches (17 x 7 x 10 cm).
Materials: Paraffin wax, cotton wick and aluminium.
Hoppa is certified to meet US and EU candle safety standards.
Available at https://us.54celsius.com and U.S. retail stores: Urban Outfitters, Hot Topic Merchandise, Blackheart and Box Lunch Gifts for $28.
CONNECT WITH PYRO PET CANDLE COMPANY: Site