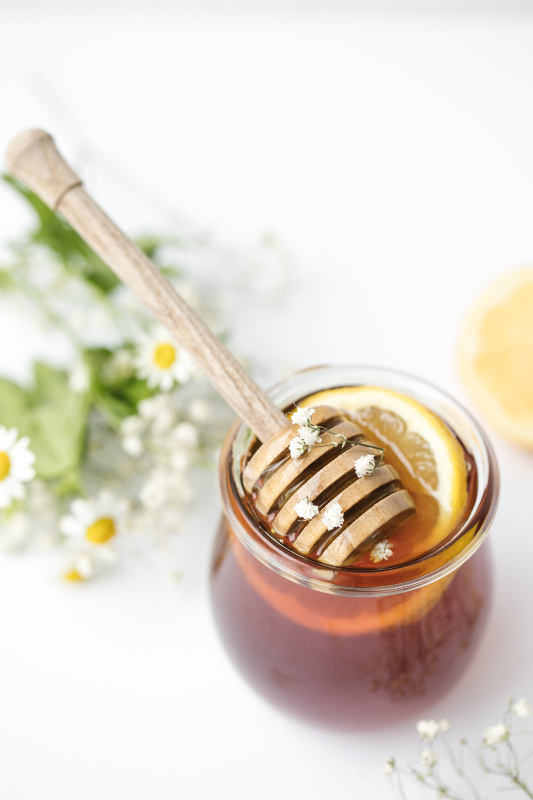 Manuka honey a specific type of honey that is made by bees that pollinate the Leptospermum scoparium flower, better known as the manuka bush. This incredible honey is used worldwide, although, it is native to New Zealand. The antibacterial properties found in manuka honey differ significantly from regular honey as methylglyoxal is the active ingredient that is responsible for the enhanced antibacterial properties found in organic manuka, honey. Additionally, this honey also offers impressive anti-inflammatory, antiviral, and amazing antioxidant benefits, which is why the honey has been revolutionizing the skincare and beauty industry.
When taking into account that it has been used for several years as a traditional applicant for improved wound healing, prevention of tooth decay, and to sooth topical sores, these following benefits may not be all that surprising. Here are the top 6 incredible benefits of organic manuka honey.
#1 Enhanced Wound Healing
Honey has been used for centuries as a traditional medicine to encourage wound healing. It has been used for wounds, burns, boils, and sores to take advantage of the wound healing properties. However, manuka honey was approved in 2007 by the US FDA for wound healing treatments. This honey provides users with antioxidant and antibacterial are able to prevent microbial infections. In addition to this, wounds are kept moist under the protective barrier of honey, which will enhance the process of healing.
There are several studies that confirm the miraculous wound healing properties found in manuka honey will amplify tissue regeneration while also assisting with pain reduction with regards to burns and other types of wounds. The honey has also proven effective for reducing the appearance of scars.
#2 Improved Oral Health
A large number of people suffer from poor oral health and relative conditions, such as gum disease and several other oral conditions. Avoiding issues such as tooth decay and gum disease can be done through optimal oral health, although when considering that there are numerous different causes for gum disease, some people may require additional assistance to maintain ideal oral health.
Manuka honey does contain incredible antibacterial, anti-inflammatory, and antiviral properties that have proven effective for improving oral health. The properties found in this honey are effective enough to combat bad bacteria that could cause gum disease and tooth decay. What's more, it is also effective for reducing the build-up of plaque that may result in tooth decay.
#3 Treat Sore Throat
Manuka honey is great for treating even a sore throat. The magical properties it contains can reduce pain and soothe a sore throat while also treating potential bacterial infections and inflammation that could be the cause. The honey is able to coat a sore throat and provide a beneficial soothing effect all while treating the cause of discomfort. This benefit is quite incredible, considering that studies show that honey has been used for patients suffering from throat and neck cancer and the results are remarkable for pain management.
#4 The Prevention Of Gastric Ulcers
Stomach ulcers are not at all an uncommon issue and they can be extremely painful. Gastric ulcers for in the lining of the stomach and cause bloating, vomiting, and a great deal of stomach pain. These ulcers are often caused by H.pylori bacteria, which manuka honey can effectively combat, according to research. What's more, the honey is not just effective at decreasing the presence of the ulcer-causing bacteria, but it can also prevent the formation of painful gastric ulcers by reducing the presence of this harmful bacteria in the body.
#5 Improved Digestive Functions
Manuka honey is great for improving the functions of the digestive system and preventing conditions such as irritable bowel syndrome, diarrhea, constipation, irregular bowel movements, and several other digestive conditions. Research confirms that manuka honey can effectively decrease the vast majority of symptoms related to digestive conditions, including abdominal pain. This is the result of the incredible anti-inflammatory and antibacterial properties found in the honey.
#6 Effective Acne Treatment
Acne is a condition that can have a largely negative impact on a person's quality of life. The skin condition is well-known for impacting self-confidence and it can be quite difficult to treat. However, the use of manuka honey has shown impressive promise for treating the appearance of acne and reducing the appearance of acne scars. This is thanks to the incredible antibacterial and anti-inflammatory properties, as well as the amazing antioxidant properties that reduce skin damage. There are several incredible skincare brands that are taking advantage of the healing benefits of organic manuka honey to help customers treat acne and several other skin conditions.
Are There Allergy Concerns For Manuka Honey?
When using manuka honey to yield the various great benefits that it can offer, it is essential to ensure that allergic reactions are not a concern. There are several individuals that suffer from bee and honey allergies who may not be able to use this honey as a topical or ingested treatment. However, you can consult your doctor or attempt to perform a small skin patch test to determine if the honey is suitable for you as a treatment.