You may be surprised to find out just how many things you can do with those cans of tuna you've been avoiding. Read this for 31 easy and delicious meal ideas!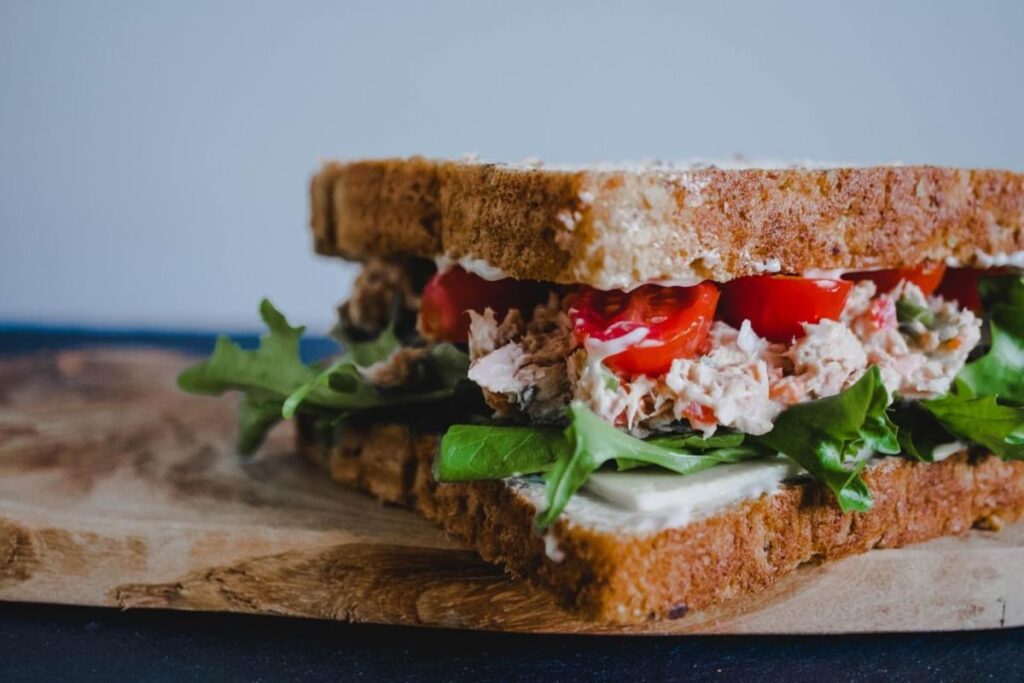 If canned tuna is a staple in your pantry, you're not alone.
That being said, it can be challenging to come up with imaginative ways to put that tuna to good use. It's tuna fish, not chicken. It can't possibly have that many uses, right?
Well, you may be surprised to find just how many things you can do with those cans of tuna you've been avoiding. It really might be the chicken of the sea.
Below, you will discover 31 great meals you can make using canned tuna. We've packed them neatly packed into categories, from salad to pasta and everything in between.
Get ready to wow your tastebuds with these flavorful recipes!
Canned Tuna Salad Recipes
1. Asian Tuna Salad
If you're looking for a delicious tuna salad recipe without the mayo, this blend of radishes, carrots, and onions is for you. Dressed with rice vinegar and sesame oil, it will bring a different flavor to your canned tuna that everyone will enjoy.
2. Tuna Macaroni Salad
Pump up your macaroni salad game for the next family picnic by introducing your favorite canned tuna to the mix. The added protein will give you plenty of energy to join in on the fun and games.
3. Tuna, Kale, and Egg Salad
This healthy salad has a bit of everything you want: greens, some crunch, and a ton of flavor. And the best part? It's quick and easy to put together so you won't be waiting forever to enjoy it!
4. Avocado Tuna Salad
Here's another healthy take on classic tuna salad that swaps out the mayo for some creamy avocado. Paired with veggies, nuts, and some delicious spices, this recipe makes the perfect lunch when slapped on your favorite bread.
5. Garden Tuna Salad Sandwich
This tuna salad tastes incredibly fresh thanks to the Granny Smith apples and lemon zest. It's a bright, flavorful tuna sandwich that's sure to put some pep in your step around lunchtime.
6. The Best Tuna Salad Sandwich
It's bold to claim to have the best tuna salad recipe. But since it's something you can throw together in no time flat, it'll be easy for you to try it yourself! Don't you want to know if it's really the best?
7. Tuna Salad Lettuce Wraps
If sandwiches aren't your thing, try out this alternative that plates tuna salad in a low-carb, gluten-free dish for lunch or a quick snack. Go ahead and top this tuna salad with tomatoes and avocado and wrap it up in some romaine lettuce leaves and enjoy!
Find the recipe here!
8. Tuna Salad and Cheese Roll-Ups
Another sandwich alternative, this one pairs a classic tuna salad with cheese and rolls it up nice and tight in some flatbread. This recipe makes a great after school snack for kids! But really, who doesn't love cheese?
9. Italian Tuna and Corn Salad
This one isn't tuna salad but a salad with tuna in it. Though it only has a few ingredients, it is full of authentic Italian flavor that doesn't disappoint. This mix of greens, tomatoes, corn, and tuna is simply dressed and simply delicious.
Canned Tuna Melt Recipes
10. Tiny Tuna Melts
If you want a quick snack and have more cans of tuna than you know what to do with, try out these miniature tuna melts! They only take 2–3 minutes under a broiler to reach melty perfection in bite-size form.
11. Mediterranean Tuna Melts
Kick it up a notch with this Mediterranean spin that will make your tuna melts anything but bland and boring. Combined with onion, olives, and paprika, and then topped with melty Muenster cheese, your tastebuds will thank you for giving this one a try.
12. Tuscan Tuna Melts
Sticking to a similar flavor profile, these tuna melts are packed with texture and taste before being grilled to perfection. This tuna melt is a little more upscale and features a spread made from sundried tomatoes to complement the tuna for a surprisingly light combo.
13. Kicked-Up Tuna Melts
These tuna melts are taken to the next level with their combination of onions, capers, and oregano. Pair it with any mild melting cheese you prefer — provolone, muenster, cheddar, etc. — and top with tomato slices for a filling open-faced sandwich you'll want to make again and again.
Canned Tuna Casserole Recipes
14. Tuna Noodle Dump Dinner
The beauty of this dish is that it's made entirely in one baking dish. You won't have to worry about washing a ton of dishes after dinner, but you still get a creamy casserole that is homemade and filling.
15. Classic Tuna Noodle Casserole
This take on the classic tuna noodle casserole features a homemade sauce for those of us who don't keep canned soup in the house as a rule. It uses butter, flour, milk, and mayonnaise, which are all common finds in any pantry.
16. Lighter Tuna Casserole
If you're craving comfort food but don't want something too heavy, this lightened version of tuna casserole is the perfect choice for dinner. The trick is to make the sauce with almond milk rather than cream and stir in lots of fresh veggies!
17. Creamy Tuna Pasta Bake
Pasta bakes are always a crowd-pleaser. They're deliciously satisfying and use ingredients you probably already have in your kitchen. This recipe is the perfect way to use up some stuff you might have lying around, including those cans of tuna!
18. Tuna Casserole for One
Making an entire tuna casserole when you're going to be eating on your own is barely justifiable. Instead of potentially wasting it or being stuck with those leftovers for an entire week, try out this mini version. It uses one can of tuna to make a perfectly portioned tuna casserole for one.
Canned Tuna Pasta Recipes
19. Mediterranean Tuna Pasta
Heading back to the Mediterranian, you will love this pasta dish that incorporates tuna with all your favorite flavors of the area. This recipe can be made on a budget and in such a short time that it won't even seem like you're making dinner.
20. Spaghetti and Tuna Meatballs
While this is pasta, the spaghetti noodles definitely aren't the star of the dish. Your canned tuna will take on a totally new life by being blended seamlessly into meatballs. It's a great way to bypass picky eaters!
21. Tuna Pasta with Garlic & Lemon
Get a fancy feel in a fraction of the time with this quick ten-minute meal. It's an incredibly easy recipe to follow and uses things you probably already have in your cabinet. This pasta dish will look like it took way more effort than it really did when you serve it up.
22. Macaroni and Cheese with Cauliflower and Tuna
If you were a Tuna Helper kid, you're going to love this grown-up version of it. Not only does it taste a lot better, but it's also on the healthier side. This recipe is going to take you a little time, but it will be well worth the effort when you taste the results!
23. Tuna Carbonara
You don't have to be a seasoned chef to whip up this easy tuna carbonara. In fact, it only takes a handful of ingredients and about 20 minutes from start to finish. You'll be enjoying this delicious pasta in no time!
Other Canned Tuna Recipes
24. Tuna Patties
Tuna patties are a go-to recipe for many households. If you don't already have one in your cookbook, now's the time. It's a great way to use your canned tuna that's easy and yummy. Everyone in your family is sure to love it!
25. Tuna and Chickpea Patties
Swap out any other kind of seafood cake for these fiber-rich alternatives that use pureed chickpeas rather than eggs and potatoes. They make a fantastic side dish for any meal!
26. Tuna Stuffed Tomatoes
If you're not ready to commit to a full tuna dinner, why not make it the appetizer instead? These tomatoes are chock full of goodness until they are nearly bursting. You won't be able to deny yourself the flavor.
27. Tuna Deviled Eggs
Spruce up your deviled eggs by putting some canned tuna in them. These eggs are extremely creamy, a little crunchy, and completely full of flavor. They make the perfect appetizer for any meal or a snack when you need something fast!
28. Open-Faced BBQ Hummus Tuna Sandwich
This new take on the tuna sandwich uses hummus and BBQ sauce to spice up your tuna and take it to entirely new heights. It's easy to make, healthy, and tastes amazing!
29. Tuna Burgers
If you're looking to try something a little different (but not too different), try swapping out your normal beef burgers for this tuna alternative. They're just as hearty and are sure to please everyone at the dinner table.
30. Canned Tuna Ceviche
While it's not technically ceviche, this healthy lunch option is just as flavorful and much easier to put together. You can even use the tuna can as a mold to make your plate Instagram worthy before you chow down.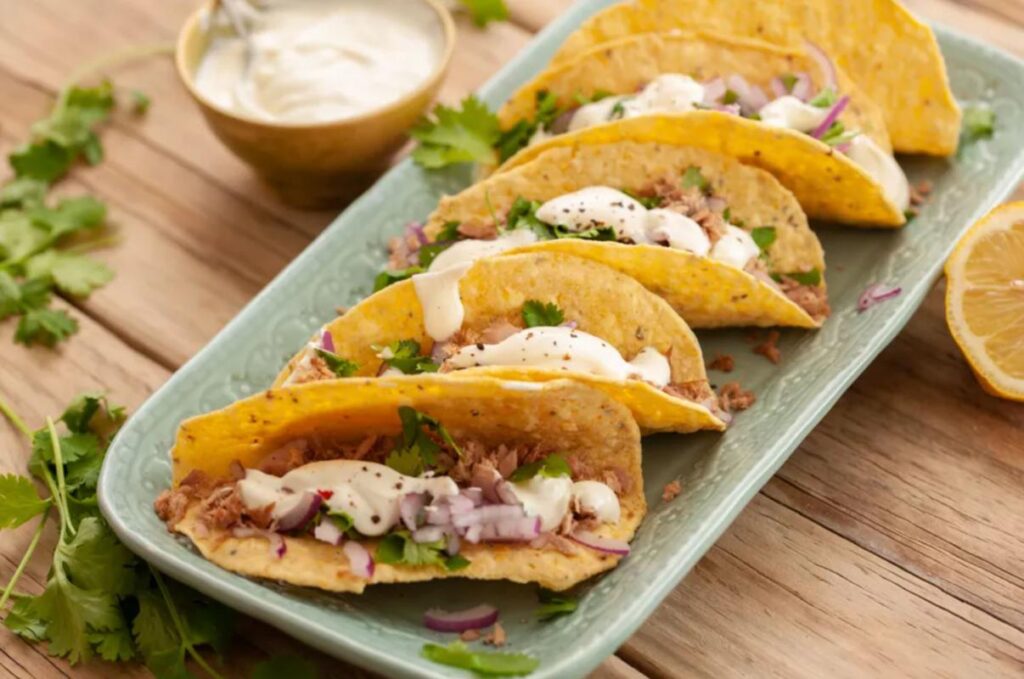 31. Canned Tuna Fish Tacos
There are few things better in life than tacos. These quick tuna tacos are ready to go in just ten minutes, so you don't have to keep your stomach waiting. The recipe even gives you variations to try for something new every time.
In Summary
The number of meals you can make using canned tuna is astounding. Whether you want something hot or cold, big or small, canned tuna has got your back for lunch, dinner, and snack time.
You might not add all 31 of these recipes to your cookbook, but we're confident you'll come away with enough of a variety that you'll never have to wonder how to use your canned tuna again.
Author Bio:
Adam Marshall is a freelance writer who specializes in all things apartment organization, real estate, and college advice. He currently works with Arch at Bloomington to help them with their online marketing.