Weddings are a traditional occasion, yet that doesn't mean your special day has to stay confined within those usual standards.
If you want to go from ordinary to extraordinary with your wedding, you can take many unique and supercharged approaches.
To present the wow-factor your big day deserves, here are ten tips to take your wedding to the next level.
1. Select a yacht as the venue
No, really.
If you want to take your wedding to the next level, truly, you need to select an unforgettable venue.
A hotel, manor, or even beach is a great option in that regard – and there is nothing wrong with choosing one of these for your big day.
Yet these don't compare to the unique and luxurious splendor of a yacht.
With stunning sea views as the backdrop that is constantly changing, a moving venue helps produce a once-in-a-lifetime experience.
Just imagine a sunset wedding on a yacht, where the natural beauty of this event helps to bless your day and give it that perfect setting.
Another major advantage of a yacht is you have the space all to yourself.
This means there's ample room for all of your guests and whatever activities you have planned.
2. Dessert decadence
When it comes to organizing the desserts for your wedding, the cake will obviously be your main focus area.
You will want a cake that not only has a grand and opulent design which steals the show but one which is also delicious.
When picking a local wedding cake maker, ensure you pay attention to their reviews and reputation.
You want to avoid a dull or dry cake from making an unwelcome appearance!
Yet these days, there's more to dessert than the wedding cake.
Secondary desserts are starting to become a popular option for wedding receptions.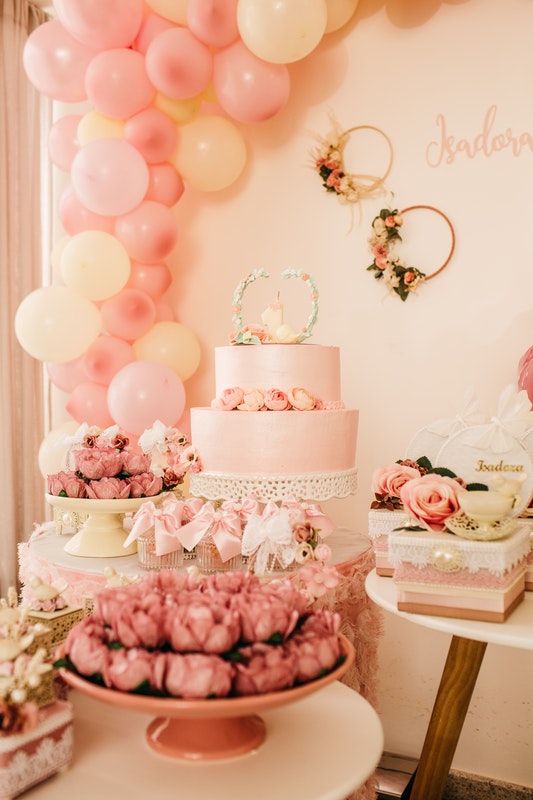 Gelato bars, donut stations, snow cones – there's an endless amount of possibilities to add that extra sweetness to your wedding celebrations.
3. Video booth
Instead of a traditional guestbook full of written messages, why not go that step further with a picture or video-based guestbook?
Simply set up a booth at your venue, set a few rules, and let your guests do the rest.
Face it: video messages are always going to be more memorable than a written note – particularly if it is organized for later in the night after people have downed one too many glasses of champagne!
The rules aspect of the video booth can also result in entertaining results.
Instead of heartfelt messages, for instance, you could ask them to bring up funny stories or for them to sing your favorite songs.
4. Welcome bags that go the extra mile
When it comes to a welcome bag, the options are essentially limitless in what you include.
This scope means you can get creative and add items that ensure your guests feel welcomed and appreciate attending.
Food and drink items are a great starting point.
Try and incorporate your favorite local treats, a beloved chocolate bar, or perhaps even a small bottle of bubbly.
It would help if you also placed a focus on the wedding's location. If you go with a yacht as suggested above, add a pair of sunglasses into the bag.
Other ideas include a post-party recovery kit, handwritten thank you card, and personalized stationery.
For more ideas, click here for a Martha Stewart blog that shows 49 examples of memorable welcome bags.
5. Look beyond a DJ
Music is always an important part of a wedding, both in terms of the ceremony and reception afterwards.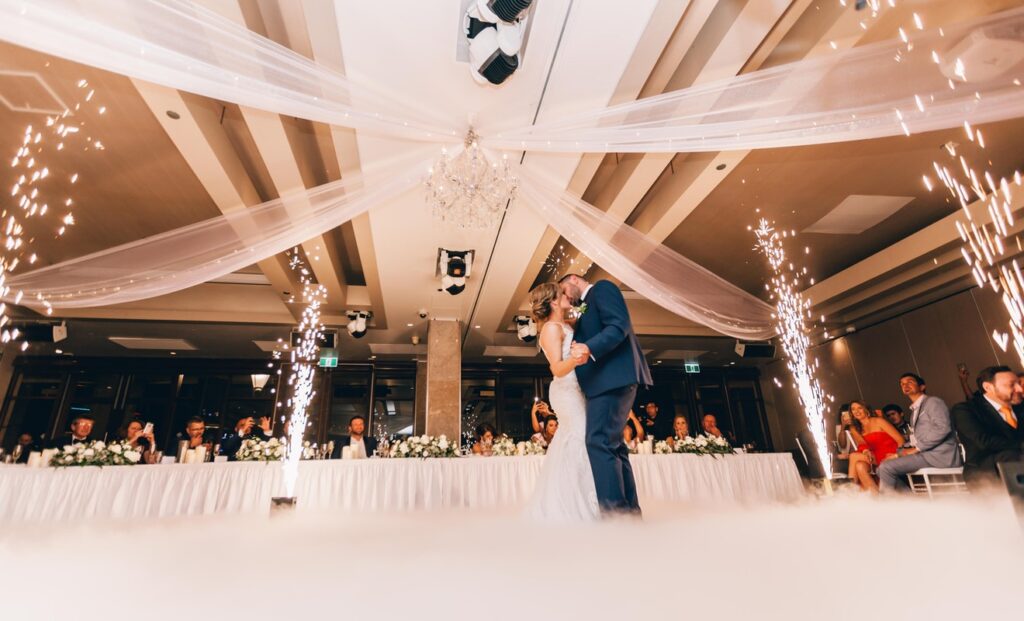 Regarding the latter, try and avoid going with a DJ if you want to take your big day to the next level.
While they can get people up and dancing to your favorite tunes, there are other ways of bringing music to the party in a more memorable fashion.
One way is to select a live band. You do not have to search through a wedding bands directory, either simply.
If you have a favorite indie group or musician, reach out to them and see if they will be available and willing to play your wedding.
Plus if money is no object, you might even be able to land a major artist for the event!
Want something a little different? You could instead hire an orchestra, pianist, or even an a cappella group.
6. Hire a live painter
You will have a professional photographer for your wedding. That is pretty much a certainty.
In addition, your guests will also be snapping their own pictures of the festivities, and these can even be uploaded to social media alongside your own wedding hashtag.
Just remember: this is a wedding that is going to the next level.
To achieve this, you can complement a photographer with a live painter.
This painter will be able to capture whatever scene – or scenes – of the wedding you desire, from the ceremony to everyone having fun at the reception.
When going with this tip, always choose a painter with a strong reputation and produce art that matches your tastes.
7. Fun and games
Once the ceremony is over, it is all about unwinding and having fun.
Along with tucking into food and getting your dancing shoes on, you must have plenty of games arranged for fun – both for younger and older guests.
This could be everything from mini golf to cornhole, and a badminton game to a test of strength high striker.
Here is another idea. You know Jenga?
This block-stacking game is a popular one for weddings, and it even appears first on the '30 wedding reception games and activities' list by Brides.
Yet rather than simply playing the game, ask your guests to write whatever they want onto each block.
This will essentially provide you with a 'Jenga guestbook', which will give you a big reason to bring out the game each year to look at the messages and fondly remember your wedding day.
8. A memorable theme
A lot of focus has to go on the theme of the wedding.
If you are going with a specific theme, such as a vintage or Disney one, it is easier to envisage how it can be made memorable and capture a certain atmosphere.
With that said, you don't necessarily have to opt for a distinct or unusual theme.
As long as it has the right mix of colors and design, there's the ability to produce a captivating mood that's just right for your big day.
Besides, it will take less time and energy to decide on certain details of your wedding, such as the decoration, invitations, and wedding favors, when you have a theme. You can easily customize your wedding favors, invitations, and everything else according to your chosen theme.
9. A food truck for the end of the night
They might have chomped down on a remarkable amount of cake.
They may have eaten dozens of hors d'oeuvres.
However, after all of the hours of celebration and dancing, your guests are likely to be a little hungry at the end of the night.
To help quell those feelings of hunger, consider enlisting the services of a food truck.
This allows guests to quickly grab a slice of pizza, hot dog, or a grilled cheese sandwich before they head home.
10. Getaway in style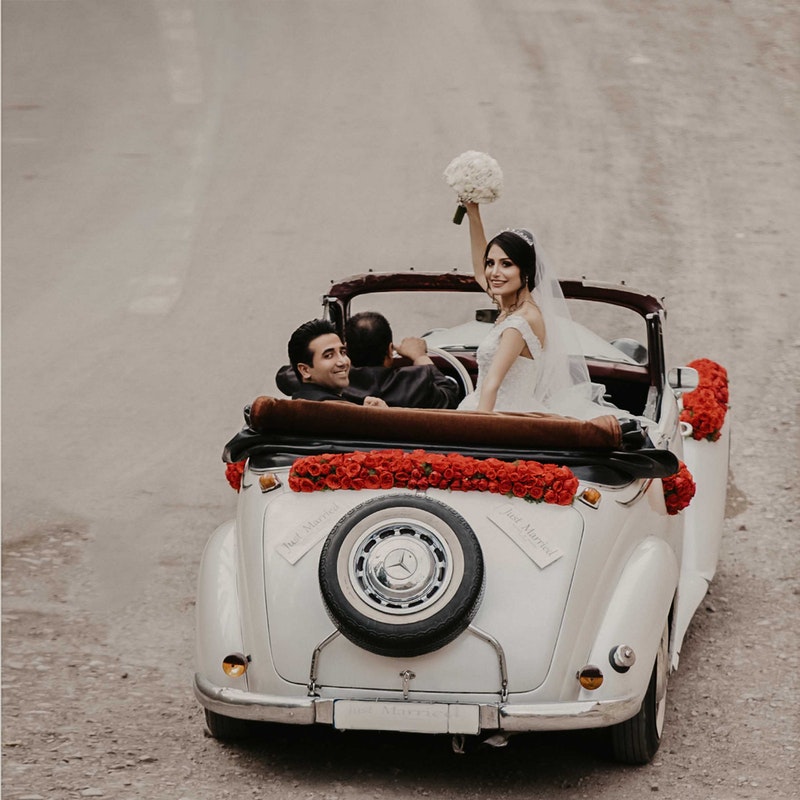 When it's time for you and your partner to make that grand departure, you have to do it in style.
Always pick a getaway vehicle which matches the personalities of you both.
If you enjoy the finer things life has to offer, go with a vintage Rolls Royce or Aston Martin.
If you're avid cyclists, however, consider riding off on a tandem bicycle.
Additional info and resources: