2020 has been a year filled with challenges and tragedies, it will go down in history as the year scientists had been warning about for decades.
Everyone knew it was going to happen; only no one knew when or where.
We have all come that much closer to experiencing loss this year, with a great number of people getting face to face with it.
Losing someone you love is hard, in fact – hard doesn't even come close to being the right word.
If you, or someone you love, has lost a loved one and has asked for you to attend their send-off, here are 5 important etiquette tips for you to remember.
1. What to Say
As much as we want to say all the right things to a grieving person, words don't always come easily when you need them to.
If you don't know what to say, or you are worried you will get tongue tied, try just sharing a fond memory you have of the departed.
If you didn't know them personally then just stick to the golden standard of funerals – "I am so sorry for your loss".
Even though most people will be saying the same thing, it is better to stick to the tried and tested rather than risk being stuck and fumbling for words.
2. Don't Send Flowers
Bringing flowers to a funeral is frowned upon in certain religions and cultures.
To avoid being accidentally offensive it is safer to make a charitable donation in the name of the deceased.
Do a little research online first if you aren't familiar with the culture or religion of the deceased's family.
3. Don't Ask Unnecessary Questions
To avoid bringing up an extra painful subject, don't ask any personal questions.
This cancels out asking how they passed away, what disease or sickness they had, and also how old they were.
You need to be respectful of the family's choices too if there is an open casket funeral – just go with it.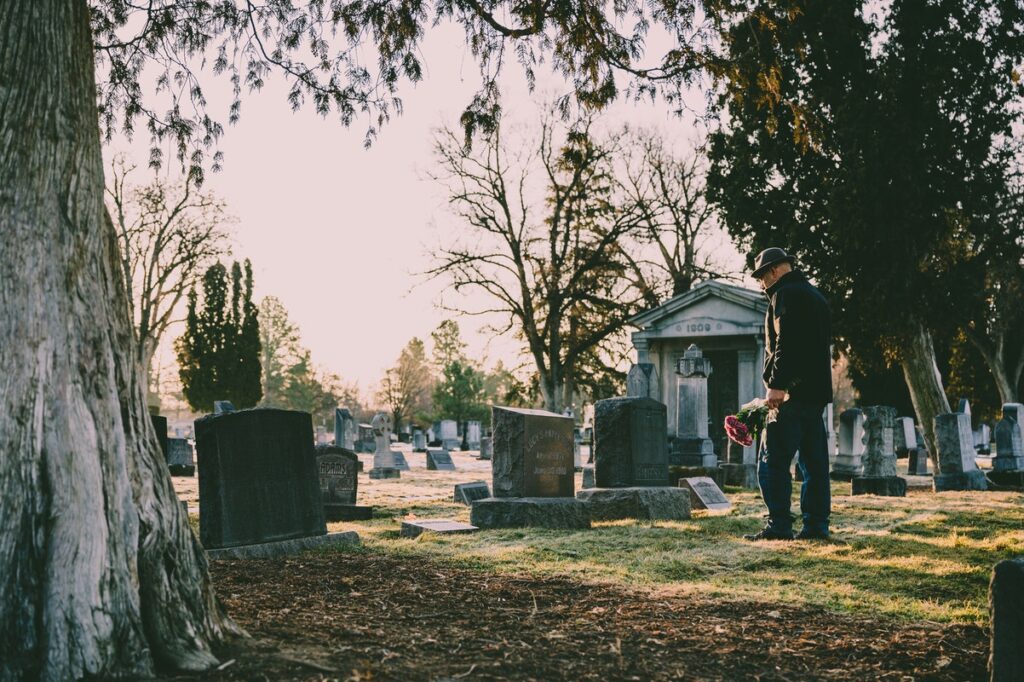 You might be surprised to learn that the family chose a new burial method like green cremation, but rather research this online afterwards, just in case you make it awkward by asking too many questions.
4. Don't Overdress
It is important to remember that this is a funeral and not a fashion show.
Wear something respectful and modest – a good rule of thumb is that if it's good enough for a night out then it's not good for a funeral.
You don't have to wear black – greys and blues are also acceptable funeral attire colours.
By all means look your best, but try and get a little info on the family beforehand, some religions require your head to be covered during their services and it is wise to be respectful of these traditions and practices as well as others.
5. Avoid Placations
As much as you want to make the grieving family feel better, telling them that their loved one is in a better place is not always well received.
It is good to remember that there are many stages to grief and there is no "one size fits all", some family members might appreciate such a sentiment but others may not be ready to hear it.
Likewise, you should not focus on the healthcare the deceased received before passing, saying these things out loud won't help anyone.