If you are looking for educational products for your children, flash cards are perfect. During the school year, they're perfect for rainy days. Or for when you have extra time on the weekend and/or for after school tutoring sessions. Flash cards are an excellent learning and teaching tool – especially for introducing new vocabulary or drilling. Practicing active recall leads to stronger neural connections in the brain, therefore improving memory. Think Tank Scholar has recently launched sight words flash cards for ages 3-9 (Pre-K through 3rd Grade).
Think Tank Scholar for Education
Their Sight Words Flashcards Bundle Kit will help children to learn and practice reading the most common words found in children's books. Including over 500 sight words flash cards (each pack contains 100+ words), they will help kids build their vocabulary. Also, reading skills will increase by memorizing simple letter-to-sound high-frequency words that do not necessarily follow phonetic rules.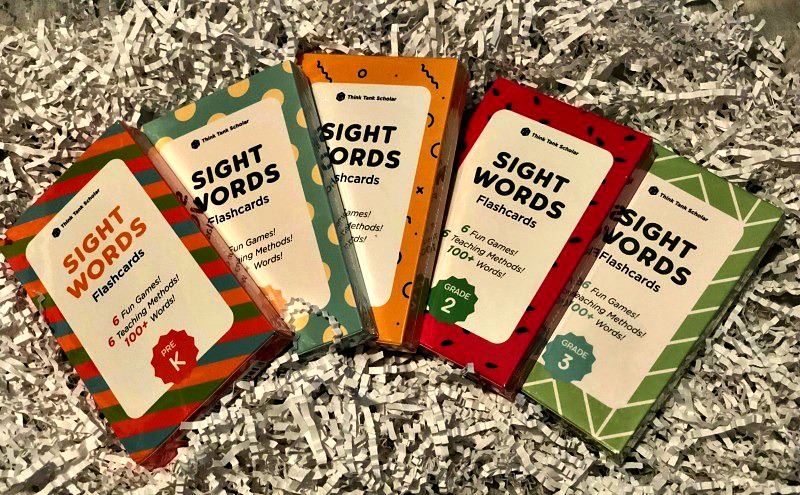 Learning to recognize these words without decoding them increases a child's reading speed accuracy, fluency, and comprehension. In addition, 6 teaching techniques and 6 fun learning games are included to help your children practice writing, spelling and build sentences. Providing simple learning resources for a first-time reader, girls and boys can practice word activities to help their memory skills which is key for tests.
Think Tank Scholar for Success
Think Tank Scholar Sight Words Flashcards are designed to make learning fun! They're great for young learners as the cards have a non-distracting design. The cards also have large bold print that helps students automatically recognize words. The flash cards are made from high-quality card stock, smooth laminated coating and rounded edges for easy sorting and handling.
Get ready to teach your child 500+ basic words to master the reading skills needed for their level and beyond. Think Tank Scholar's mission is to inspire a lifetime love of creative thinking and learning. Through educational games and materials, thought-provoking fun can be had.
The Sight Words Flash Cards retail for $9.95 for individual packs and $28.95 for the Bundle Pack and are available on our website at www.thinktankscholar.com, Amazon.com and eBay.
CONNECT WITH THINK TANK SCHOLAR: Site | Facebook | Twitter | Instagram