Planning the perfect honeymoon takes time and sincere effort.
With careful execution, your honeymoon will make you and your partner closer than ever, with a chance to relax before getting back to your regular lives.
There are plenty of things to do in Santa Monica while you're spending your honeymoon there.
It caters to all couples, whether you're looking to be active or want to take things a bit slow.
Candlelit Dinner for Two
If you want an isolated setting where you and your partner can spend some quality time while testing out different types of cuisine, you can book a romantic candle-lit dinner.
Enjoy the best cuisine Santa Monica has to offer with your partner in the warm and pleasant atmosphere that will make you reminisce about your sweet moments with your partner.
Unwind with Couples' Massage
Many places in Santa Monica offer spa and massage services specially catered for newlyweds. Unwind from all the wedding stress with the perfect couples' massage.
Relaxing through a massage can also make you and your partner feel energized and enthusiastic about trying out new activities and exploring the beautiful Santa Monica area.
Ferris Wheel Ride
When in doubt about things to do in Santa Monica, taking a ride on the famous Santa Monica Pier Ferris Wheel is always a good idea.
It lets you appreciate the beauty of Santa Monica from a great vantage point and have fun too.
Besides the Ferris Wheel, the Santa Monica Pier boasts a merry-go-round, roller coaster, and other games you would find in a carnival.
It lets both you and your partner relive childhood memories with each other.
Enjoy a Picnic
A picnic is another fun activity to do with a loved one.
Whether you decide to have it by the beach or in the Santa Monica Mountains, you're guaranteed to have a memorable time.
You and your partner can enjoy buying snacks and knick-knacks for your picnic and enjoy the beauty of Santa Monica while absorbing some much-needed Vitamin D.
Be Active
Taking a walk along the beach is a romantic activity any time of the day, especially during sunrise and sunset.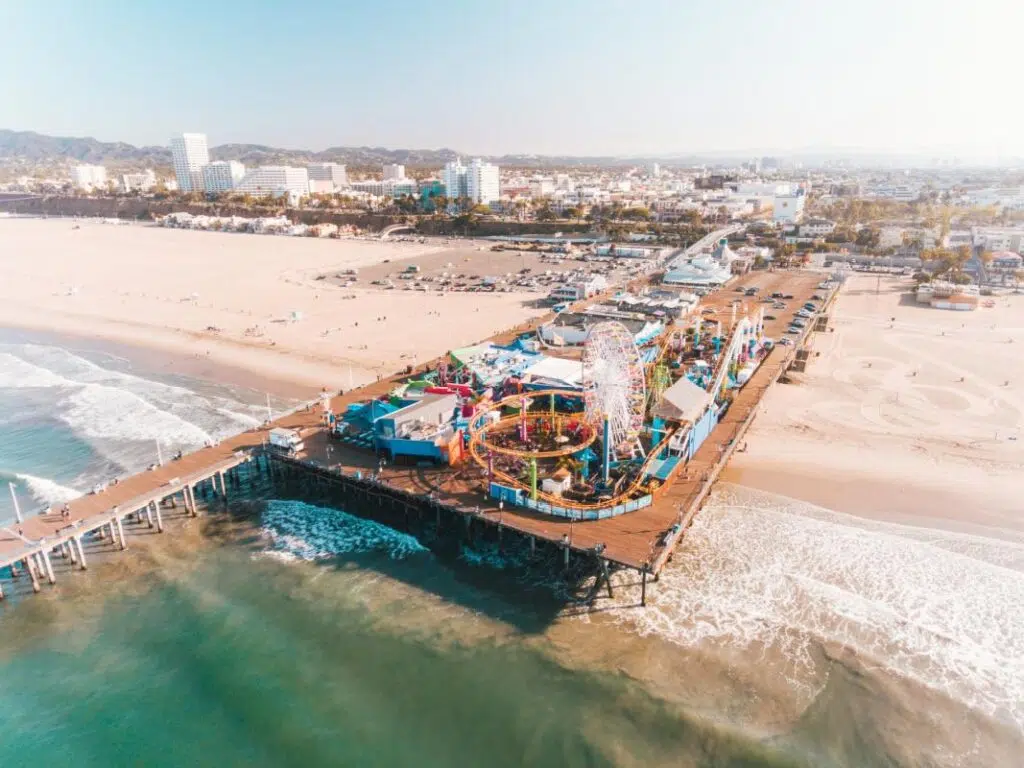 It lets you appreciate the natural surroundings with your partner and is an excellent activity to stimulate conversation.
For a change in scenery, you may walk along the Third Street Promenade, which has a selection of restaurants, boutiques, and more to spend the day.
For active couples, you can enjoy the ocean-side breeze and amazing scenery by going on a bike ride through one of the many biking trails found all around Santa Monica.
If you want to go out and splash in the ocean with your partner, consider taking surfing lessons together or going parasailing.
Cruise with a View
Many cruises set off from Santa Monica. A cruise is perfect if both you and your partner enjoy being out in the ocean.
Many cruises also offer on-board activities and dining services. You can look into this beforehand and plan for it accordingly.
You could consider visiting Catalina for a day too while you're on the cruise.
Catalina is a great tourist attraction that offers a glimpse of Europe within California with its white buildings and clear aquamarine waters.
Go Sightseeing
If you're ready to spend a full day outside, you should see tourist attractions around Santa Monica.
This includes various places like Palisades Park, Santa Monica Mountains National Recreation Area, Santa Monica Farmers Market, and Montana Avenue.
Going sightseeing will help you and your partner create unforgettable memories, which you can cherish for years to come.
It'll also allow you to go out of your comfort zone with your partner and build a closer bond with one another.
Spend Quality Time with Your Partner
There are many exciting things to do in Santa Monica, making it an excellent destination for honeymooners.
It is great when you don't want to overthink your honeymoon but still want a memorable experience.
Santa Monica is an easily accessible location, and you have the option to venture a bit further if you've already seen all that the area has to offer. Multiple Hollywood tours are offered that are perfect for movie fans.
You can even opt to take a city tour for a simple one-day experience that ensures you see the entire Santa Monica area.
The area offers a vibrant nightlife, with multiple bars and lounges present where you can mingle with locals and tourists alike.
Spend quality time with your partner on your honeymoon with romantic activities in Santa Monica while creating special memories