My family and I had the opportunity to visit Wilderness at the Smokies Last week. I have to say it is a wonderful resort with so many things for the children and adults to do. We love to take road trips, be it a 1 hour drive or 11 hours we love it. Wilderness At The Smokies is no exception it took us 4 hours to travel from South Carolina to Tennessee and loved every moment of it.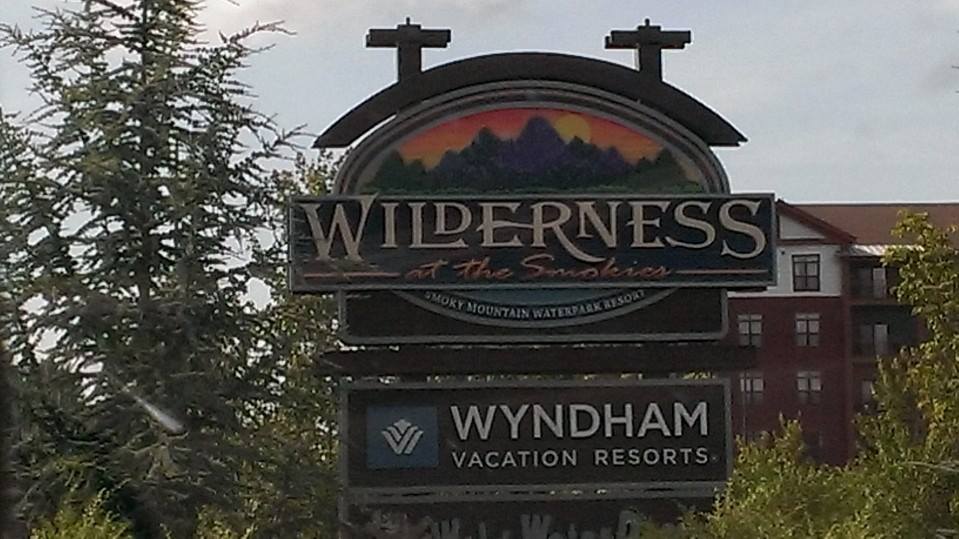 The Wilderness at the Smokies is located in Sevierville, TN. It's an amazing-looking water park resort and hotel. They have Two restaurants, The Hidden Bar & Grill and The Thirsty Miner. They also Have Four snack Bars located through out the resort, Grizzly's Grill, Coyote Cove, Bluegill's Cove and Billy Jacks Snack Shack. Let me not forget for the tired guest, who after a long day at the water park Wilderness At The Smokies offers In-Room Dining.
We stayed 2 nights and LOVED every minute. The resort is convenient to the beautiful Smoky Mountains National Park as well as many great shopping and dining venues. We were thrilled to stay in a One Bedroom Deluxe Suite at the Wilderness at the Smokies River Lodge. The Suite was really nice. What I first thought would be a plain old hotel room, turned out to be a wonderful 2 room Suite and I felt like I was right at home! We stayed in a 1 Bedroom Deluxe Suite, which was more then enough room for our family of 4. It felt great having being able to spread out and not all of us in one tight room. The best things was that there was 3 TV's and 2 bathrooms plus a kitchen area.. WOW was all I had to say when we opened our door! The room had, 2 Rooms, 2 Bathrooms, 1 Queen Bed, 1 Queen/Twin Bunk Bed, 1 Twin Sofa Sleeper, 1 Queen Murphy bed, 1 Queen Sofa Sleeper more then enough room for my family of Four!
Check in was super easy and the staff are all so wonderful and friendly! They were very helpful and understanding of Devon. Devon is my 19 year old Autistic son.
Now on to the Water Park (s) –
Wilderness at the Smokies boasts three water-parks. We visited two of them during our stay. The Wild Waterdome and Lake Wilderness were connected to the lodge our room was located in. Salamander Springs is up the hill a bit at the other lodge.
The Wild Waterdome is an indoor park which fills a 66,000 square foot, state of the art building. The Dome is indoors and that means you can enjoy it's pools and slides in any weather. They have a slide for everyone. From the scream inducing Storm Chaser to the family friendly Runaway Canyon ( Devon really loved this One). This was the first time the kids ever went to a water-park, and they had so much fun. Ronnie took Devon on the Runaway Canyon ( I was scared out of my mind that he did this) and Devon loved it! Devon wanted to keep going on it. What made it even more wonderful, the girls at the top of the ride, when you first get in the tube, helped Devon in and showed him what to do. They had patience and understanding, things you don't see that often!
We also went in The Great Wave, this is wave-pool and is 10,000 square feet of rolling wave fun! The kids had so much fun, hoping on the tubes and riding the waves. Ronnie kept getting knocked down and Amanda would laugh so hard, meanwhile I was holding on to Devon's tube while he was having a ball!
The kids also loved Washout Mountain. Washout Mountain is a multilevel water play feature that is open for fun all year round! It has two slides and lots of spraying water features soak you in fun! Kids will rush to find the best splash-down area under the enormous tipping bucket when the warning bell rings. We all loved when that happened..
When we had our fill of fun from the indoor water-park we all went outside to the Lake Wilderness outdoor water-park. Here, you will find the Wild Vortex slide where you free fall almost 39 feet and fly around a loop at up to 40 mph! Not up to generating g-force? Grab a tube and meander around Cataloochie Creek. This lazy river is so relaxing and run at the same time. Need something in between? Visit Washout Rapids wave pool or the Cyclone Racer for a little family fun.

When you had your fun at the water-parks and want to stay dry for a while you will also enjoy Adventure Forest. This is fun for kids of all ages.
"It is 25,000 sq. ft. indoor, dry family adventure center. Adventure Forest will give guests a chance to DRY off from all of the WET activities Wilderness currently provides. Non-Resort Guests will be allowed into the Adventure Forest (based on availability). Guests will be able to challenge their inner-fears, in the canopy of the Adventure Forest on Tree Top Towers, a three story ropes course; or take down the competition in an exciting game of laser tag at Fury in the Forest, a multilevel laser tag arena, as well as many other thrilling attractions and mega arcade. Adventure Forest can also be your one-stop-shop for any type of party! These party rooms give your group all the space you'll need and party packages are available to meet your every wish."
As you can tell, it's a great place for people of all ages (it also has a golf course)! It's a nice place for families! You can go and enjoy the park during the day and then not have to drive home. Wilderness at the Smokies provides a fun experience for the whole family and even has a friendly staff! The check-in and check-out were quick, easy, and painless! I would definitely go back there! Ronnie and I would really love to go back this winter, and I think we might just do that.
Check out The Wilderness at the Smokies Website, they have some wonderful specials that you can't pass up. Also they make sure you follow them on Facebook HERE, They have specials every Friday that you don't want to miss out on!
Disclaimer: I received a 2 Free Nights at the Wilderness at the Smokies. However, I was not obligated to review it. No compensation was received. The opinions expressed are my own.