Hofsas House Hotel
European Elegance With Warmth Of Family Hospitality
Disclosure: This post was written for The Hofsas House for exchange for accommodations. All opinions are 100% mine.
My family and I were able to stay 2 nights/3 days at the Hofsas House Hotel in Carmel-by-the-Sea. First, let me start out by saying LOVE THIS PLACE…and no not because it's PINK! My kids actually asked me that…"Mom did you pick this hotel because it is pink?". Crazy kids! It sure was a bonus but not the reason. Let me share why I love this hotel!
Hofsas House Hotel History
Hofsas House Hotel is family owned and operated. Donna Hofsas moved to Carmel in the late 1940s and began her journey in the hotel business. After Donna passed away in 1981 her son, Jack Theis, ran it with his wife but now his daughter Carrie carries on the family legacy of service and hospitality. Carrie was super sweet and just made us feel at home. She has so much knowledge of Carmel and the history that is was amazing to listen to her talk. I didn't even know Carmel is divided into 3 sections: Carmel-by-the-Sea, Carmel Valley, and Carmel Highlands. We were in Carmel-by-the Sea.
Hofsas House Hotel
There are 38 rooms all decorated and designed differently. The rooms are Bavarian inspired. My kids loved the Dutch Doors. We had a private deck, fireplace (inside and outside) plus a kitchenette with a small fridge, sink, dishes, and microwave. The rooms were so spacious. The front room had 2 Daybeds, kitchenette, TV armoire, and table. The back room had a king size bed, TV armoire, chairs, huge closet w/bathroom. It was so nice because we don't have this much room at home. The kids enjoyed their spaces- my daughter even made her bed HER SPACE. The kids had their own bathroom with a tub. At home, we don't have a bathtub so my daughter and I both took baths one night. The bathtub was huge and I enjoyed my bath after hiking all day at Point Lobos.

The hotel is at the end (or the beginning however you look at it..lol) of all the other hotels so it was very quiet. My husband and I enjoyed the private deck. We sat outside one night just in awe of how quiet it was. We are from Oakland and let me tell you to get away from all the NOISE was so nice. I think everyone needs to GET AWAY from all the busy lives we lead. We were able to slow down and enjoy this trip. Sitting on the deck and hearing the waves hit several miles away was so relaxing.
Hofsas House Hotel Hospitality
The Hofsas House Hotel screams "HOSPITALITY" and in so many ways because they are so welcoming and accommodating. This is the first hotel I ever stayed in that had Cheese/Crackers/Wine (Sparkling Cider in our case- you know can't forget the KIDS!) waiting for us when we got to our room.

You know that "Favorite Aunt" you have in the family that spoils you when you visit well that's how I felt about the Hofsas House Hotel. They shared what places were good to eat at, shop, places to see, and even where to get a Mocha- which I needed! We had the best time because the staff was so friendly. We were able to borrow Binoculars for our day trip to Point Lobos and Flashlights for our Beach Bon-Fire night. I don't know that many hotels that do that!
The continental breakfast is located in the hotel lobby from 8-10am. Fresh pastries from the local bakery, fresh fruit, juice and of course coffee/tea/hot chocolate. It was so yummy. When you go in, the front desk asks what you are doing that day and gives suggestions. Everyone I saw come in was so friendly and sharing stories. Great way to start the day.
There is a heated pool and 2 Dry saunas. My daughter wanted to go in so bad but we just didn't have time and it was a bit chilly outside. Plus they have a meeting room that opens up to the pool area. Great place to have conferences, small party, or private dinner.
Places To Visit While In Carmel
Point Lobos State Reserve~ we went there and had such an awesome time.
Monterey Bay Aquarium~ we've been there before but a must see! Hofsas House has 2-day pass for the price of 1.
Big Sur~ Cliffs, rocks, redwoods- explore time!
Carmel Valley~ 12 miles of scenic hiking, golf, wine tasting, and restaurants
17 Mile Drive at Pebble Beach~ Magical legendary scenic drive.
What We Did In Carmel
When we first got there we enjoyed the cheese/crackers and sparkling wine then we unwind from the drive. It only took 2 hours from the Bay Area and so worth it! Highly recommend this place to get away with the family. The kids kicked us out of their room so my husband and I went into our room and enjoyed the quiet. We were able to talk and enjoy some TV.
Later that evening we were guests at Portabella- The Quintessential Carmel Restaurant. What a blessing this dinner was. The managing partner Csaba Ajan was there to greet us and made us feel so special. He greeted other guests and checked in at all the tables. We had such a pleasurable experience at this beautiful place which is located on Ocean Avenue, it was a 5-minute walk from the Hofsas House. I will be writing up a review for Portabella.
We walked the streets of Carmel-by-the-Sea which by the way has no street addresses but wood signs of the streets. We saw beautiful artwork in the art galleries, we shopped for souvenirs, we went into stores that we knew we couldn't afford anything but just being in the store made us feel so special, we got coffee from a local coffee roasting company, and also window shopped. The kids enjoyed this a lot. My husband even bought shoes. What a wonderful family outing.
The 2nd day we were there we went hiking at Point Lobos but first, we went and got a picnic lunch at the fabulous 5th Ave Deli- OMG the sandwiches were so good. The kids kept talking about how good it was and they wanted to go back the next day. In the deli, there was everything you can imagine. We got our picnic lunch and headed out to Point Lobos, we took the scenic route around the beach front. It was beautiful seeing all the gorgeous houses and the waves hitting the beach.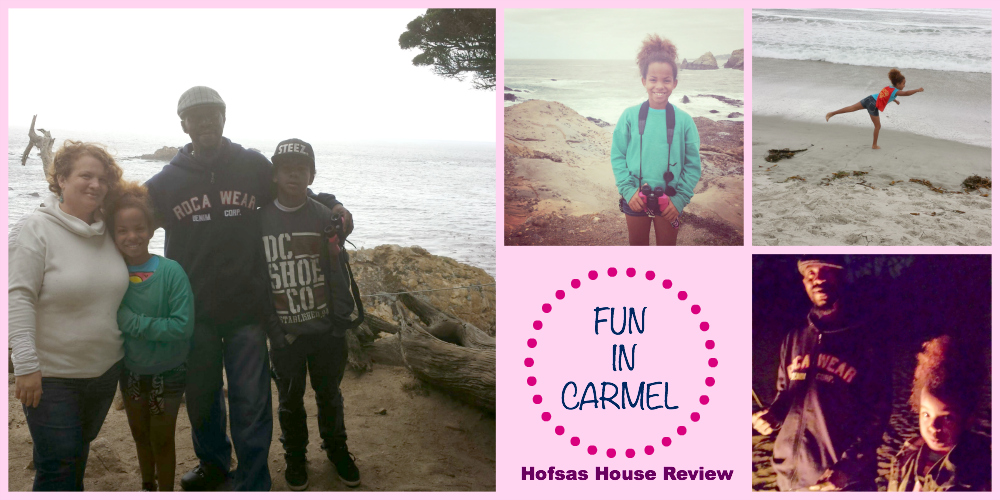 When we got back from our hike we rested a bit but then headed down to the beach for a beach fire and S'MORES. I highly recommend getting the S'mores Package when you book your room. We had a blast. My kids have never made s' mores before so this will be a family memory.
S'MORES Package
Hofsas House Hotel Packages
S'mores Beach Firewood Bundle with starter, s'mores supplies, beach blankets, flashlights. Start at $60
Monterey Wine/Cheese Pairing- Start at $30.00
Champagne Cheese with Engraved Flutes- Start at $50
In Room Couple Massage- Start at $160 for 45 minutes
Room Decorated start at $75 (Birthday, Romantic, Anniversary)
Golf Packages- Start at $65 pp including cart- 6 different courses in the area
Aquarium 2 days pass for the price of one day.
The Tail Wagging Packages for the 4-legged family member is AMAZING- frisbee, collapsible dog bowl, special dog bed in the room, treats, amenities, walking guide, and a Coastal Canine Magazine. $25 one dog/$40 two dogs
There are so many packages and add ons so please contact The Hofsas House Hotel and I'm sure Carrie Theis and the staff will take great care of you!
Thank you Hofsas House Hotel for your wonderful hospitality and having us as your guests. We enjoyed our stay and will be back!