Correct me, if I'm wrong, but I know most of us do not have a personal makeup artist. I know that I don't. Generally, we do all that we can, to put ourselves together every day using a mirror. For some of us, enhancing our looks and blurring imperfections, is a daily ritual. Having a magnified lighted makeup mirror is a great help in achieving our ideal image put out to the world.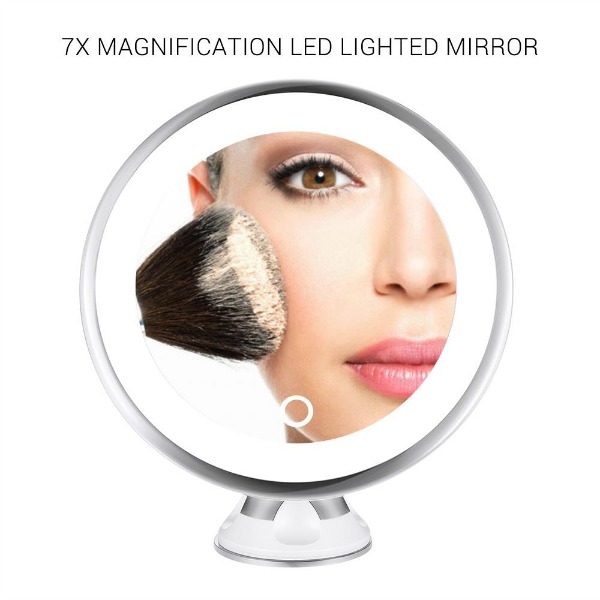 Here are some reasons to include a magnified lighted makeup mirror in your everyday beauty routine:
• Up Close and Personal – With a lighted makeup mirror, you can see exactly what you're doing. It will show us all the imperfections that we would not be able to see otherwise. Hair on your chin, uneven foundation or uneven eyeshadow can easily be changed.
• Easily Replicate Your Look – Since this type of mirror is portable, it's also light and very simple to travel with. Keep your look consistent and never worry about having enough lighting and/or magnification.
• Won't Take Up Space – These compact mirrors are great because they can be used virtually anywhere. Perfect for small apartments, dorm rooms, plane/train/bus foldup tables, etc.
• Free Your Hands – Keep your makeup steady with the ability to use your hands. No more worrying about holding the mirror with one hand and putting on eyeliner with the other. With these mirrors, you can rest your elbows.
• Blend Like A Pro – The light on these mirrors is very important when applying makeup. Being able to see everything is blended perfectly is a must. Great for making sure the colors are right on your skin tone.
Recently, I've used a magnified lighted mirror from MelodySusie and it's a great choice for achieving a put together look:
MelodySusie LED Lighted Makeup Mirror
7x Magnifying Portable LED Lighted Makeup Mirror (Battery and USB Operated)
US$ 19.99
Available on www.melodysusie.com and www.amazon.com
•7X MAGNIFICATION: Powerful 7x magnification allows you to focus on specific sections of your face – ideal for makeup application, precise tweezing, blackhead removing or other beauty ideal for makeup application, precise tweezing, blackhead removing or other beauty care.
•ADJUSTABLE LED LIGHT: 15 built-in LED lights create a controllable, natural daylight for flawless beauty routines.
•360-DEGREE ROTATION: 360° rotatable/swivel head can easily move and is fully adjustable to any desired angle or position.
•LOCKING SUCTION CUP: Strong, Easy-Lock suction cup allows you to securely attach this mirror on any clean, flat surface.
•DOUBLE POWER SUPPLY: Battery and USB Operated. Operated by AAA batteries (not included) or USB cord (included). Please note the mirror is not rechargeable.
Get 15% off on all MelodySusie beauty products with this special coupon code at checkout on www.melodysusie.com: MS15MOM
Valid until: May 13, 2018
CONNECT WITH MELODYSUSIE: Site | Facebook | Instagram | Twitter | Pinterest | YouTube