Post sponsored by Mirum but all opinions are my own.
MOM HACK #1- Semi-Homemade Cooking
I love taking care of my family, BUT there is one thing I don't like to do…COOK! Now that is a bit of a dilemma because my family needs to eat right? Plus during this time of the year, I'm busy! Kids are back in school and their activities, so Mom Taxi is always on the run. Getting ready for the holidays and all these fall birthdays we have coming up takes up my time too. I don't have the time to spend in the kitchen, so I pull out my MOM HACK #1!
My Mom Hack #1 is…. cook semi-homemade. I'm not a total lazy cook, but I will combine fresh ingredients (mainly meat and veggies) with specially selected store-bought items. Cooking like this saves me a lot of time and headache plus the food is decent. I grew up on meals out of the box, freezer or a can so when I became a mom I knew I didn't want to cook like that for my family. My favorite brand I like to cook with is Knorr Selects products that I get at my local Food Lion store. Knorr Selects are gluten-free and don't contain artificial flavors or preservatives, so I know serving it as a side dish or create a one-dish meal is precisely how I like to cook.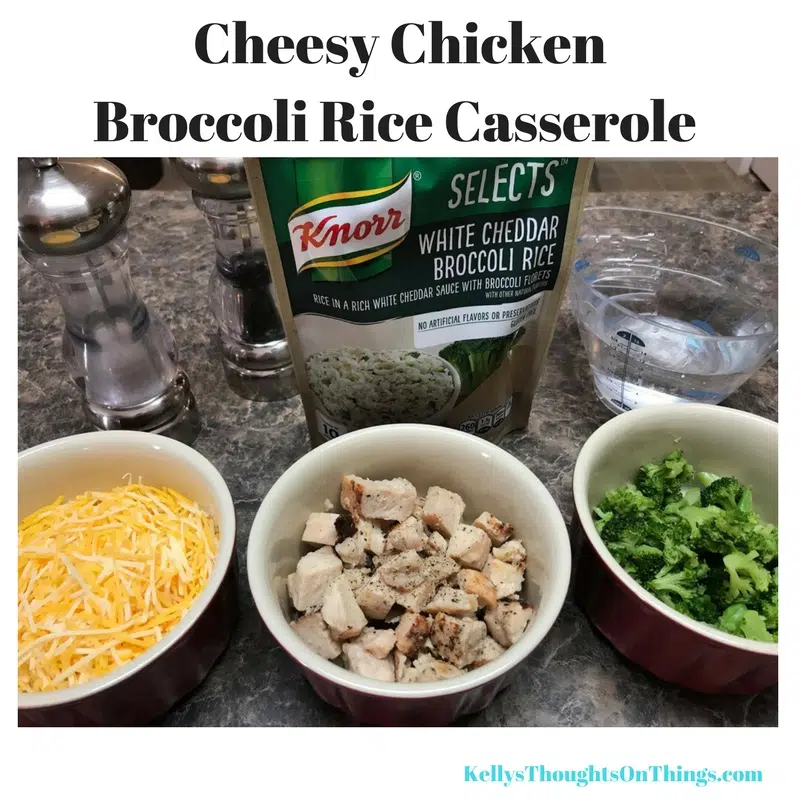 THINK

OUT OF THE BOX!

Knorr makes my semi-homemade cooking hack easily with all their product options; My family loves anything to do with chicken and cheese, so I'm going to cook up a Cheesy Chicken Broccoli Rice Casserole. Plus this time of the year it is perfect for a hot steamy bowl of yummy goodness! Oh yeah throw in some fresh veggies, makes me feel good as a mom when I do that. Plus the family appreciates how good the food taste too. Get creative and think of ways you can incorporate these products into meals!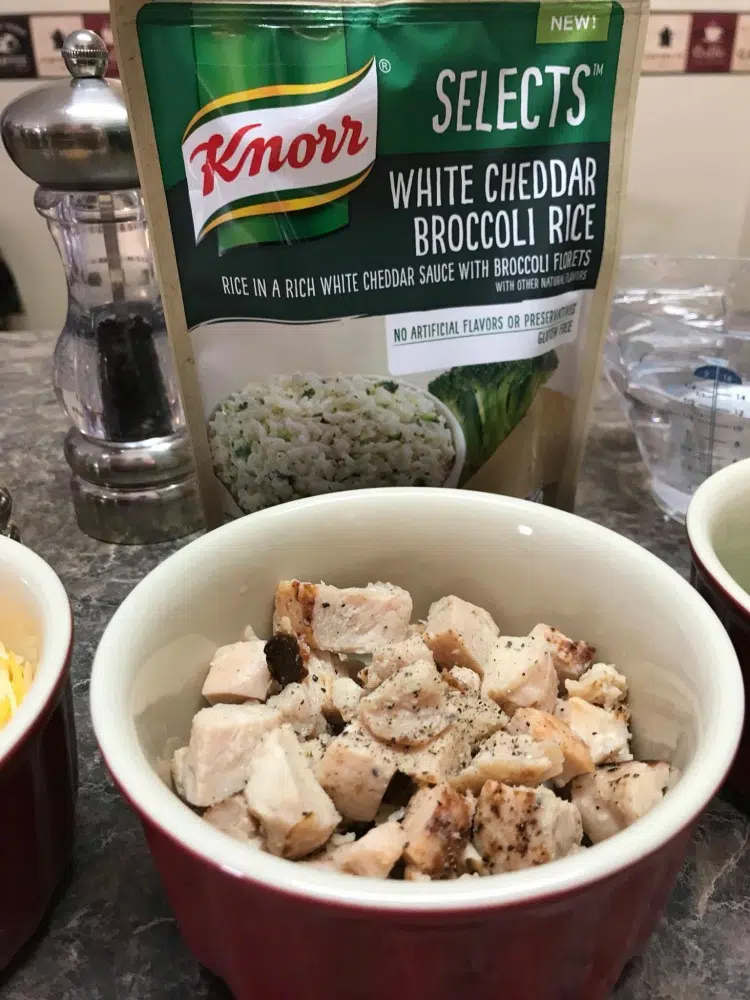 Knorr

Featured Products:
•Knorr

® Selects Four Cheese Risotto

•Knorr

® Selects Asiago Cheese & Cracked Black Pepper Rice

•Knorr

® Selects Roasted Garlic Alfredo Rice

•Knorr

® Selects White Cheddar Broccoli Rice

•Knorr

® Selects Rustic Mexican Rice & Beans

•Knorr

® Selects Spinach & Artichoke Rice
Cheesy

Chicken

Broccoli

Rice Casserole
Cheesy Chicken Broccoli Rice Casserole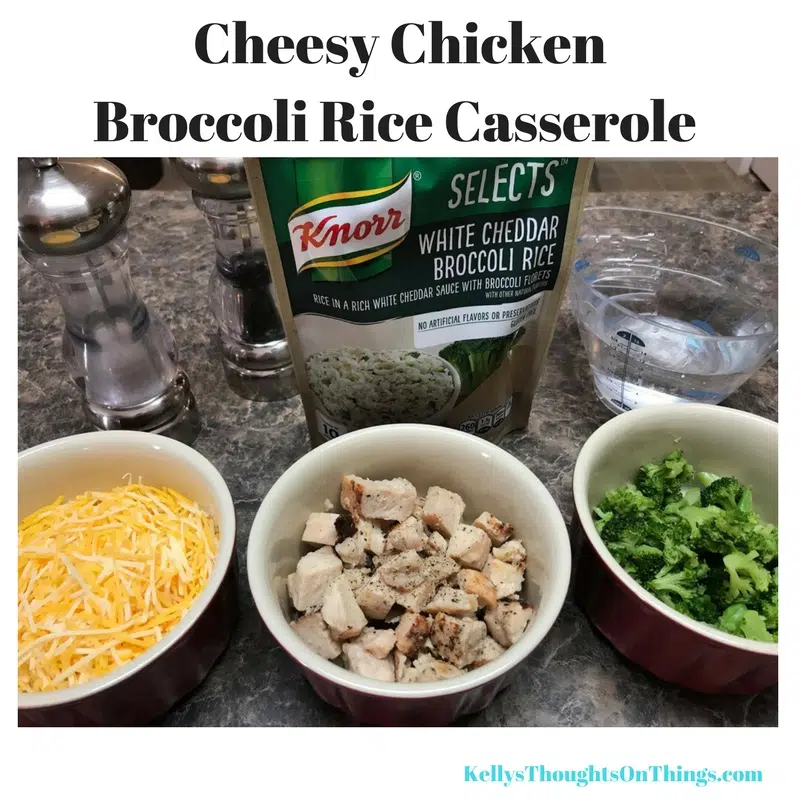 1 cup Shredded 3-Cheeses
1 cup Diced Cooked Chicken
1 cup Broccoli Florets
1 package Knorr Select White Cheddar and Broccoli Rice
1 1/2 cups water (what package calls for)
1 cup 2% milk (what package calls for)
pinch of salt and pepper
2 Tbsp fresh parsley to garnish (optional)
Heat the oven to 350 degrees.
Spray an 8×8″ baking dish with nonstick spray.
Dice up the chicken, get cheese and broccoli ready

Pour the Knorr Selects White Cheddar Broccoli into the pan and add the water and milk, as the package directs.

Add the chicken and broccoli and stir to combine.

Bake at 350 for 30-40 minutes or until the top is set, rice and chicken is cooked and it appears golden brown.
Sprinkle with cheese and place back in the oven until gooey, about 5 minutes.

Serve in a nice big bowl!
You can use LEFTOVER TURKEY TOO!
While this meal is cooking, you can be helping the kids with their homework or enjoy a glass of wine while watching your favorite TV show. I'm usually cleaning up after the dog or doing laundry, but that wine sure sounds good to me!