I don't know about you but I hate when I order an iced drink and the drink gets watered down as the ice melts. When it's watered down, it's oftentimes not even worth drinking anymore. Well, someone came up with an ingenious idea to solve that problem: Rock 'N Cold Whiskey Stones.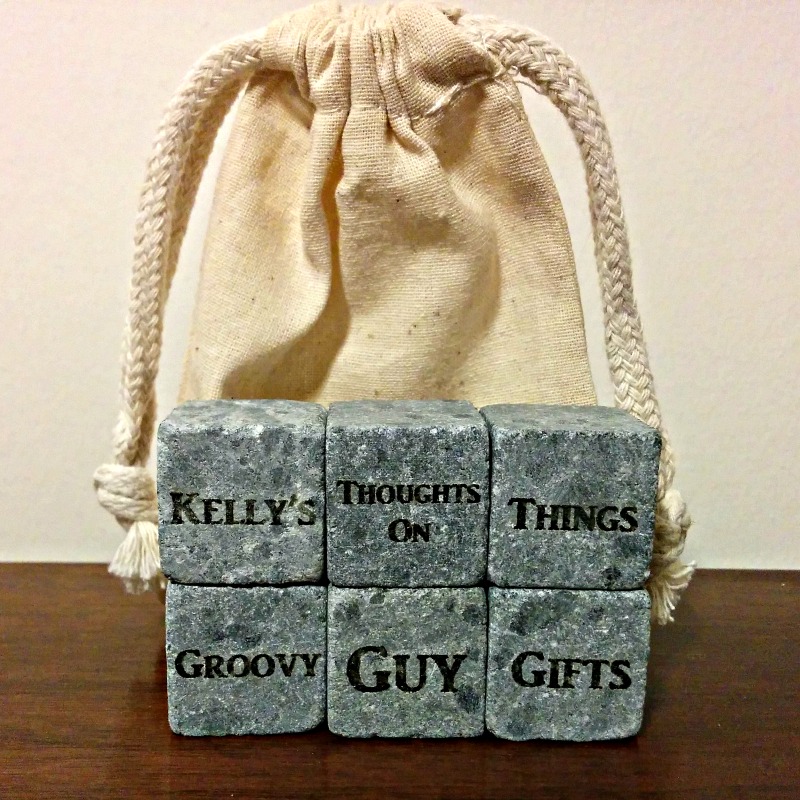 These Whiskey Stones are cool! (See the pun?) Puns aside, these really are neat! They're from a company called Groovy Guy Gifts, which is a site specializing in personalized gifts for men.
So, when you order the Rock 'N Cold Whiskey Stones, they come in a set and you get to personalize each one with a saying or words that you choose! When choosing how to personalize your stones, you can add 2 lines with up to 9 characters per line. The personalization is free of charge.
The stones are 100% soapstone and each stone measures 1″ x 1″. They come in a muslin bag with a card with instructions.
How To Use Rock 'N Cold Whiskey Stones
The way they work is you place the stones in the muslin bag and then place them in the freezer (wash the stones as directed before doing this step). Let them freeze for at least 3 hours. Then, put them in your drink that you want iced. And, now you can take your time drinking your beverage because you don't have to worry about it getting watered down!
These stones can even be used in coffee or tea or some other beverage! I wonder if Starbucks would let me request they put these in my iced coffee?
The stones are also food-safe and safe to be washed in the dishwasher. And, the company says they'll never wear out!
Currently the 6-pack retails for $29.99. They also come in a pack of 3, which retails for $19.99. Prices are subject to change. These would make a wonderful gift for groomsmen before a wedding! They also make a great stocking stuffer and Christmas gift!! I know so many people who would absolutely love a unique and functional gift like this. And, you could have a lot of fun with the personalization of this gift. Get creative and make it a gift to remember! And if you're looking for bridesmaid gifts, checkout Bridesmaid Gifts Boutique for even more unique wedding favors.
Connect with Groovy Guy Gifts: Website & Facebook