Finding healthy snacks are hard when you're on the go. When you want something nutritious, sometimes the only options seem to be loaded with sugar and high calories. Luckily, Stoneridge Orchards is changing up the snack game with their new Reduced Sugar organic dried fruit product line. Available in Blueberries, Cranberries, and dried Montmorency Cherries—these snacks are healthier than before with only 130 calories (per serving), 50% less sugar than before, rich with fiber, free of preservative, non-GMO, gluten/allergen free and Kosher certified.
Always on the lookout for healthy and easy snacks, I greatly appreciate tasty options that fulfill my sweet tooth and salty cravings. I'm a big fan of satisfying cravings every once and a while, instead of ignoring them. It's important for me to get my fix, but without the guilt. I know I'm not alone here and Stone Orchards dried fruit will help to keep you on track towards greater health in 2019. From office snacks to post-workout treats, check out these options to keep your cravings in check this year and beyond.
Enjoy the Taste of Perfectly Ripened Fruit All Year Long
With Stoneridge Orchards' wholesome and delicious premium dried whole fruit, one can enjoy perfectly-ripened fruit throughout the year. Their fruits are proudly grown by third-generation family farmers in Washington State, USA. Always wholesome, they are all natural and never contain any artificial colors or flavors, hydrogenated oils, sulfites, or high fructose corn syrup.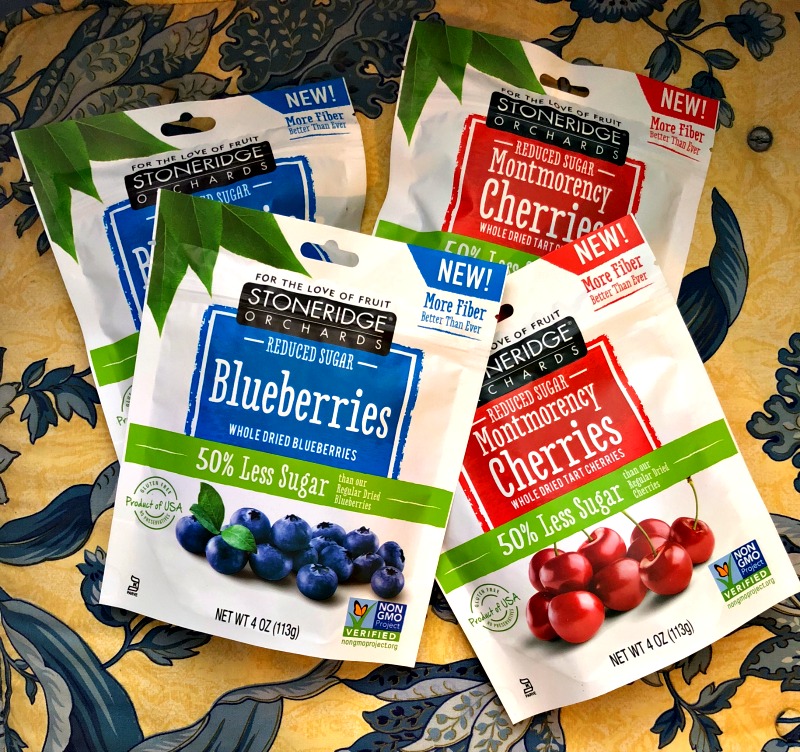 Use this delicious and versatile dried fruit in your favorite mouth-watering recipes. Straight from the bag, Stoneridge Orchards' dried fruits provide a healthy energy straight from the bag, or in a variety of hot and cold recipes for any meal or meal occasion. The perfect ingredient for salads, entrees, appetizers, mixed into trail mixes, yogurt, hot cereal and baked goods.
Celebrate the Fruit with Stoneridge Orchards
Reduced Sugar Montmorency Cherries and Reduced Sugar Blueberries
Stoneridge Orchards is passionate about producing nutritious and delicious dried fruits the entire family will enjoy. Taste the always plump and delicious Montmorency Cherries and Blueberries — now even better with reduced sugar. The cherries and blueberries are sweet and tart with a burst of flavor you'll love with less sugar with more fiber than their original dried cherries and blueberries. A good source of fiber with only 100 calories per serving.
Ingredients
Montmorency Cherries, Sunflower Oil
Ingredients
Blueberries, Sunflower Oil
Connect with Stoneridge Orchards products to learn more about them and to purchase for the holidays!
CONNECT WITH…
STONERIDGE ORCHARDS: Site | Instagram | Facebook | Twitter