This Valentine's Day is reserved pour moi. With work, and spending time with friends and family, comes hectic schedules, to-do lists and little sleep. Stress can wreak havoc on the skin. To combat this, I love unwinding with a long, warm bath. Guess where you'll find me on the evening of February 14th?
Relax and Unwind in the Bath
Throughout the ages, warm baths have served as the perfect spa experience to cleanse, refresh and relax. Keep your complexion smooth and radiant with a body scrub and bath salts from Green Goo. Enhance your bath with the soothing effects of their mineral-rich salts blended with pure essential oils. Then exfoliate and nourish your wet skin with one of their body scrubs for a lasting, youthful glow.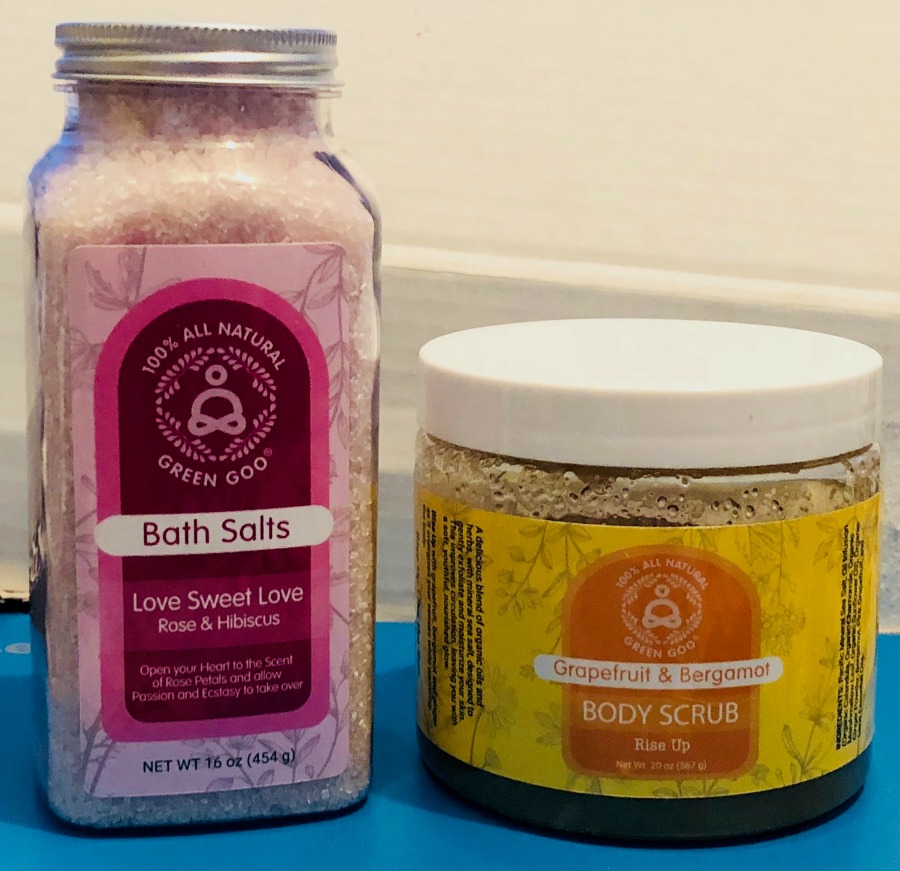 These healing and soothing products from Green Goo are delightful and will help manage stress pronto:
Love Sweet Love Mineral Salts, $27.95
Green Goo Mineral Bath Salts are harvested from the waters of the Mediterranean Sea. The all-natural sea salts are well known for easing muscle tension and joint stiffness, soothing sore muscles, relaxing soaks, calming foot baths and promoting overall relaxation. The salts include rose which helps to uplift the spirits and hibiscus which cleanses and renews the skin.
The benefits of the Mineral Bath Salts:
Balances skin oils
Detoxifies
Improves circulation
Soothes irritated skin conditions
Includes geranium and bergamot essential oils
"Rise Up" Grapefruit & Bergamot Body Scrub, $27.95
This Green Goo Body Scrub is a delicious blend of mineral sea salt with organic oil and herbs. It is designed to gently exfoliate and moisturize your skin. The gluten-free formula improves circulation leaving a soft, youthful and nourished glow.
The benefits of the Body Scrub:
Features ginger and grapefruit, bergamot and lime essential oils which energize the senses while warming the body
Does Not Contain: Petroleum, Mineral Oil, Parabens, Petroleum or any artificial ingredients
Green Goo for Good
Green Goo started small with a commitment made to use high quality, all-natural ingredients to create simple, effective products that are good for people and the planet. As the company has grown, those values remain the core of this women-owned, family operated business. Some of the organizations they are partnered with include: World Vision, Mercy in Action, Mandela Foundation, Snowball Express, Summit for Soldiers, the Pacific Crest Trail, and John Hopkins, St. Jude's Children's Hospital.
CONNECT WITH GREEN GOO: Site | Facebook | Instagram | Twitter