We recently we visited Charleston, SC and like always we loved it! Charleston has so much history and I love learning something new every time we visit. Not only is Charleston a beauty place filled with history and culture, it also has some of the best places to dine at. Finally, I found one of Charleston's Best Kept Secrets and it is called Eli's Table.
Eli's Table is a quaint place with that southern charm that we love. The food was delicious and unique and the service was phenomenal! When looking at the outside of Eli's Table, the first impression might be that it would be tiny inside but it is much bigger than it appears. As soon as we walked inside we were greeted and sat at this really nice table by the front window. The restaurant decorated very nicely.
Our server Amanda was very attentive, she went over the menu with us and let us know the specials. Amanda also answered every question we had asked and her recommendations were spot on. Ronnie asked for a Pina Colada and even though it was not something they usually served, Amanda asked the bartender if they could make it for him and that really made Ronnie's day when she came back to the table with one.
For our lunch we started out with an appetizer, we never tried Fried Green Tomatos before and Amanda recommend them. The fried green tomato napoleon was delicious! It is made with Pimento cheese, tomato coulis, aged balsamic glaze. The fried green tomatoes were out of this world!
I ordered the Tuscan Grilled Cheese and at Amanda's recommendation added ham to it and I also had Tomato basil bisque soup. These were both so delicious and the soup was outstanding. The Tuscan Grilled Cheese is made with Roma tomatoes, basil, cheddar cheese, toasted sourdough bread.
Ronnie was really hungry and he wanted breakfast, so he ordered Praline French Toast that has Pralines, bourbon cream, powdered sugar and Sweet Potato Pancakes that is made with Candied pecans, cinnamon butter. He also ordered a homemade Biscuit, bacon and breakfast Potatoes.
When our food was served the delicious aroma coming off the plates made my mouth water! All the food we ordered was all phenomenal. We really enjoyed our lunch and Amanda made it even more enjoyable.
For dessert, I ordered the salted caramel cheesecake and a cappuccino. The Salted Carmel Cheesecake was really delicious. One thing I am an expert on is cheesecake and this one is one of the most delicious I have the taste (Next to mine).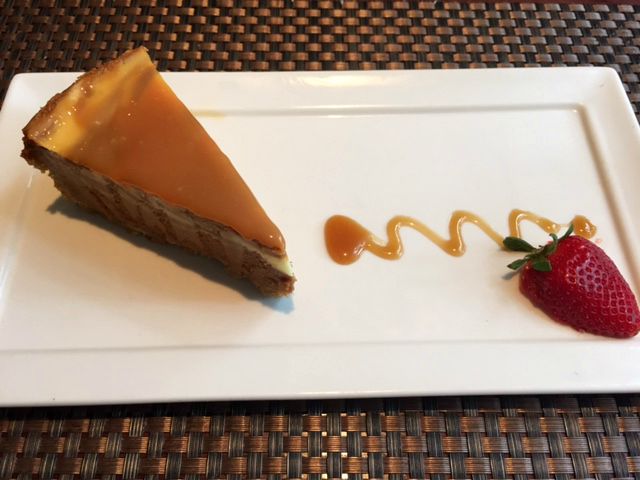 The next time your walking around Charleston and are looking for a place to eat, make sure you stop in at Eli's Table! You will not be sorry. From a fun atmosphere and excellent food, your time spent at Eli's table will be enjoyable.