As recently seen on the TODAY Show, Stephanie Oppenheim bestowed her highest honor, the Oppenheim Platinum, to Skullduggery's Max Flex RC. They're a big fan over there of the Max Traxxx cars that light up on special glow-in-the-dark tracks. For someone who has seen many toys that enter the market for the last two decades, the award from Oppenheim is seen as a big deal.
And surprisingly, Skullduggery's Max Traxxx system gets even better this year. They've introduced a flex track system that lights up even more when the car drives on the track. The Max Flex RC sets come with 200 or more flexible pieces of track that click together which can make an interesting bi-color track design. The car is remote-controlled and easy to operate for all ages.
Max Flex RC
By springtime, Skullduggery will launch three Max Flex RC sets with 200, 250 and 300 pieces for children ages 3 and up. Like all Max Traxxx racing cars, the Max Flex R/C car features undercarriage lights that gives it a cool look of hovering over the tracks. To add to the fun, the lights leave glowing light trails as they burn up the track. Dim the lights and get ready for a night of pure glow racing excitement.
I received the Max Flex RC 250 Blaze Edition and it's pretty fun. I've always been a fan of race sets since I was a little girl. This lightweight race set is good because it brings together children of all ages and adults to enjoy this cool experience. Everyone's favorite part was watching the race car blaze streaks of light across the glow-in-the-dark tracks due to the Light Tracing Technology. The track pieces are flexible, therefore making it easy to set up the system. Though, we only played with this once, the track seems to be pretty durable as well. Another good point is that this race set allows for independence, as a child could definitely build the racetrack on their own. Perfect for safe, unsupervised fun if the parents/guardians need to step out for a moment.
Max Flex RC 250 Blaze Edition
Comes with 125 red pieces and 125 blue tracks to create the racetrack. The R/C car is included in this boxed set. The remote-controlled racer recharges by being plugged into the control. You need one set of 4 AA batteries for the charger.The set comes with complete instructions, but the set up is pretty easy to understand without them.
For those Skullduggery fans who already know about its Max Traxxx Tracer Racer RC sets, the 2018 Max Flex sets will have adaptors that will work with the traditional Max Traxxx sets. Apparently, all the sets are also compatible with other major brands and make for a great night of racing.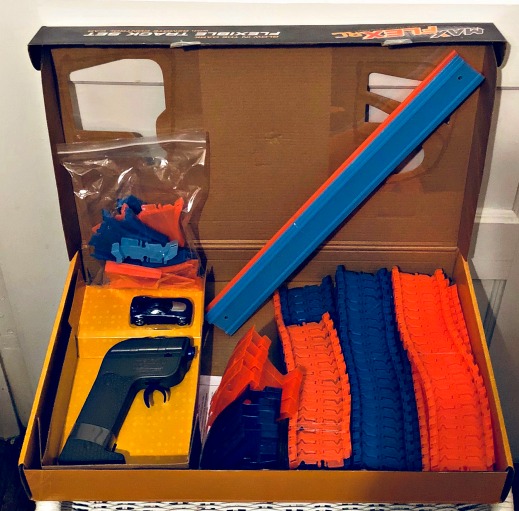 About Skullduggery, Inc.
Based in Anaheim, California, this family owned and operated toy manufacturer has more than 30 years of experience creating innovative educational toys for kids. These include: toy race cars; racing systems; fossil replicas; educational puzzles; and other unique, award-winning toys for children of all ages. Skullduggery, Inc. manufactures their toys almost entirely in the USA and distributes throughout the nation's finest museum stores, specialty retailers and toy stores.
CONNECT WITH SKULLDUGGERY, INC: Site | Facebook | Instagram | Twitter | Pinterest