Gaming can be a memorable and satisfying experience, whether you are playing by yourself, with family members, or online with strangers and friends. While gaming was once viewed by society in a somewhat negative light—as a time-waster or a danger to kids' development—now, it is a society-wide pastime and avenue for relaxation. Even the idea that there's no future in playing games has changed with the rise of eSports and the massive growth of Twitch.
If you are interested in games and wish to either simply improve or chart a path towards a career in gaming, you are likely wondering how to be a better gamer. Although YouTube and the internet are filled with articles or videos on, "How to improve as a gamer," many consist of memes or advice like "Git Gud," or "Just click on heads," which is unhelpful, to say the least.
To remedy this, I've created a list of tips for how to actually improve as a gamer. So, whether you're a casual gamer or looking to enter the competitive scene, these tips should help you continuously develop your gaming skills.
Have Fun, Stay Positive
This piece of advice will affect other points on this list and is especially salient for those looking to play games competitively. When your blood is boiling or when you're frustrated, you have to keep in mind why you play games to begin with: because they are fun, exciting, and fulfilling. As my readers know, positive thoughts lead to a positive life, and this is particularly true when you have to coordinate with teammates online.
Raging or being toxic to fellow players never helps your situation. Anger does not help you coordinate; it does not help you improve, or objectively look for ways to get better. For online play, blaming your teammates is not beneficial. If you want to see a fantastic streamer who is an excellent example of how to be positive and competitive, check out Emongg. Remember to enjoy yourself and have fun; that's why they're called games!
Work on your Gaming Rig
While this is not the most critical factor to improvement, you do need a gaming setup that is compatible and won't hold you back. Whether you want a gaming PC or one of the best gaming laptops, be sure to invest a good amount on your gaming rig. While you do not need to buy the most expensive PC or laptop, it is vital that you have a system that can handle the requirements of a game. You should also have a setup that is comfortable; this includes getting a gaming desk, mouse, mousepad, and keyboard.
Communication Matters
Games like Overwatch and League of Legends are games that heavily depend upon teamwork and communication for success. In lower levels, a talented gamer can "hard carry" his team, but in the upper levels of competitive mode, team composition, coordination, and execution are integral to getting wins.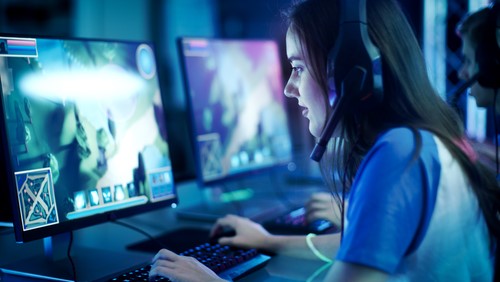 You can have a team full of talented players, but if they do not communicate effectively, they will be defeated by a team that does. Do not fill games with useless chatter. Be sure to make quick, precise callouts if a player has low health, if your team has an advantage, or if you need to reposition. Headphones are necessary for communication, so check out my previous review on the Roccat Khan Pros if you want to take your gaming passion to the next level.
Practice Makes Perfect
Like with any skill, the only way to improve is through repetition and practice. While playing quick, competitive matches can be helpful, you should also be spending time in private matches or in the firing ranges to work on specific areas of improvement. This gives you a chance to work on your tracking, movement, and understanding of maps, characters, power, etc. Watch replays of your competitive matches, analyze them, and search for mistakes or areas where you could have done better. Plays.tv is one of the easiest software to record, replay, and post videos.
Conclusion
Whether you are a casual or competitive gamer, you should still look for ways to become better! Do not simply play; be mindful and focus on areas where you want to get better. Challenge yourself, follow these tips, and you will be well on your way towards progress.