How to choose computer desk for gaming will mostly depend on your personal gaming preferences, as well as on the available space in your room. Still, even though the nuances will vary, it is still possible to come up with a quick how to choose computer desk for gaming tips that will help you weigh over all of attention-worthy details: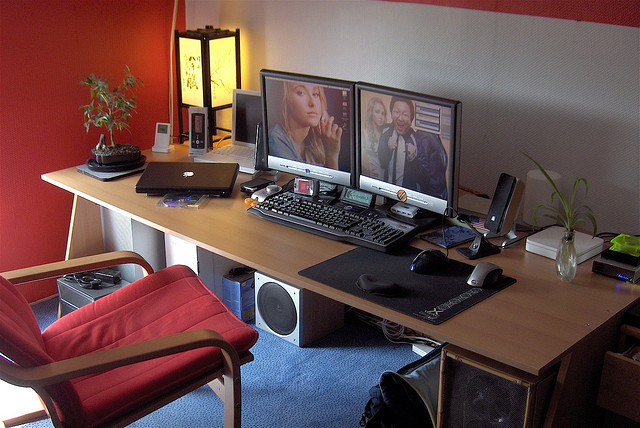 Gaming desk choosing tips
1. Start with the table space you need. Consider how much space you are going to need for your computer screen, as well as your consoles — or whatever else you are going to keep on the table.
2. Think if you need any extra storage. Then, move on to the storage capacity. Computer desks are available with shelves, drawers, cabinets, or none of the above. Once again, choosing the right computer desk will depend on your individual storage expectations.
3. Consider your load capacity. Go for a solid piece with impressive load capacity — especially, if you have a lot of consoles, which are not very light.
4. Prefer a desk with an adjustable surface angle. This way you will be able to find the best gaming chair for your desk. An ergonomic computer chair is not always enough to ensure the best gaming experience, so choose in favour of a table with an adjustable surface angle. This ensures maximum usability and flexibility while gaming.
5. Find a nice spot in the room. Then, of course, there is an issue of the actual physical dimensions. You should find a spot in the room that would offer enough space to accommodate the desk you need. Sometimes, considering corner models may offer a very space efficient solution for a small room.
6. Choose easy to maintain materials. Ideally, computer desk finishes and materials should be easy to clean and maintain — properly processed wood, quality MDF, and tempered glass are the best examples.
7. Do not go with the smallest model. The last tip on how to choose computer desk for gaming is to go for a piece that leaves some extra space just in case. You might get more consoles in the future, so do not go with the smallest piece to meet your current needs.
More on computer desk shapes
All in all, how to choose computer desk for gaming is not much different from choosing any other type of home office furniture. You just have to define production materials that would be in tune with your room style — fortunately, a lot of options from classic MDF in wood effect to high gloss and glass are available in stores — and choose an optimal shape for your room.
Computer desk shapes, just like the materials, are plenty. There is a classic rectangular piece with practically any dimensions you might be interested in. If you are looking for corner computer desks, you will have a choice between an L-shaped desk and a trapeze-shaped one. Both have their pluses and minuses, even though the first option typically offers greater space efficiency while featuring larger functional table surface. Plus, it does not necessarily have to be crammed into the corner — it also looks impressive next to a wall of even in the middle of the room.