Herbalife reviews show that daily users love Herbalife Shakes.
Formula 1 and the Protein Baked Goods Mix allow consumers to customize their meal replacement shakes based on their taste preferences and nutritional requirements.
Below are four recipes perfect for on-the-go or relaxing at home when you need a boost of energy.
Remember, even a great recipe can be tweaked to fit your personal preferences.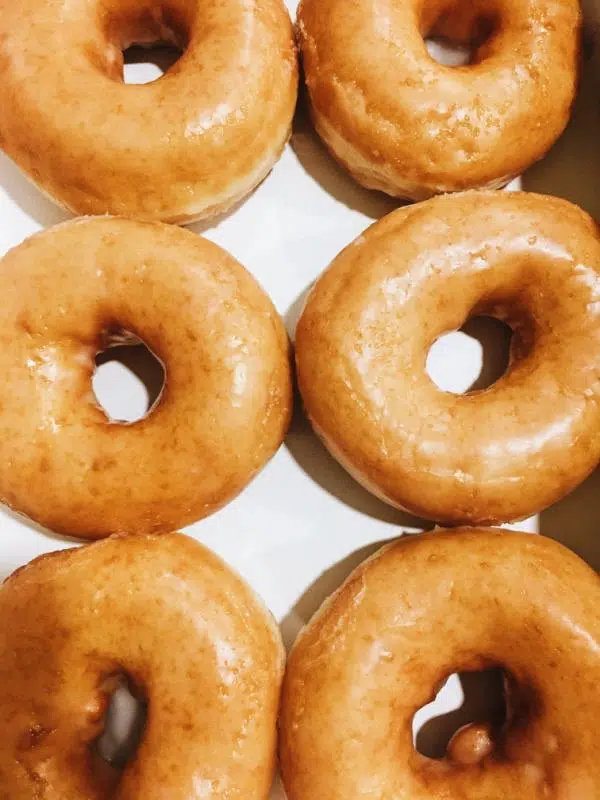 And, Herbalife Shakes mix well with water, tea, coffee, and nut or grain milk. Your options are limited only by your creativity.
Chocolate & Coffee Protein Donuts
Any time you want a sweet treat that tastes like you're cheating, these Chocolate & Coffee Protein Donuts will hit the spot — without blowing your diet or leaving you craving something else!
Herbalife Recipe Donut Ingredients
2 scoops Formula 1 Shake Mix (Dutch Chocolate)
2 scoops Protein Baked Goods Mix
1 TBSP sugar or sugar equivalent
1 egg
1/4 cup water
1/2 tsp. vanilla extract
Frosting Ingredients
1 scoop Protein Drink Mix (Vanilla)
1 scoop High Protein (Iced Coffee House Blend)
1 TSP sugar or substitute
2 TBSP water
Combine all dry ingredients in a bowl and whisk together. Combine water, egg, and vanilla extract in a separate bowl.
Pour liquid over dry ingredients and mix well.
Carefully spoon 2 tablespoons of batter into each lightly oiled cup in a donut mold baking dish.
Level off and bake in a preheated 350-degree oven for 11 minutes.
Let donuts rest in a pan for 5 minutes and then cool on a rack.
While donuts are baking, combine all frosting ingredients and mix well. Frost when cool.
85 calories
8 g protein
8 g carbs
2 g fat
1 g fiber
Cranberry Orange Protein Muffin
Enjoy an antioxidant boost and an invigorating flavor in this 5-minute muffin that is like nothing you've ever tasted.
Grab a 12- to 16-ounce mug and lightly spray the interior. Then, pour 1/3 cup water and 1 TBSP Herbal Aloe Concentrate Cranberry into the mug.
Add 2 scoops each of Herbalife Protein Baked Goods Mix and Formula 1 Orange Cream.
Top with 1 TBSP diced cranberries and 1/2 cup orange (peeled and chopped). Mix well.
Microwave on high for 3 minutes, or until the top is golden brown.
Let rest for two minutes. Remove from the mug and let the muffin completely cool before serving.
85 calories 8 g protein 8 g carbs 3.5 g fat 5.5 g fiber
Orange Kale Sunshine Shake
This recipe is one of the easiest Herbalife Shakes to make. Healthy greens and a citrusy undertone can brighten any day.
Combine all ingredients in a blender and mix well. Serve plain or over ice.
2 scoops Formula 1 (Natural Vanilla) Select Nutritional Shake Mix
2 scoops Protein Drink Mix Select (Natural Vanilla)
8 ounces cold water (plus 3–5 ice cubes if desired)
1 cup baby kale
1/2 medium orange, peeled and chopped
1/2 small banana
306 calories 28 g protein 44 g carbs 4 g fat 11 g fiber
Island Coconut Shake
Enjoy a tropical twist with this creamy coconut and pineapple combo. Simply toss all the ingredients listed below in your blender and mix well.
2 scoops Piña Colada Formula 1 Nutritional Shake Mix
2 scoops Vanilla Protein Drink Mix
8 ounces coconut water
3/4 cup fresh or frozen pineapple chunks
3–5 ice cubes
299 calories 25 g protein 41 g carbs 5 g fat 7 g fiber