We may be a few weeks into the wonderful month of December, but the movies are still pouring on. Without holiday movies, our family traditions just wouldn't be the same. Hallmark Movies & Mysteries fans all over will be tuning in for "Miracles of Christmas" programming. There are 15 movie premieres being featured on HMM during Miracles of Christmas. With another one coming up this weekend, it'll be a great time to gather the family once again.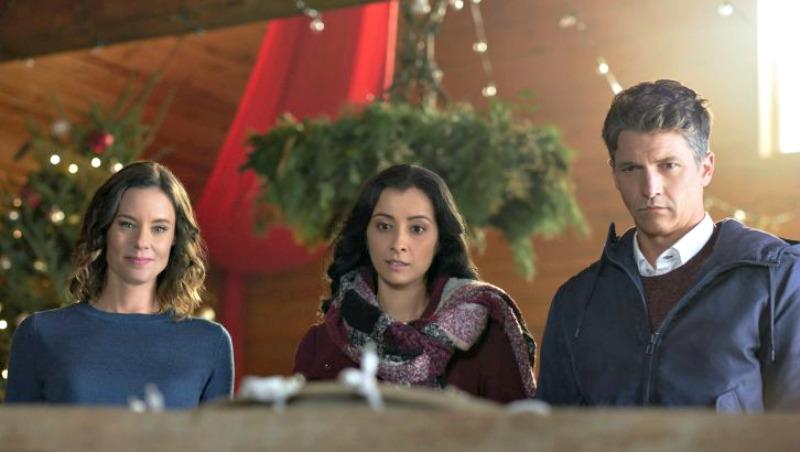 The showing of "Northern Lights of Christmas" will be officially premiering on Sunday, Dec. 15th at 9pm/8c! So, here is a brief showing of information regarding the movie.
Stars: Ashley Williams and Corey Sevier
When pilot Zoey Hathaway inherits her uncle's ranch in Alaska, plans to sell the place and buy her own plane go out the window after she meets the handsome ranch hand, Alec Wynn, along with the place's resident reindeer, Holly, and Palmer.
If you didn't know already, its time, you hear that Hallmark Channel will be hosting a special Holiday Home Decoration Sweepstakes. This is a sweepstake that's super simple to be a part of. All you have to do is tune in to Hallmark Channel Radio on Sirius XM- Channel #70 to listen to timeless Christmas music and carols. By simply doing this, you'll have a chance to win a set of ornaments and Balsam hill trees!
Even More Giveaway Opportunities
There's one more giveaway that you should know about, and its a good one. It's simple; you just use the designated hashtags, #NorthernLightsOfChristmas (primary) and #MiraclesofChristmas as a barrier to entry for the promotion. Live tweet during movie using #MiraclesOfChristmas hashtag and a winner will be picked at end of the movie. Here are the featured prizes:
T-Shirt
1 Mug
Snow Globe
1 Magic Key
Did You Hear About The App?
Now, when you want to keep track of or obtain more info of something, make measures can be taken. With Hallmark, you can get any additional information you need with the Hallmark Movie Checklist App.
You can now use the new Hallmark Movie Checklist app, and you can create reminders, watch trailers and stay up to date on all the exciting new movies coming this Christmas on Hallmark Channel and Hallmark Movies & Mysteries! You'll have 37 all-new original movies that you don't want to miss out on.
Be sure to go over all of the information I have for you above! This is going to be quite an interesting holiday season with all these great upcoming movies. Make sure you have more than enough popcorn to go around too.